COVID-19 continues its surge in Idaho's Panhandle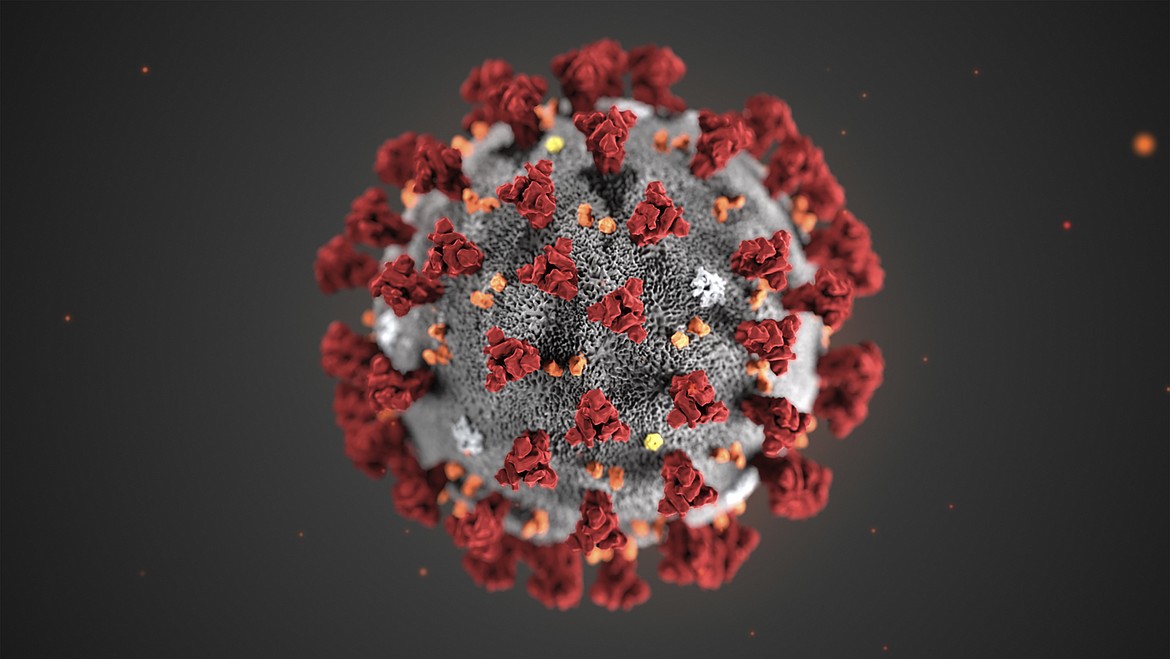 FILE - This illustration provided by the Centers for Disease Control and Prevention (CDC) in January 2020 shows the 2019 Novel Coronavirus (2019-nCoV). Health authorities are preparing for a possible pandemic as they work to contain a respiratory illness in China that's caused by a new virus. Governments are working to contain the virus by limiting travel, isolating sick people and keeping travelers returning from the affected region under quarantine to watch for symptoms. (CDC via AP, File)
by
KEITH KINNAIRD
News editor
|
July 28, 2020 1:00 AM
SANDPOINT — The Panhandle Health District reported 116 new cases of novel coronavirus on Monday, including 11 new infections in Bonner County.
The district said there are a total of 1,594 cases since the outbreak began, 1,577 of which have been confirmed through laboratory testing. There are another 17 probable cases of the virus, which causes COVID-19.
Kootenai County has had 1,325 cases, 1,314 of which are lab-confirmed. The virus is blamed for six deaths in Kootenai County, according to PHD. Kootenai County has 752 active cases.
Bonner County has had 134 cases, 128 of which are lab-confirmed, the district said. Seventy-two of Bonner County's cases are active.
All 55 of Shoshone County's cases are lab-confirmed and 47 of them remain active, the district said. All 33 of Benewah County's cases and all 30 of Boundary County's cases are also lab-confirmed. Benewah County has five active cases, while Boundary County has 25 active cases, according to the district.
The virus has caused 72 hospitalizations in the five northern counties and 35 people are currently hospitalized, the district said, adding that 687 people are no longer being monitored.
The Idaho Department of Health & Welfare said there were 517 new confirmed or probable coronavirus infections on Monday, bringing the statewide total to 18,694 cases. The department said the virus has claimed the lives of 152 Idahoans, six of which occurred in Kootenai County.
There have been no deaths in Bonner, Boundary, Benewah or Shoshone counties, according to the state.
The Northeast Tri-County Health District in Washington state reported two new confirmed cases of coronavirus on Monday. One case surfaced in Pend Oreille County and the other turned up in Stevens County. Stevens County has 65 confirmed cases of the virus, while Pend Oreille County has 33. Ferry County, meanwhile, has 10 confirmed cases.
The virus has caused one fatality in Stevens County.
The Montana Department of Public Health reported 41 new cases of the virus on Monday, lifting the statewide total to 3,381 confirmed cases. Lincoln County has 22 cases, while Sanders County has six, according to the state.
Keith Kinnaird can be reached by email at kkinnaird@bonnercountydailybee.com and follow him on Twitter @KeithDailyBee.
---