First four PRLHS football games canceled, school searches for replacements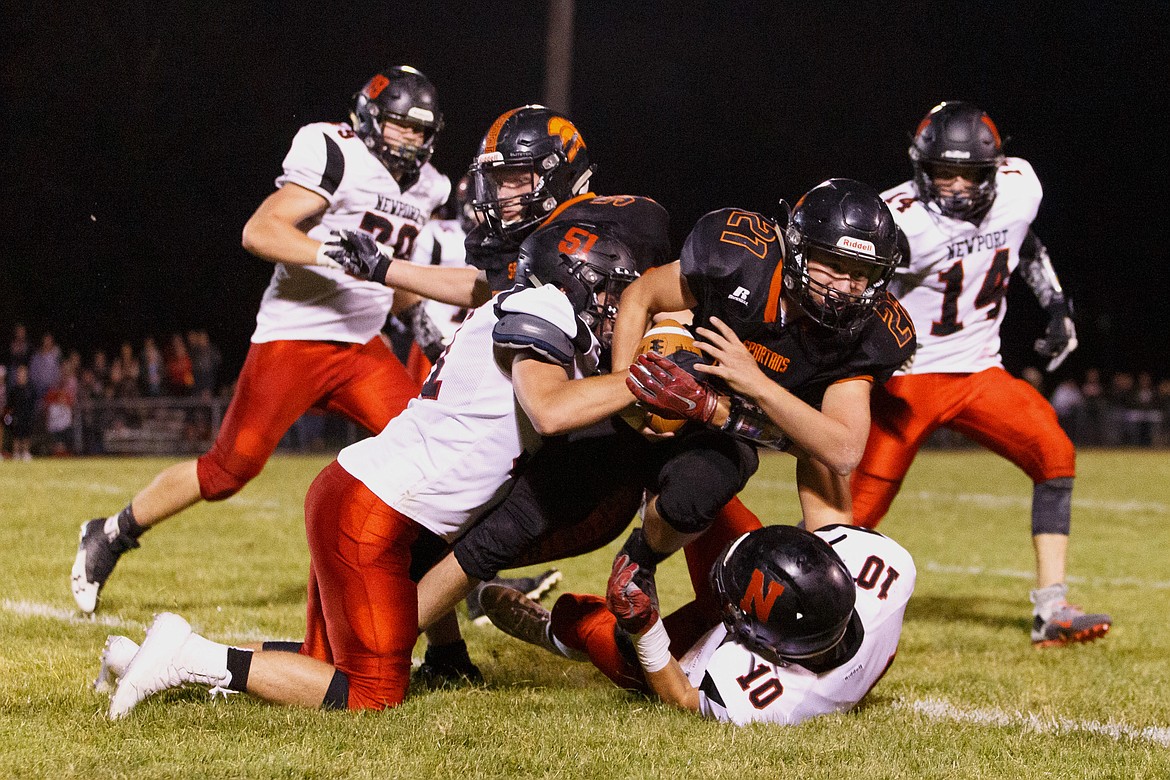 Running back Coby Rogers fights through the Newport defense during a game last year. The first four games of the Priest River football season have been wiped away due to the Washington Interscholastic Activities Association moving its football season to the spring. Athletic Director Matt George is working to replace the lost games.
(Photo courtesy of JASON DUCHOW PHOTOGRAPHY)
by
DYLAN GREENE
Sports Editor
|
July 29, 2020 1:00 AM
PRIEST RIVER — Schools in North Idaho are used to rescheduling games due to inclement weather, but the coronavirus presents a whole different challenge.
Recently, the Washington Interscholastic Activities Association announced they were moving fall sports such as football and soccer to the spring and shaking up their traditional three-season sports schedule to four seasons.
Those decisions had a huge impact on Priest River sports, particularly football. The team's first four games this season were against schools from Washington — Medical Lake, Newport, Oroville and Manson. Those games have been wiped away and now Priest River Lamanna High School Athletic Director Matt George faces the daunting task of trying to replace half of the team's schedule with just over a month left until the season is set to begin.
Schools across North Idaho are facing a similar fate and have already begun filling in holes in their schedules.
To replace the games they lost, George plans on working with schools in the Intermountain League and North Idaho to see if they have any open dates that match up with the Spartans.
"We are very lucky to have a league that helps each other out," George wrote in an email to the Bee. "They are already reaching out as well to help us find replacement games, just as we are doing the same for them."
In terms of the other fall sports, the WIAA's moves had a very minor impact on the Spartans. The girls soccer team had a game at Newport on Sept. 12 while the volleyball team had a pair of matches with the Grizzlies scheduled for this fall.
The WIAA switching seasons for certain sports could also impact winter and spring sports for Priest River, but right now that is unclear, George said.
George admitted that it won't be easy to replace the football games they lost and they "will probably play a few league schools twice." He also has a couple creative options to run by the Idaho High School Activities Association if necessary.
Earlier this month, the IHSAA released a set of guidelines for a return to sports this fall and outlined four requirements each school must follow, including having a plan in place for dealing with fan attendance at games.
George said the schools in the Intermountain League will meet to hammer out a detailed plan that is consistent across each school district.
"The nice thing about that is we will have similar guidelines between most schools in North Idaho," George wrote. "That should make things easier for fans, coaches and athletes."
Another requirement is to have a plan in place if an athlete, coach or staff member around a sports program tests positive for COVID-19.
"That plan is pretty much laid out by the Panhandle Health District, IHSAA and our school district guidelines," George wrote. "We will just follow those and do our best to keep it from spreading. It is a real possibility that we will have games canceled due to an opponent or one of our athletes becoming infected."
George said the uncertainty of school and sports this fall has made the past few months very stressful and he's done trying to guess whether a fall season will go on as planned or be halted halfway through due to COVID-19 concerns.
"My biggest concern right now is losing more games due to infections in other schools," George wrote. "We have no control over what other districts are doing."
George said PRLHS is lucky to have such a great maintenance department that has been proactive in making sure the facilities the teams use are clean and providing coaches with guidance on how to keep areas safe for athletes.
George is glad the IHSAA is doing everything they can to give athletes some normalcy this fall.
"I just want the kids in school, playing sports, and we will deal with whatever comes our way ... because that is what Spartans do," he wrote.
---