Ironman 70.3 Coeur d'Alene canceled due to COVID-19 concerns
by
BILL BULEY
Hagadone News Network
|
July 29, 2020 1:00 AM
Coeur d'Alene Marathon, Coeur d'Fondo still scheduled
COEUR d'ALENE — This year's Ironman 70.3 Coeur d'Alene has been canceled.
The race was originally scheduled for June 28 and rescheduled for Sept. 6 due to the coronavirus.
But even with the delay, the swim, bike and run event could not be held, officials said.
"Based on further conversations with and direction from local authorities in relation to the COVID-19 pandemic, and with the health and safety of our community being an utmost priority, the IRONMAN 70.3 Coeur d'Alene triathlon cannot take place in 2020," said a Tuesday press release.
The race, a 1.2-mile swim, a 56-mile bike ride and a 13.1-mile run, attracted a field of about 2,600 last year.
Ironman races around the world have been either postponed or canceled this year. For the first time in its history, the Ironman World Championships in Kona, Hawaii, have been canceled for 2020. It is scheduled to return Oct. 9, 2021.
"In what has been a continually evolving and challenging time globally, we thank our athletes for their commitment and look forward to providing them with an exceptional race experience in the future," the release said.
Dani Zibell-Wolfe, volunteer director of Ironman 70.3 Coeur d'Alene, sent out a letter to volunteer captains about the cancellation.
"As you can imagine the current situation in our city, state, and the world continues to affect many of our lives and businesses around the world," she wrote.
The Coeur d'Alene Triathlon scheduled for Aug. 8 has also been canceled "due to increased community transmission and a sharp spike in cases in our region.
"We recognize that keeping public health and safety as our number one priority is the most responsible course of action," wrote Rob Liddicoat, race director. "Even though we felt our plans to create optimum social distancing for athletes during the race was possible, it is the peripheral activities involved in a triathlon that led us to realize we cannot guarantee the safety of our volunteers, spectators, and friends and family of athletes."
The triathlon is offering a virtual race option.
The Coeur d'Alene Marathon remains scheduled for Aug. 23. A half marathon, 10k and 5k are also part of race day.
Coeur d'Fondo, a bike ride that offers five distances from 15 miles to 120 miles set for Sept. 19, remains on schedule.
The Lilac Bloomsday Run, a popular 7.46-mile race in Spokane, remains scheduled for Sept. 20. It also offers a virtual option.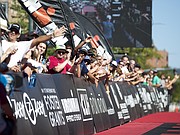 ---