Sandpoint golf takes part in mock state tournament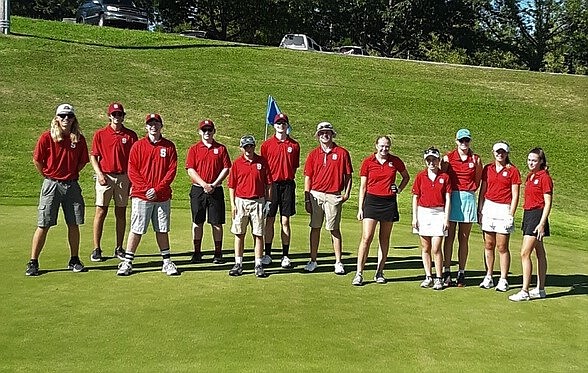 The SHS golf team poses for a photo during Monday's tourney at the University of Idaho Golf Course.
(Photo courtesy of MICHAEL DEPREZ)
by
DYLAN GREENE
Sports Editor
|
July 29, 2020 1:00 AM
MOSCOW — The Sandpoint golf team took part in a mock state tournament Monday at the University of Idaho Golf Course.
Head coach Michael Deprez treated the tourney like a "fake state" event. He picked a score that he believed would have won the 4A state title on the girls side this year to see how close his team was to claiming their first state crown. The Bulldogs fell short of the mark Deprez set, but the conditions weren't ideal.
Temperatures hovered just below 100 degrees while the athletes were on the golf course and the heat took a toll on all the golfers' scores.
Sandpoint brought seven boys and five girls to compete in the tournament. Moscow hosted and had three athletes compete. Lewiston sent two golfers and Coeur d'Alene only had one athlete on the course.
When the dust settled, CeCe Deprez finished with the best score on the girls side shooting an 86. That was despite going seven-over on the final three holes.
Camille Neuder took second with a 92 and Annaby Kanning notched a 100. Aly Lish, who will be playing golf at Spokane Falls Community College this coming year, and Hattie Larson also took the course for the SHS girls.
On the boys side, Dawson Owens led the way for the Bulldogs with an 84, finishing second behind Lewiston's Jack Seibly.
"I think it was probably his best round given the conditions," Deprez said about Owens.
2020 SHS grad Joel Johnson took third with an 88. Harley Wilks shot a 90, Merek Bauck had a 95, Andrew Hernandez tallied a 113 and Darren Bailey, who joined the team about three months ago, notched a 96.
The University of Idaho Golf Course will host the 4A state tournament next year and none of the Bulldogs had played the course prior to this weekend, Deprez said.
"The primary purpose was to see the golf course," he said, "play a practice round on Sunday, play it again in tournament conditions on Monday and walk away with a lot more knowledge than we had before and that's what we were able to do."
Typically at this time of the year, the Bulldogs would have played about 17 rounds of tournament golf. But this year has been much different due to the coronavirus which has prevented the players from getting into a rhythm.
Deprez said he did whatever he could to get his players time on the course this summer and he believes the Bulldogs did a lot more than other teams, which will benefit them in the long run.
Deprez hopes the Bulldogs can use the feel they gained at the UI course next year at state.
"Now they kind of know what they should and shouldn't do on certain holes," he said.
---