Mask protesters barred from Sandpoint Library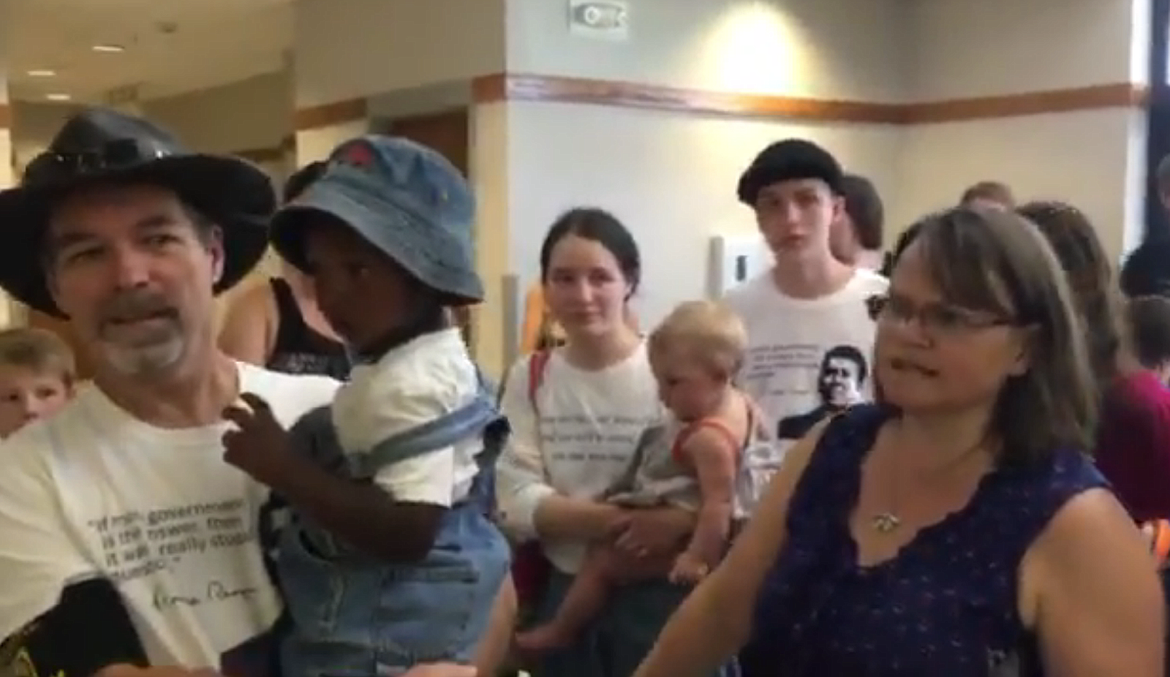 People are protesting the East Bonner County Library District's requirement of facial coverings.
(Image via FACEBOOK)
by
KEITH KINNAIRD
News editor
|
July 30, 2020 1:00 AM
Group claims library requirement deprives them of their rights
SANDPOINT — Mask opponents attempted to barge into the Sandpoint Library in defiance of a requirement for facial coverings to be worn inside the building.
A 20-minute video of the confrontation was uploaded to the Facebook group People's Rights North Idaho on Tuesday,
More than a half-dozen adults and children were halted in the library's lobby this week in order to challenge the library board of trustees' policy requiring facial masks. Two staff members barred the group from entering by blocking the doors into the library.
The staff members were polite but firm.
"You cannot come in. You have a mask to come into the library," the staff member said.
Adults in the group then proceeded to argue with the staff members over the legality of the mask requirement. They were also warned that they could be trespassed from the premises if they continued to cause a disturbance in the lobby.
"Where's the enforceable code," one man asks.
The East Bonner County Library District voted in May to develop a mask requirement and other novel coronavirus countermeasures.
"Our board has passed a policy that says masks are required. They have checked with the attorney general and it's legal for us to do that," one of the staff members said.
Staff members offered to obtain any library materials they wished, but the offer was not taken up by the demonstrators, who argued they were being deprived of their rights under the color of law.
"You're discriminating against perfectly healthy people," one woman said.
A Sandpoint Police officer was summoned and arrived about halfway through the video and stood by as the mask protesters attempted to make their case.
The video has drawn more the 60 comments, which praise the library staff's handling of the protesters, mock the demonstrators and express dismay at the churlish behavior of certain adults in the group. Some comments side with the demonstrators who contend the district's mask fiat is tyrannical.
Sandpoint Police Chief Corey Coon said no citations were issued and he was not aware if anyone was trespassed from the library.
Keith Kinnaird can be reached by email at kkinnaird@bonnercountydailybee.com and follow him on Twitter @KeithDailyBee.
---