Local group plans 'Back the Bonner Blue' rally Saturday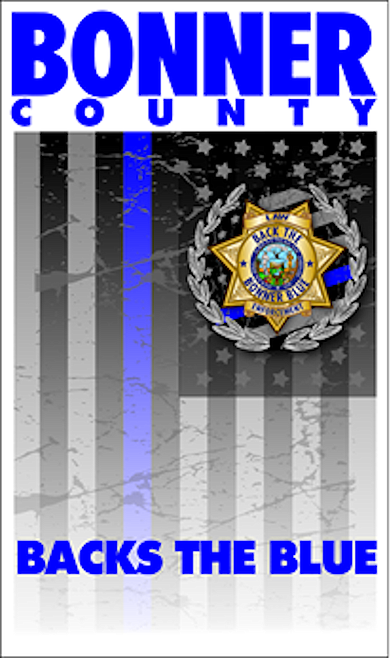 by
KEITH KINNAIRD
News editor
|
July 31, 2020 1:00 AM
SANDPOINT — A rally is being held Saturday to celebrate law enforcement officers in Bonner County amid the ongoing strife elsewhere in the nation over police brutality and systemic racism.
Jim Kelly, a retired law officer with 32 years of service, including the Bonner County Sheriff's Marine Patrol, organized the event to boost the morale of officers and provide a way for the public to signal support for them. He was inspired to organize the event upon hearing a report that a motorist, while stopped a traffic signal with an officer, expressed hope that the officer would not make it home safely from their shift.
"It's different when you become an object of hatred just because of the position you're in," said Kelly.
The Back the Bonner Blue event begins at noon with supporters lining North First Avenue in front of the Bonner County Courthouse to show their support for local law enforcement officers.
"We are behind them" said Kelly.
Sheriff Daryl Wheeler, in addition to Sandpoint Police Chief Corey Coon and Priest River Police Chief Drew McLain have been formally invited to attend the event.
The event follows a series of Black Lives Matter protests in Sandpoint which were held to show solidarity with a national movement calling for an end to police brutality and institutional racism plaguing cities around the country.
Kelly emphasized that the Back the Bonner Blue is meant to lift up law officers who are dedicated to protecting and serving the public.
"It's not a protest rally," said Kelly.
Kelly said the most meaningful support would for people to turn out and cheer on law officers who jeopardize their safety to protect and serve the public on a daily basis.
"Any time you become the object of people's hatred, people see you as less of a person," said Kelly.
Keith Kinnaird can be reached by email at kkinnaird@bonnercountydailybee.com and follow him on Twitter @KeithDailyBee.
---