PHD: Two new cases added in Bonner County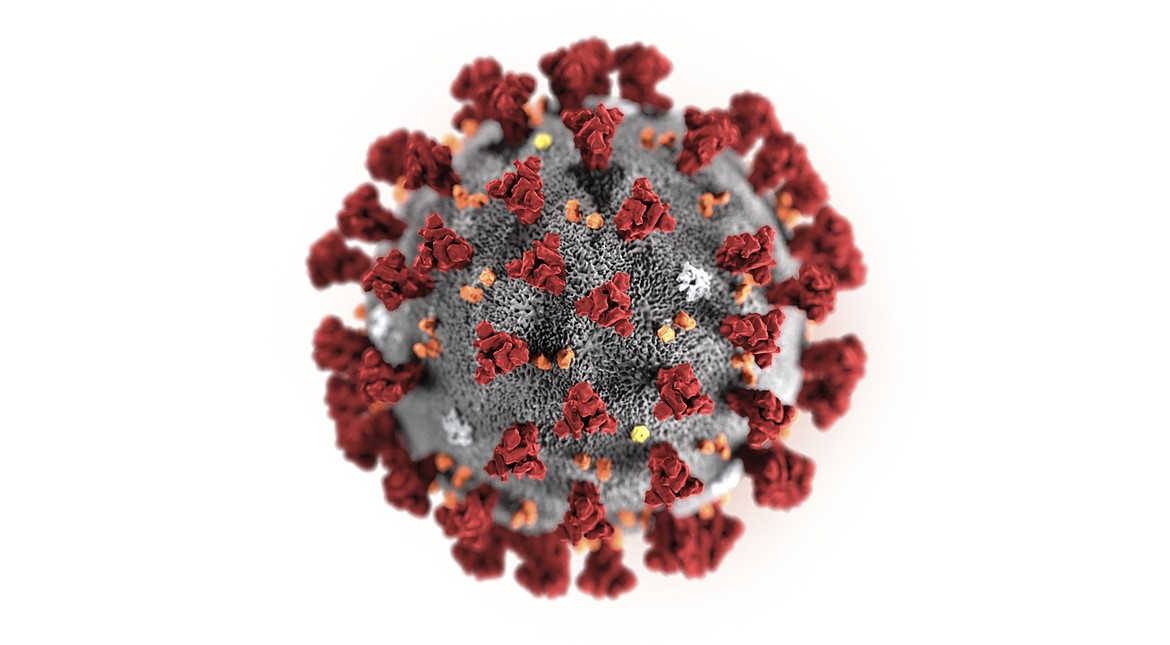 This illustration provided by the Centers for Disease Control and Prevention in January 2020 shows the 2019 Novel Coronavirus (2019-nCoV). This virus was identified as the cause of an outbreak of respiratory illness first detected in Wuhan, China. (Centers for Disease Control and Prevention via AP)
by
KEITH KINNAIRD
News editor
|
July 31, 2020 1:00 AM
SANDPOINT — The Panhandle Health District recorded 89 new confirmed or probable cases of novel coronavirus on Thursday, including two new infections in Bonner County.
There have been 1,786 total cases in the Panhandle since the pandemic began, 1,768 of which have been confirmed through laboratory analysis. There are 18 probable cases of the virus, which causes COVID-19. Kootenai County has 1,415 case, 1,404 of which are lab-confirmed. The district said 726 of the case in Kootenai County are active.
Bonner County has had 141 cases since the outbreak began and 135 of those cases are lab-confirmed, the district said. Sixty-one of the Bonner County cases remain active.
All 63 of Shoshone County's cases are lab-confirmed and 49 of them are active, PHD said. All 34 of Boundary County's cases are also lab-confirmed and 27 of them remain active.
All 40 of Benewah County's cases are lab-confirmed, though only nine are active. The health district said there are 17 confirmed cases involving Panhandle residents whose primary county of residence is undetermined. Five of those cases are active.
There have been 85 hospitalizations in the Panhandle over the course of the pandemic and 32 people are currently hospitalized, the health district said. The district said the virus has claimed nine lives in Kootenai County and one in Shoshone County. The district said 853 people are no longer being monitored because of the virus.
"Our thoughts are with the family and loved ones as they grieve their loss," said Lora Whalen, director of PHD. "It is vital for our community to take this virus seriously. COVID-19 is highly contagious and we ask that individuals take the necessary precautions to protect their fellow citizens."
The Idaho Department of Health & Welfare tallied 567 new confirmed or probable cases of coronavirus on Thursday, bringing the statewide case total to 20,246 and 177 deaths.
The Northeast Tri-County Health District said three new confirmed cases of the virus emerged on Thursday, elevating the regional total to 126 confirmed cases. Two of the new cases turned up in Stevens County and one new case emerged in Ferry County.
Stevens County has had 80 cases and one fatality since the outbreak, while Pend Oreille County has had 34 confirmed cases, NETCHD said on Thursday. Ferry County has had 12 cases.
The Montana State Department of Public Health reported 138 new confirmed infections on Thursday, pushing the statewide total to 3,814 cases and 55 deaths. Lincoln County has 20 cases, while Sanders County has six cases, according to the state.
Keith Kinnaird can be reached by email at kkinnaird@bonnercountydailybee.com and follow him on Twitter @KeithDailyBee.
---