Students, young adults peacefully protest racism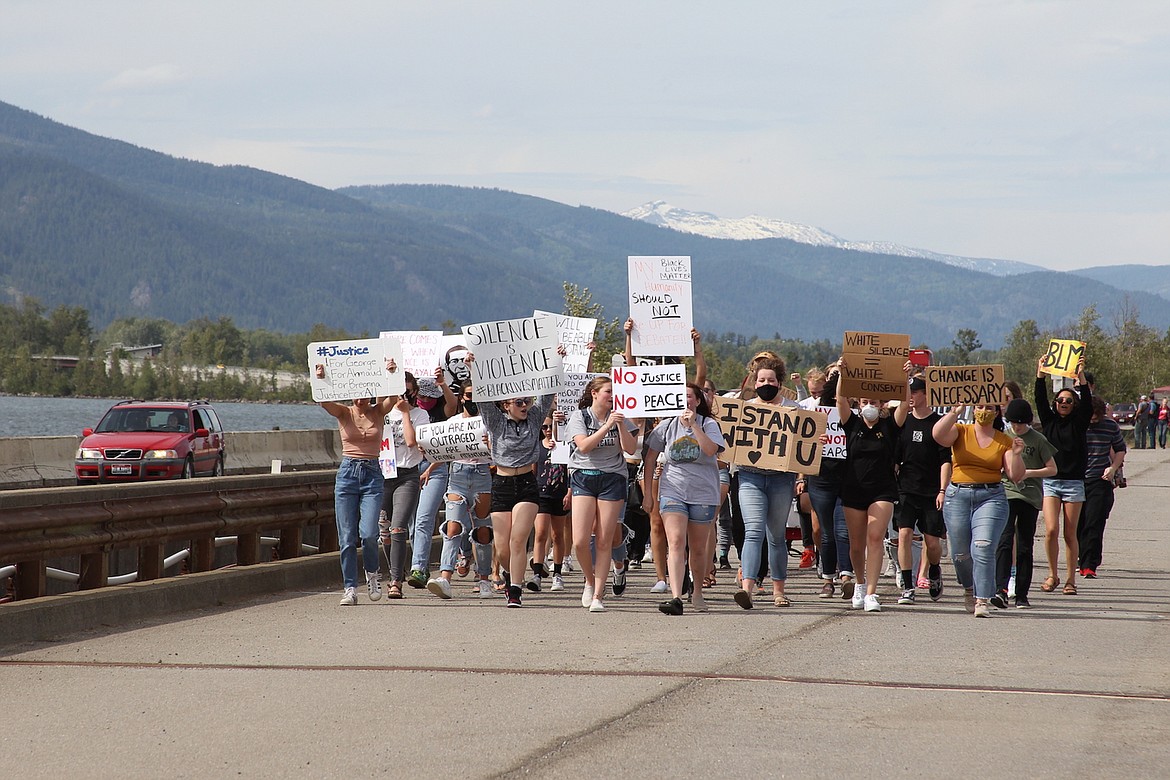 Students and young adults peacefully protested against racism and police brutality on Tuesday.
(Photo by KEITH KINNAIRD)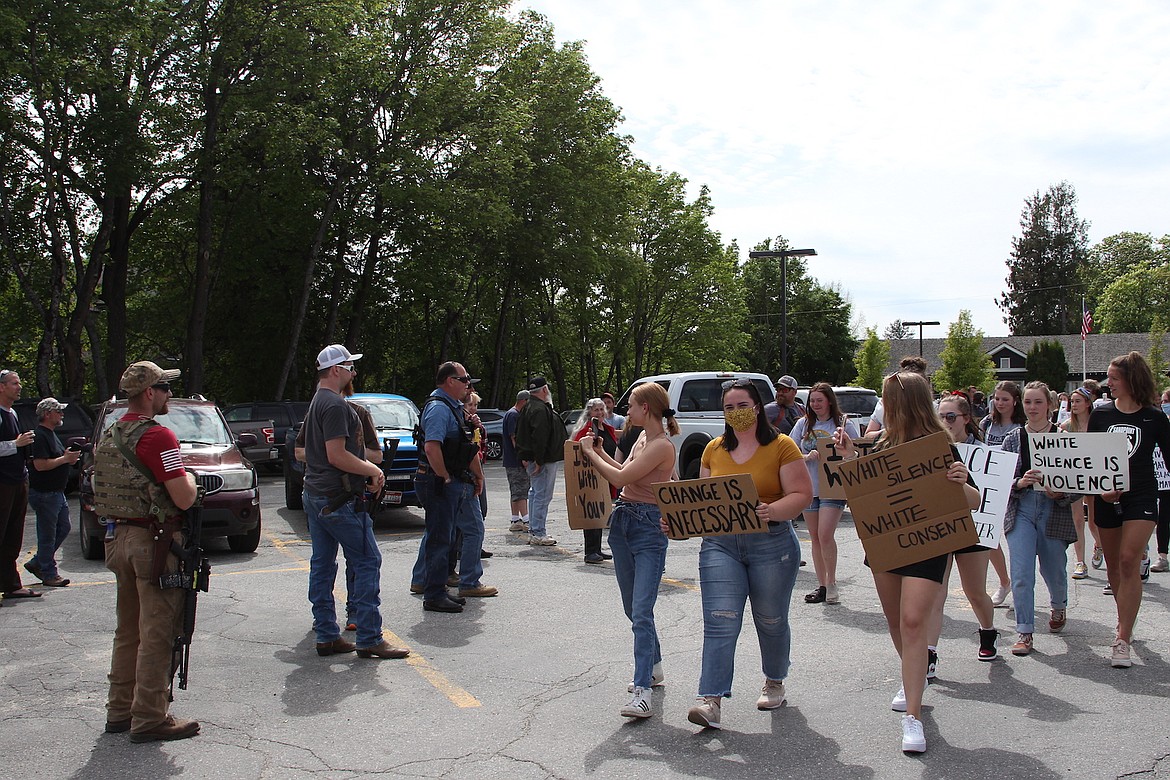 Protesters pass by armed adults at the Bonner County Courthouse.
(Photo by KEITH KINNAIRD)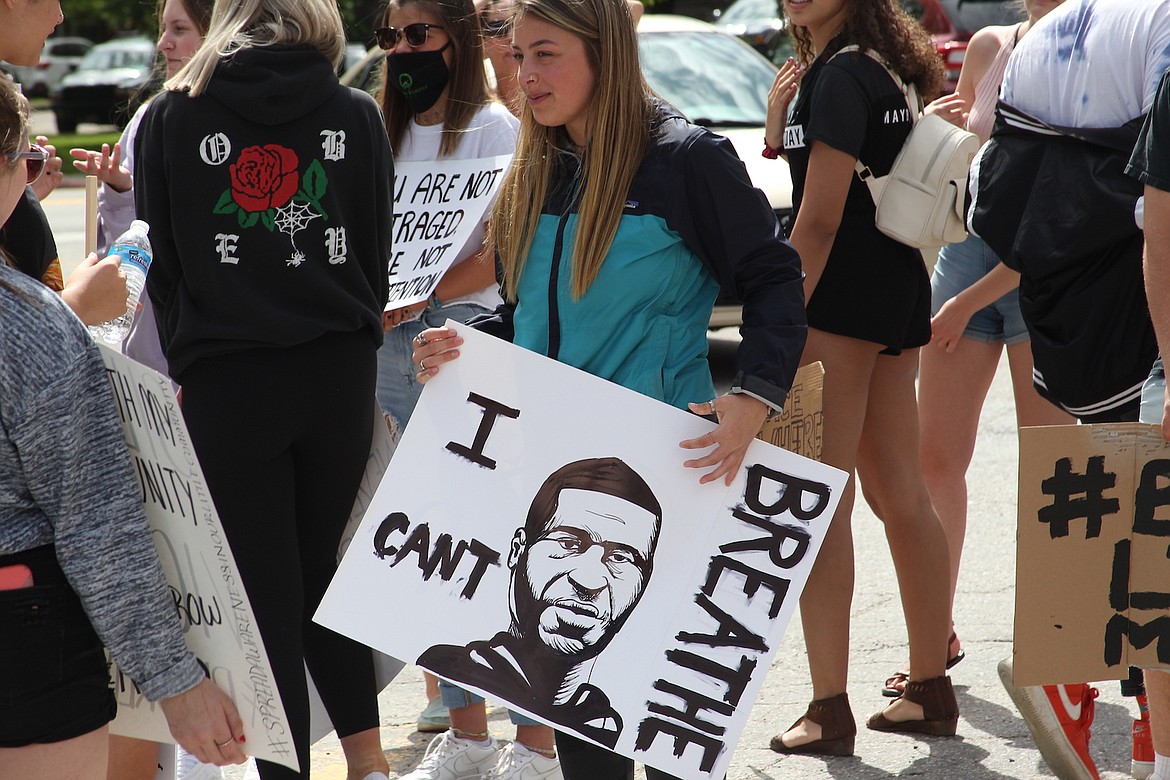 (Photo by KEITH KINNAIRD) A protester with poster of an image of George Floyd.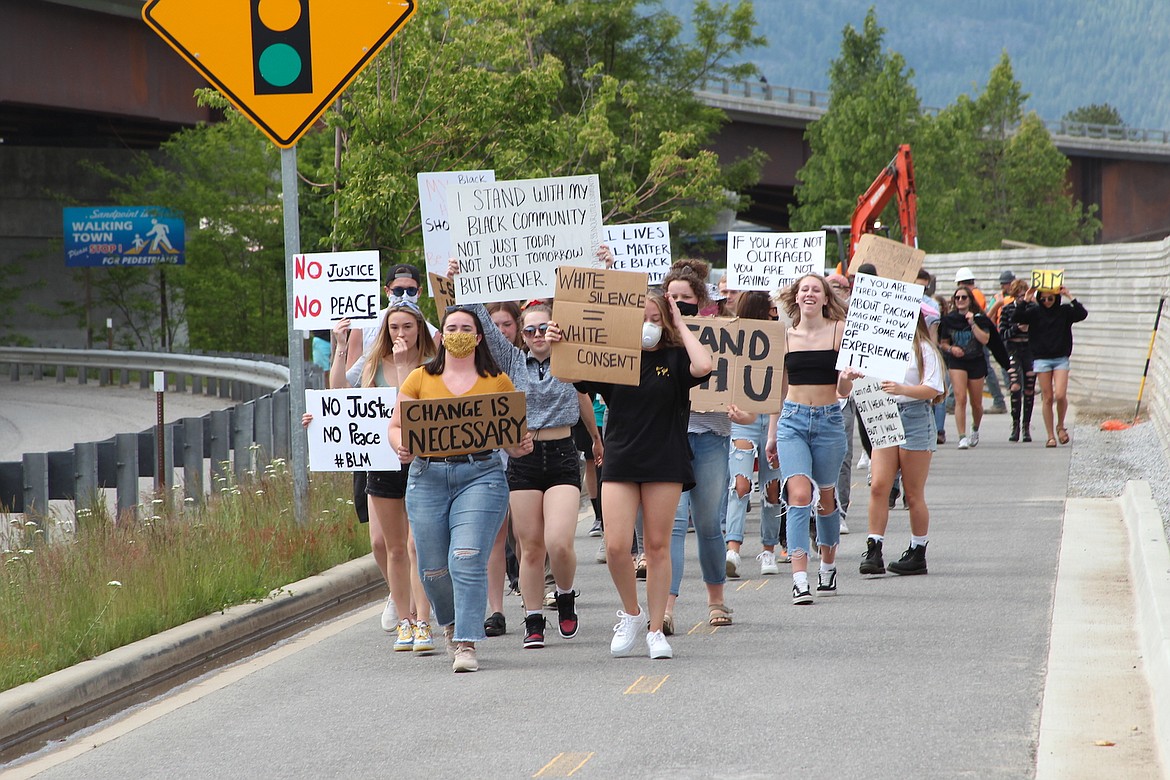 (Photo by KEITH KINNAIRD) Protesters make their way down the bike path next to U.S. Highway 95.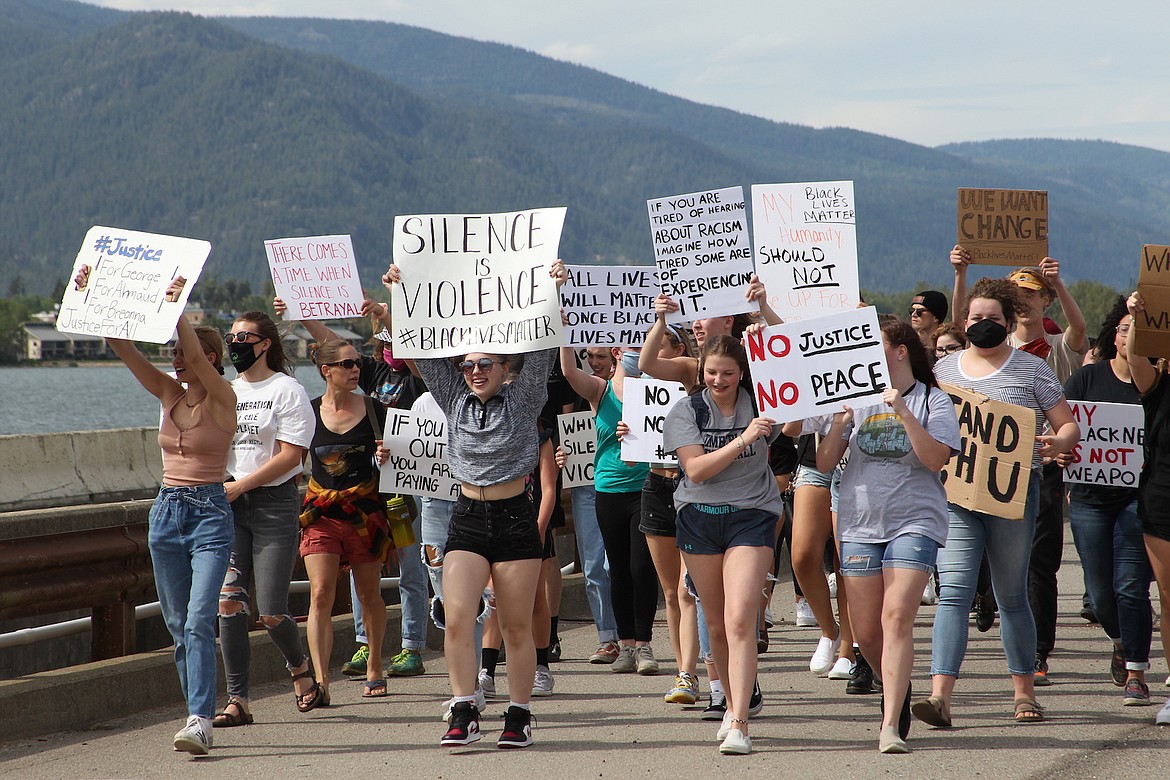 (Photo by KEITH KINNAIRD) Protesters received honks of support, but were also jeered by some.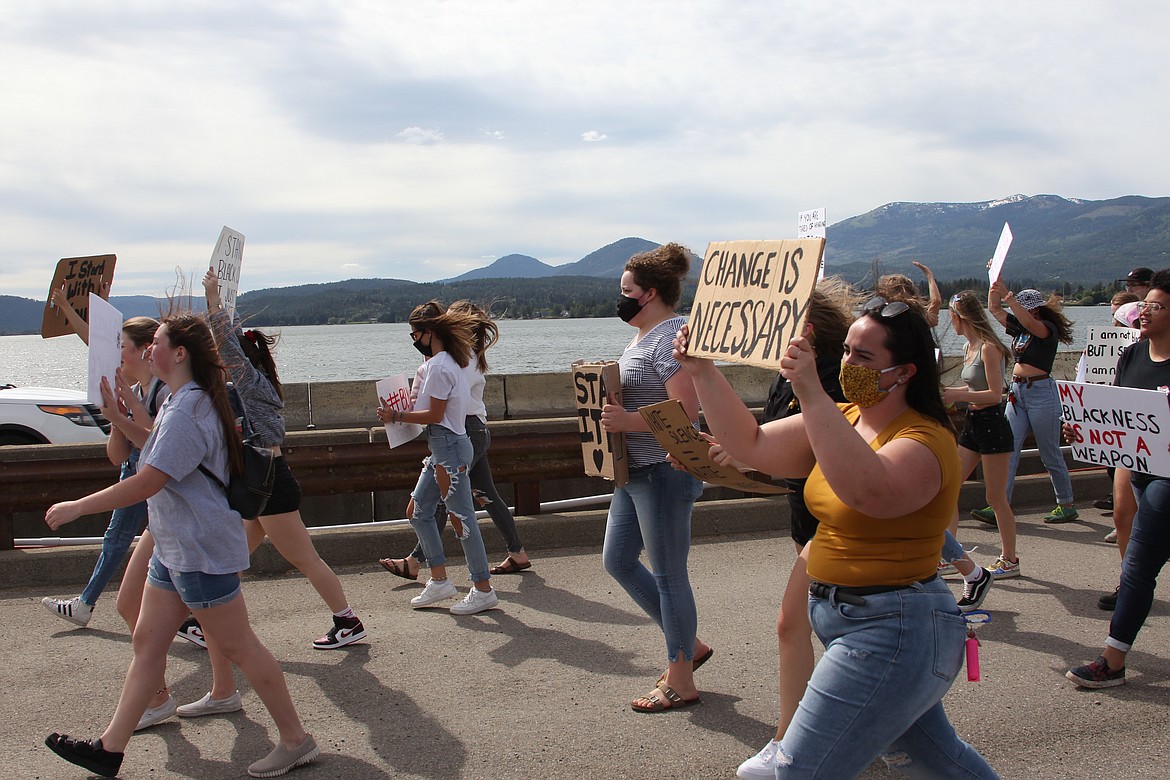 (Photo by KEITH KINNAIRD) Demonstrators on the bridge.
Previous
Next
by
KEITH KINNAIRD
News editor
|
June 3, 2020 1:00 AM
SANDPOINT — Scores of students and young adults took to the deck of the U.S. Highway 95 Long Bridge Tuesday to peacefully protest institutionalized racism, police brutality and President Donald Trump.
The group of students gathered in the parking lot of the Bonner County Courthouse to finish making signs and placards voicing their support for the Black Lives Matter movement, denouncing the president and calling for police reforms in the wake of the death of George Floyd, who was killed while in police custody.
Milling close by were a group of adult Second Amendment proponents, Three Percenters and Oath Keepers. Many were armed with semiautomatic rifles on slings and holstered sidearms.
Bonner County Commission Chairman Dan McDonald went on social media to mobilize his conservative base "to help counter anything that might get out of hand." He later clarified that protesters should be respected and supported if the demonstration is peaceful.
Steve Wasylko said the group was there to protect the demonstrators and ensure that people with malignant plans did not infiltrate the group.
"We are worried about outside agitators," Wasylko said.
The widening sense of anger and frustration over racism and police brutality reached Sandpoint on Tuesday.
"We need police reform. People are being murdered by police and nobody is really doing anything to help except for the protesters," said Juliet Harrison.
Harrison added that police need to be given better training and to stop escalating violence for petty crimes.
"I've dealt with a lot of police brutality," said Tate LaChance, a 15-year-old Sandpoint High School student whose cousin, Brandon Kuhlman, was killed in an officer-involved shooting with Sandpoint Police in 2018.
Kootenai County Prosecutor Barry McHugh cleared officers of wrongdoing. Body-worn video footage indicated that Kuhlman opened fire on the officers without warning or provocation while they were conducting a welfare check, according to investigators.
Lillianna Matthews said she was moved to demonstrate to support people in her family who have lawfully immigrated to the United States.
"They still risk being deported," said Matthews, 18.
Matthews also took issue with the president, whom she described as racist, misogynist and xenophobic.
"I can't stand him," she said.
Will Harrison, one of the adults who chaperoned the group, said meaningful change needs to occur.
"We can't keep doing this. It's not OK and it's not something that's ever been OK. It has to change now," said Harrison, who is the father of Juliet.
Will Harrison is optimistic children can help move the needle on issues of racism and police brutality.
"I have the ultimate hope for these children that they can make this happen. Our generation has been unable to," he said.
After the demonstration, armed adults in tactical gear posted themselves around downtown Sandpoint to quell any uprisings, as was done in Coeur d'Alene on Monday evening.
Keith Kinnaird can be reached by email at kkinnaird@bonnercountydailybee.com and follow him on Twitter @KeithDailyBee.
Recent Headlines
---