Senior Spotlight: 'I can't imagine the team without her'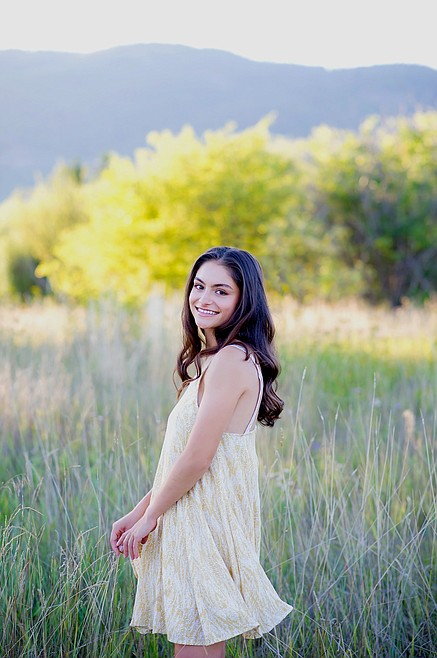 Bionce Vincent will run track and cross country at Pacific University in Oregon this fall. "I couldn't do what she does," her mom said. "It's unbelievable."
(Courtesy photo)
by
Dylan Greene
Sports Editor
|
June 6, 2020 1:00 AM
Editor's note: This article is part of a recurring series on local high school athletes who had their seasons cut short or canceled due to the coronavirus pandemic.
SANDPOINT — Bionce Vincent has only spent the last three years of her life in Sandpoint, but she won't ever forget the time she got in North Idaho.
And last night when Bionce stepped on the stage to receive her diploma from SHS, her mom, Barbara Vincent, surely cried while thinking about the person she has become.
"I couldn't do what she does," Barbara said. "It's unbelievable."
Following her freshman year of high school in Hawaii, Bionce moved to Sandpoint with her family and she brought a passion for running with her.
"As a kid, I just loved going fast," she said.
Bionce began running competitively in middle school and her main motivation for doing so was simple — running helps keep the mind, body and heart healthy.
Bionce's dad, Leonard, passed away when she was just over 2 years old due to heart issues and others in her family did as well, so naturally Bionce wanted to do everything she could to make sure that didn't happen to her.
Barbara said Bionce has always encouraged her to live a healthy lifestyle and she's followed her daughter's wishes as best as she can.
Upon arrival to Sandpoint, Bionce knew she didn't want to stop running so she joined the SHS cross country team almost immediately. She remembers showing up for the first team practice at City Beach during the summer before her sophomore year and seeing how happy Katherine Kaul was to see everyone.
"I was so surprised when I met the team how welcoming everyone was," Bionce said.
Bionce was nervous coming into an new environment, going to a different school and joining a team that already had a close bond. In fact, she was a bit intimidated at first by how close the members of the cross country team were, but they took her in with open arms.
"It's quite irreplaceable," Bionce said about her time on the cross country team.
Girls cross country coach Angie Brass said she met Bionce just a few weeks before the start of the 2017 cross country season but she made an instant connection with her.
Brass said Bionce had to adjust to running in the harsh winters of North Idaho after spending all of her life in Hawaii and she brought a great perspective to the team that everyone enjoyed hearing.
"She's very genuine and not afraid to be herself," Brass said. "I think it was a positive experience for her."
Barbara said the cross country team was like a second family for Bionce. They lifted her up when she was down and the positive culture helped mold Bionce into the person she is.
"In times when I didn't find support from my own family it was never hard for the cross country team to always be there for me," Bionce said, "and I don't know what I would have done without being on the team."
Bionce enjoyed breaking her cross country races into sections and focusing on one thing at a time.
"Every single part of your run, you're challenging yourself more mentally than physically and that's what I love," she said.
This past season was the most impactful for Bionce. She served as co-captain of the girls cross country team alongside Paige Davidson and ran the 12th fastest 5K time in school history en route to her second straight trip to state.
In track, Bionce specialized in mid-distance events running the 1600 and the 4x400 and 4x800 relays. Bionce enjoyed the challenge of competing in relays and called it "the biggest team effort you get in track."
And she has a particular fascination with being handed the baton.
"Its like you have this power ... once you get there it's your time to shine and you're doing it all for one another," she said.
But her favorite event in track was the 800. Not a surprise given she placed seventh in the event at state last season.
Bionce said the 800 was the perfect event for her and the one that made her hurt the most, and strangely enough that is why she liked it so much.
Brass, who is also the distance coach for track, said Bionce had the endurance and closing speed to excel at the two-lap sprint and she ran like she was 6-foot-3.
Bionce said the relationships she built through sports can't be replaced and her teammates had the unique ability to turn any bad day into a good day.
"If it wasn't for her team and her coaches, Bionce might not have been where she is today," Barbara said.
Bionce's career in track and cross country isn't over yet. She'll compete in both sports at Pacific University in Forest Grove, Oregon, this fall. She plans on majoring in chemistry with a focus on environmental toxicology. In terms of a future career, Bionce is keeping her options open but one path includes becoming a climate scientist.
Growing up, Barbara said Bionce would throw a fit if she missed one day of school and she believes her daughter's determination will take her far.
"She can't let anything slow her down from reaching her goals," Barbara said.
Barbara got emotional when talking about what life will be like without having Bionce at home, but she knows her courageous daughter is ready for the next chapter of life.
Bionce said her mom has always inspired her due to her strength and resilience.
Looking back, one funny high school memory sticks out in Bionce's mind. Throughout her high school career, Bionce claimed she never showed up for school on time. Her friend Camille Neuder had the same problem so at one point, students in their AP calculus class started betting on who would show up to class first.
Brass can't wait to watch Bionce grow and continue to improve over the next four years and she is grateful Bionce's family chose to come to Sandpoint.
"I'm so happy she was here," Brass said. "I can't imagine the team without her."
In her own words: Bionce Vincent
"Now is the greatest time for reflection. It is, without doubt, heart-wrenching for everyone to have experienced this year's hardships, but I know I personally couldn't have done it without the loyal, resilient, and loving friends and family in my life. My time on the Sandpoint cross country team has been too short in my opinion, but nonetheless, the greatness of the team does not expire. There are no perfect words to thank the people that guided and cheered me on this year, but to Angie and Matt Brass, I owe all my success. The relationships you've cultivated with the team and between the team are irreplaceable and I will have these connections for life. It's always been more than running, and anyone that knows these two also knows that. Thank you to my mom, Barbara Vincent, who has been my biggest cheerleader and supporter since forever. I aspire every day to be as devoted and unshakeable as you. Thank you to team members, especially captain Paige Davidson, and the current and past individuals for being righteous leaders. Thinking about this family will always bring joy and tears to my face. I am thankful for these memories and excited to make more with the same group!!"
---