PSW draws from the past to mow meadows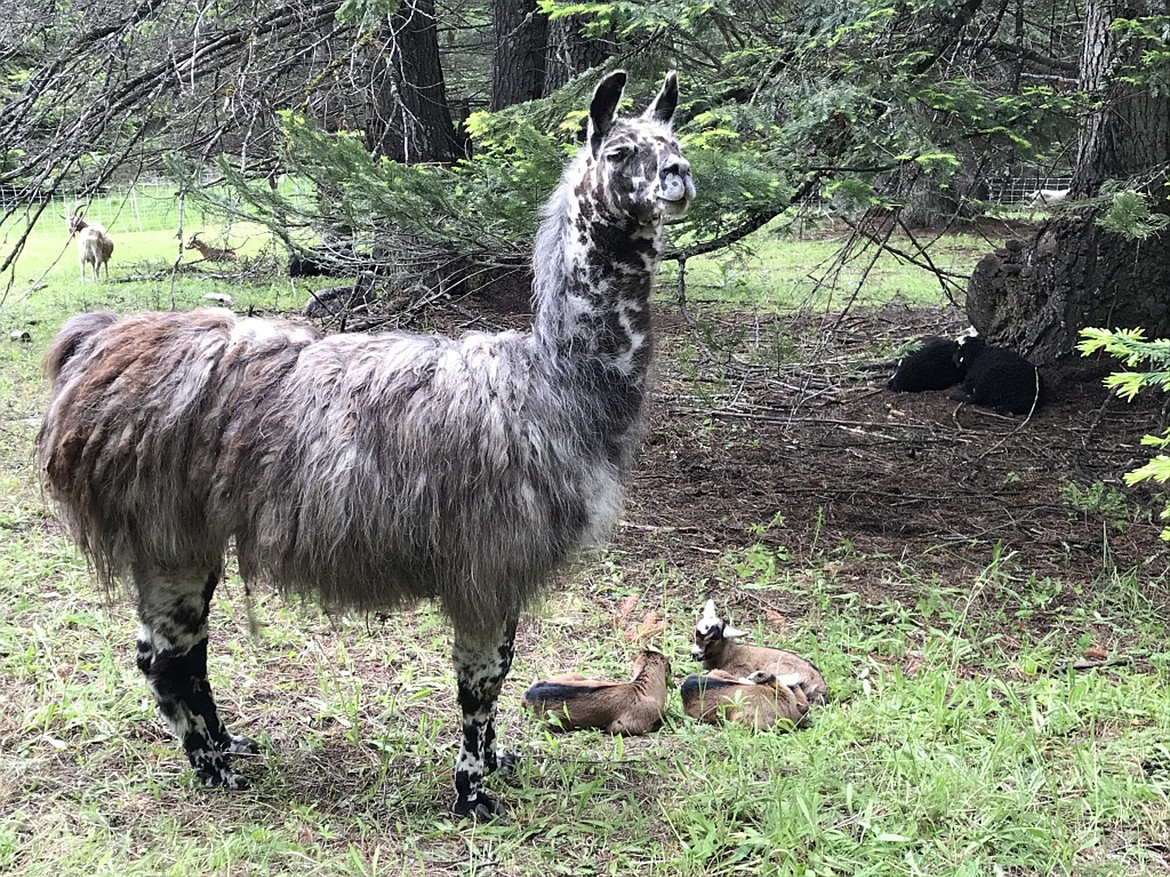 This striking llama stands as though it is protecting the baby goats at the Pine Street Woods where yak, llamas, goats, and sheep were brought in by Kaniksu Land Trust to plow the meadows nature's way.
(Photo by SUSAN DRINKARD)
(Couresy photo) Chris Wujek, shepherd, shears Rusty, a llama he recently captured from the wild, upon his arrival to Pine Street Woods. Kaniksu Land Trust has contracted with Wujek to rehabilitate meadows at the recreation site suffering from overgrazing by cattle.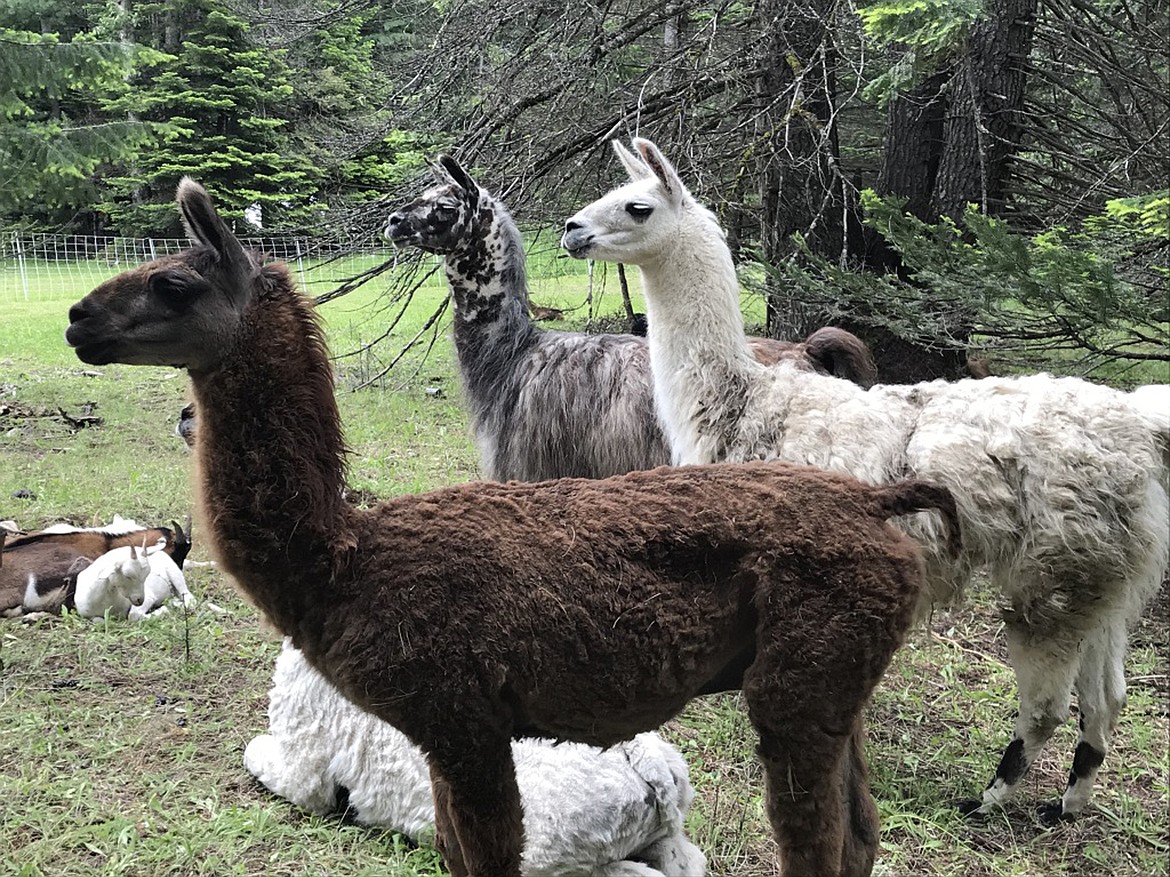 (Photo by SUSAN DRINKARD) Llamas stand at attention at the Pine Street Woods, where they along with a yak, goats and sheep, were brought in to mow the meadows at the popular recreation site west of Sandpoint.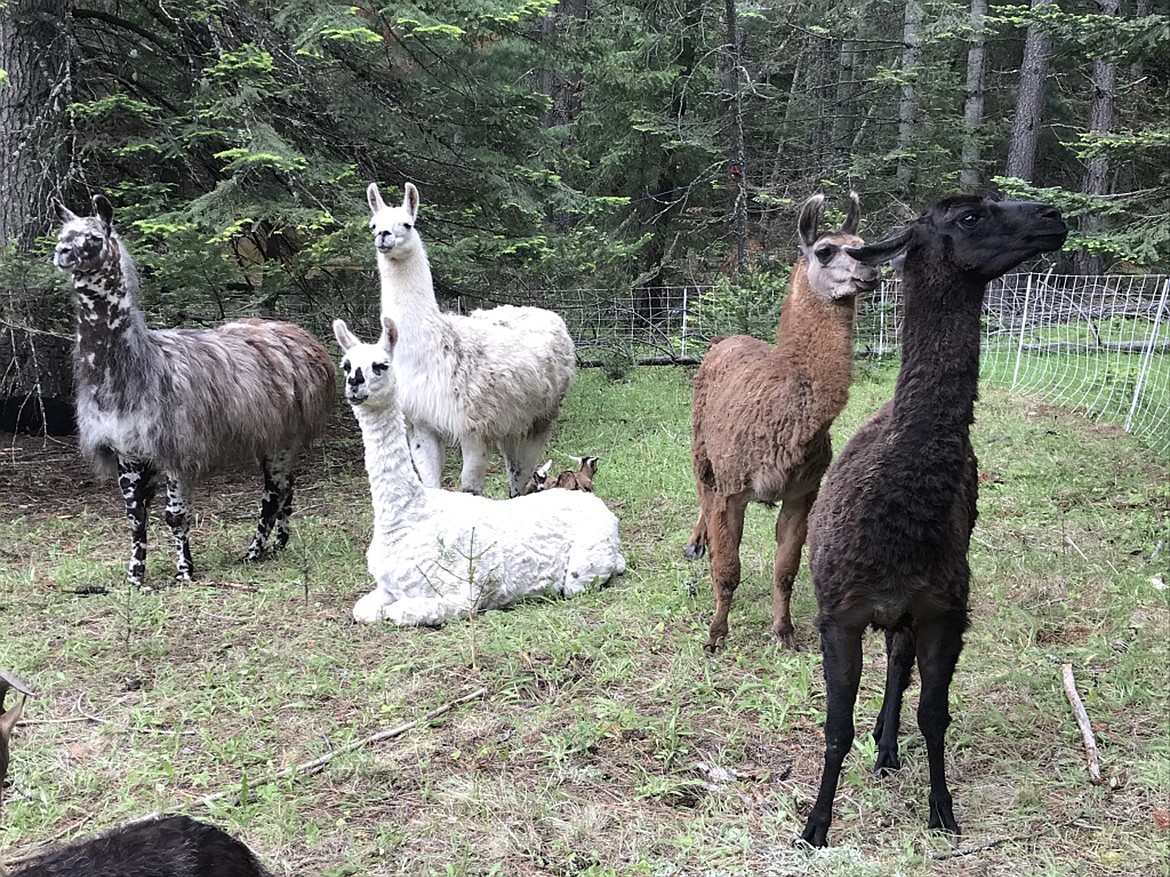 (Photo by SUSAN DRINKARD) Llamas hang about in a pen at the Pine Street Woods where the animals along with a yak, goats, and sheep were brought in by Kaniksu Land Trust to plow the meadows nature's way.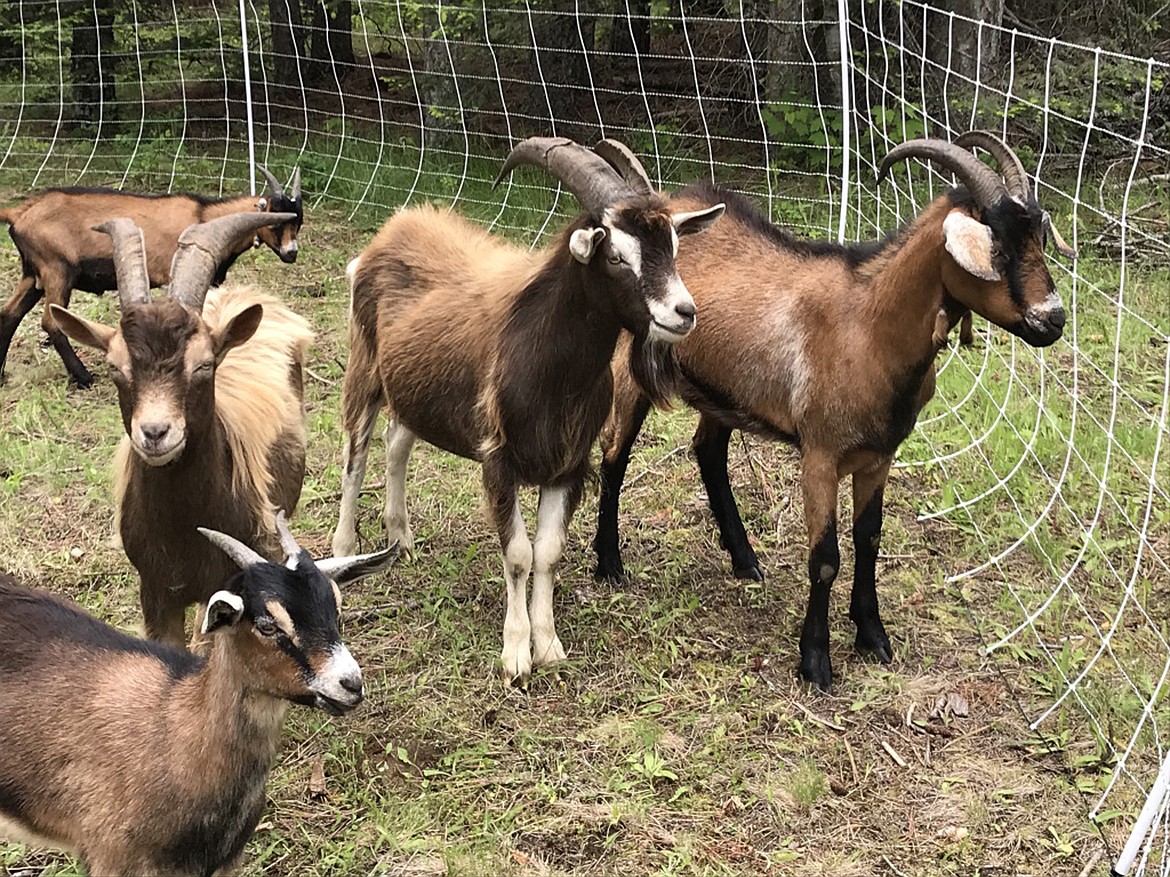 (Photo by SUSAN DRINKARD) A goat herd will help keep the fields mowed at Pine Street Woods. A shepherd is residing at the recreation site to watch over his animals and to protect them from predators.
Previous
Next
SANDPOINT — An ancient practice is under way at Pine Street Woods.
Kaniksu Land Trust has contracted with an itinerant shepherd and his animal family of goats, sheep, yaks, and llamas to mow the meadows at the popular recreation site west of Sandpoint.
The meadows at Pine Street Woods suffer from overgrazing by cattle, said Regan Plumb, conservation director for Kaniksu Land Trust, who holds a degree in biology and an advanced degree in zoology. "We want to rehabilitate and restore the meadows through this targeted rotational program," she said.
Chris Wujek, whose occupation is not usually on the lists high school counselors give out, is a shepherd who travels year-round with his animals, all of whom have names and decided personalities. He puts up a fence in an area and the animals eat most everything within the confines of the fence, and the next day he moves the fence and the animals to a new place to forage.
There is not a lot of resistance on the part of the animals to move, said Plumb, though Wujek does tie up the llamas during the process because they may be a little smarter than the goats, Plumb said. Most of Wujek's animals trust their shepherd to take them to a new place to eat, and yaks, llamas, goats, and sheep enjoy different kinds of plants from each other.
The timing is just right because weeds are at their most vulnerable presently, Plumb explained. "And the animals are fertilizing the soil with hooves cultivating the soil, improving overall soil fertility," she said.
Plumb said it is important to note this will take several successive years, perhaps three to five, she said, and hopes Wujek will return with his animals in summers to come.
Everyone seems to love the notion of having the animals at the site, Plumb said, but the number of recreational users is high at Pine Street Woods and this makes Kaniksu Land Trust staff rather nervous.
"Dog owners should beware that llamas will attack dogs" and everyone should be aware that the fence surrounding the animals is electric, Plumb said.
Inside the fence are two brown half-sister yaks, who carefully groomed each other on Saturday; five llamas, three of which Wujek recently captured from a wild herd; eight sheep; and 20 goats, some tiny baby goats. Wujek sheared one of the newly captured llamas, a reddish one he named Rusty, on Friday, and one of the other llamas, with a seemingly grand sense of humor, came over and got into the shavings. Fur topped his head, looking like a wig, and he wore it around the rest of the day.
Plumb said Wujek is pleased the baby goats are at Pine Street Woods because this is the time they learn about socialization and there are frequent viewings by humans walking or bicycling nearby.
Wujek is originally from northeastern Oregon. He takes his animals to the high country in the summers and then to warmer climes in the winters.
"He has an amazing relationship with the animals," Plumb said. "He sleeps with them inside the fence under the stars to protect them from coyotes or mountain lions," she said, "and he drinks their milk." He will eat an animal if necessary, say if he has too many billy goats.
"He's very well educated and has done a lot of research about how much grazing and what species the animals prefer. There is a science to what he is doing. If he takes them to an area where there are mostly noxious weeds, the next day he will set them up at a grassy, lush area in order to keep them healthy," she said. He does not supplement their diets with hay or anything but kelp and salt.
When he moves the animals, he doesn't always need to use a fence because the animals seem to know they are going to fresh food, and they don't run off, she said.
"We're excited for the opportunity to rehabilitate the meadows but I want to emphasize that people should not try to touch the animals," she said, adding the llamas are very protective of the other animals.
Pine Street Woods is open from 7 a.m. to 7 p.m. for free outdoor activities. One of the land trust's goals is not only to protect land resources, but also to support communities in spending time outdoors engaging in the natural world, says Cami Murray, the outreach and development coordinator for the non-profit, and this experimental program is a small part of the land trust's efforts to improve some of the 180 acres of Pine Street Woods.
The animals will be moved every day at Pine Street Woods until the end of June.
For more information about Kaniksu Land Trust, call Murray at 208-263-9471, and watch for news about the portable sawmill opening soon at Pine Street Woods where wood will be marketed for the public.
Susan Drinkard writes features for the Daily Bee. She can be reached at susanadiana@icloud.com.
Recent Headlines
---