Permit nears for July 4th celebration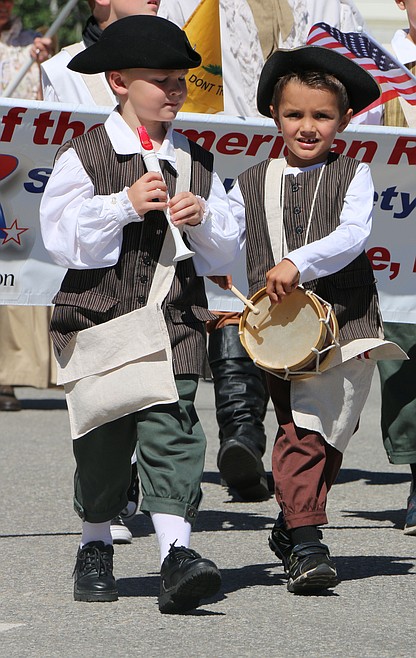 (Daily Bee file photo/CAROLINE LOBSINGER) A pair of youngsters take part in a past Fourth of July parade.
by
Aly De Angelus
Staff Writer
|
June 9, 2020 1:00 AM
SANDPOINT — In three weeks Sandpoint resident Ron Korn has raised enough money to pay for the Independence Day parade, picnic and fireworks show through his GoFundMe campaign. Korn partnered with Sandpoint Police Chief Corey Coon to salvage the community's long-standing celebration that was previously cancelled due to the COVID-19 pandemic.
"I would just like to say thank you for supporting us and making sure that we keep our Fourth of July festival," Korn said at the June 3 City Council meeting. "We've got a lot of events planned for the festival, bringing back the old fashioned Fourth of July at Sandpoint."
When Korn received word that The Sandpoint Lions Club was not hosting the Fourth of July parade this year, he took to social media and created a public Facebook group called Save Independence Day, Sandpoint, which gathered over 900 members in support of his goal. Korn has already submitted his permit request to the city. However, City Administrator Jennifer Stapleton said the permit is contingent upon Korn's final submittal of documents such as his insurance plan.
"So that's required in order to move us through our permit processing, but we had at least one meeting with all of us involved in special event planning and coordination on what this would look like," Stapleton said.
Stapleton said approval of the permit will also require a plan that follows social distancing protocol. "In terms of crowd size, by the Fourth of July the anticipation would be that we are in stage four which allows for large crowd gatherings again," She said.
In case Gov. Brad Little alters his phased approach of reopening for the state, a secondary plan must be included with Korn's permit plan.
One of the concerns for police was fine-tuning a parade route that limits detours and cuts down on traffic.
Korn's current plan is to move the staging area from the west side of Fifth Avenue to the south side of Pine Street. The event will come in on Fourth Avenue and Church Street as opposed to the parade's usual route of Fifth and Church. The parade will end at Cedar Street and Fifth Avenue.
"It allows us to stage some of Church Street, some on First Avenue and shutting down on Pine Street will have an impact, but it won't be as bad of an impact as shutting down Fifth Avenue," Coon said. "I think we've got a lot of the kinks worked out. We are moving in the right direction at least."
The Fourth of July parade will begin at 10 a.m. and the festival will start at 12 p.m. and end at 5 p.m.
Some events for the festival include a three-legged race, a water balloon fight and a dunk tank. Korn is using the same fireworks contractor as the Sandpoint Lions Club and said the firework show will be almost identical to last year's show at City Beach.
He expects a large turnout, pending approval of his permit. Korn is considering a shuttle and various parking lots to use to keep transportation safe and organized.
Aly De Angelus can be reached by email at adeangelus@bonnercountydailybee.com and follow her on Twitter @AlyDailyBee.
---