BLM Sandpoint details demands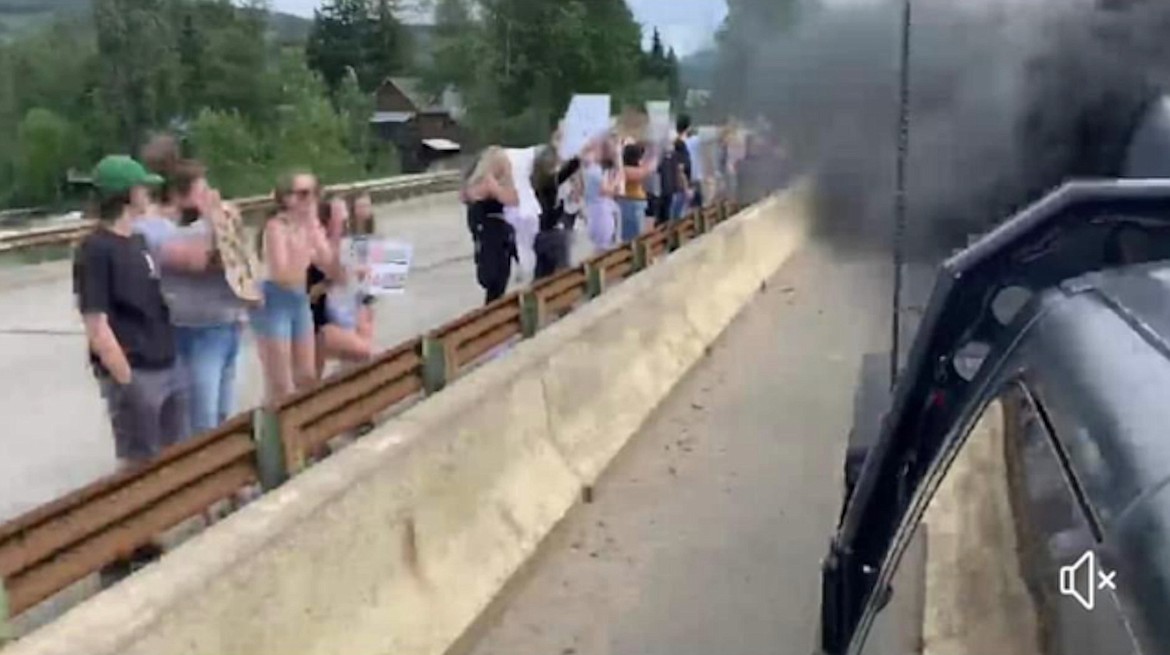 (Image via FACEBOOK) A motorist spews diesel exhaust on Black Lives Matter protesters on the Long Bridge. The practice is known as rolling coal.
by
KEITH KINNAIRD
News editor
|
June 12, 2020 1:00 AM
SANDPOINT — Black Lives Matter Sandpoint is releasing a list of demands calling on elected officials to join the national movement to establish racial justice.
The group is demanding the Sandpoint City Council to require and fund ongoing anti-racism training for all police officers and appointed city staff members, in addition to regular de-escalation training and the creation of a community police oversight board.
The group is also calling upon the Lake Pend Oreille School District to take disciplinary action against a student who harassed protesters during a Black Lives Matter demonstration on the U.S. Highway 95 Long Bridge and afterward on social media.
That incident appears to involve a Black Lives Matter counter demonstrator who used his pickup truck to spew diesel exhaust on protesters, a practice known as a rolling coal, on the Long Bridge earlier this month. A post later appeared on Facebook in which Ben Mitchell said, "If they want to support the black lives matter, we'll make em black." The post included a screen shot from the cab of the pickup truck showing protesters being hit with the diesel exhaust.
Sandpoint Police Chief Corey Coon was asked about the incident during a Zoom presentation on protests and counter protests in the wake of the death of George Floyd, an unarmed black man who died in police custody in Minneapolis. Coon said the Long Bridge is outside city limits and referred inquiries about the incident to the Bonner County Sheriff's Office.
The Bonner County Sheriff's Office did not respond to a request for comment on Thursday.
Black Lives Matter Sandpoint is calling on the school district to develop policies which prohibit racist activities and the display of racists symbols in schools in keeping with the district's dress code rules.
"They must develop a restorative justice model for enforcing these rules to help perpetrators learn from their actions," the group said in a statement.
The group is also demanding the school district fund anti-racism training for all teachers, staff and students in the school district.
"We do not feel that these demands are unreasonable. They are just a start to unraveling the racism and bigotry that has plagued our community. We will continue to protest until our demands are met," the group's statement said.
Bonner County Commission Chairman Dan McDonald called the demands "extortion."
"Making demands rarely ends in good results and frankly, I make it a policy to not negotiate with someone who would put out a list of demands with an "or else" threat at the end," McDonald said.
McDonald said he questioned BLM Sandpoint members to point to racism in the community and received no response. McDonald added that the Sandpoint Police Department, sheriff's office and school district have solid reputations of enforcing laws and rules without racial bias.
"We will always have that small percentage of bad actors in every society and even here in Bonner County but to paint the entire population with the broad brush of racism and bigotry is irresponsible and ignorant. In the end, while most all of us oppose racism and bigotry, we will never be able to pass laws or control what is in some peoples hearts and minds," McDonald said.
McDonald said the overwhelming majority of the local population believes in live and let live and added that issues of racism in the community are being overstated.
"It's really a solution searching for a problem," he said.
BLM Sandpoint's spokesman, former Bonner County Commissioner Todd Crossett, said on Thursday he had not received any formal responses from the city or the county.
Crossett added that there have been more than one instance of harassment over social media.
"There's been a few social media harassments," he said.
Crossett said one opponent of Black Lives Matter drove past a supporter of the movement with a gun drawn.
Keith Kinnaird can be reached by email at kkinnaird@bonnercountydailybee.com and follow him on Twitter @KeithDailyBee.
---