Holycross runs in Sandpoint Open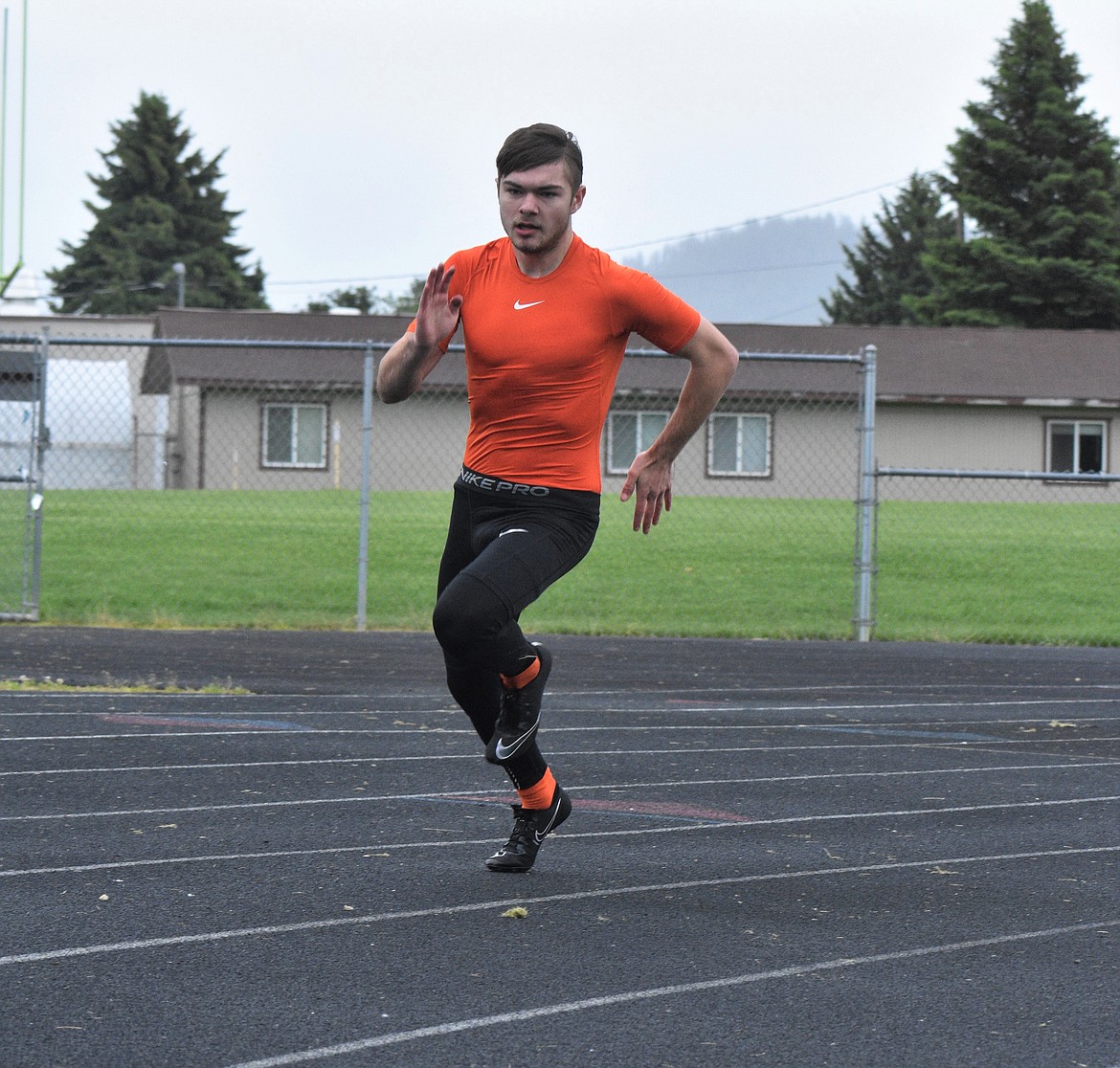 Priest River senior Teagun Holycross rounds the track in the 400 meter during Saturday's Sandpoint Open.
(Photo by DYLAN GREENE)
by
Dylan Greene
Sports Editor
|
June 17, 2020 1:00 AM
SANDPOINT — Over the weekend, Priest River's Teagun Holycross participated in probably the first track meet in the state of Idaho in roughly three months.
Sandpoint High School hosted the Sandpoint Open on Saturday to give their track athletes and others in the area one chance to compete this season.
Holycross had been working out at The Fit Factory over the past few months holding out hope that he would get an opportunity to run this spring, and sure enough he did.
"I'm very grateful that I at least got this one last chance ... it was very fun," he said.
The senior competed in three events — the 100 meter, 200 and 400. It was windy and wet for most of the meet but Holycross didn't let the conditions slow him down.
"I was pretty happy with how I did with the bad weather," he said, "and it being the first track meet that I've ran since the winter season."
Holycross wasn't ready when the gun fired off to start the 100 but he still ran a 11.34, which is just over a tenth off his personal record. He finished second in the event behind Sandpoint's Braden Kappen.
In the 200, Holycross claimed first by running a PR of 23.09 and nearly secured his goal of going under 23 seconds in the event.
For the first time in high school Holycross competed in the 400. He's been a part of the 4x400 relay team every year and decided to give the 400 a shot in this setting.
"I've always liked the feeling of it while running it," he said. "It's just exhilarating."
Holycross was the only runner that competed in the event. He notched a 54.13, eight seconds faster than the time he ran in a simulated meet he held on his own last week.
Holycross said its nice to have something to build off of as he prepares to tryout for the University of Montana track team in the 400 hurdles this year.
---