Talk on race, policing fills city hall, streets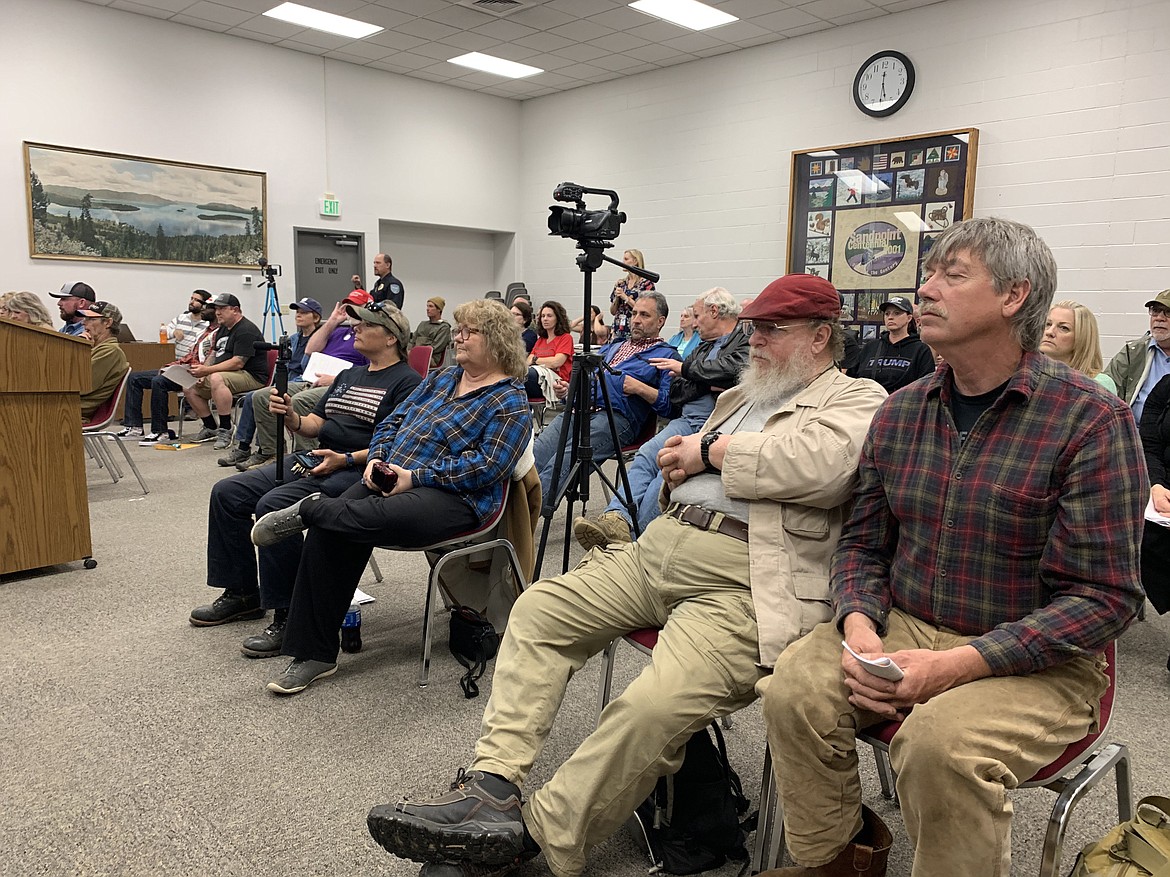 Area residents used the public forum portion of the Sandpoint City Council meeting to discuss everything from racism and police brutality, two separate issues that have been consistently referred to in partnership since the death of George Floyd.
(Photo by ALY DE ANGELUS)
by
Aly De Angelus
Staff Writer
|
June 18, 2020 1:00 AM
SANDPOINT — It was a packed house — but while social distancing limited the number of people inside the City Council chamber at any one time — several dozen people used the public forum portion of Wednesday's council meeting to discuss everything from racism to police brutality.
The parking lot and entrance of Sandpoint City Hall was lined by citizens of Bonner County and adjacent counties, whose mission was to utilize their freedoms of speech during the public forum portion of the meeting. Nearly all topics pointed to the nationwide discussion of racism and police brutality, two separate issues that have been consistently referred to in partnership since the death of 46-year-old Minnesota father and black male George Floyd. Due to Idaho's social distance protocol, in order to prevent risk of contracting or spreading COVID-19, Sandpoint Police officers ensured that attendance was limited to 32 seats, where new citizens would be escorted in to fill an empty seat when community members exited the room.
The front of the public forum was 20 minutes long, broken up by consent agenda, and returning for another hour of three minute comments led by residents of various opinions. 20-plus residents spoke, particularly referencing the removal chalk graffiti from the underpass at Sandpoint City Beach earlier this month, the Sandpoint-based Love Lives Here campaign, the Black Lives Matter movement, the Blue Lives Matter movement, the assessment of Sandpoint police officer's capabilities and protocol, the presence of guns at protests which were regarded as peaceful and Mayor Shelby Rognstad's proclamation as of June 17 that explicitly stated "the message of hate has no place in Sandpoint."
During the public forum citizens were asked to refrain from disruptive behavior, however, cheering and clapping often ensued when a resident was finished with their comments. This occurred for both people for and against the support of guns at protests and for and against the support of Black Lives Matter. Rognstad said that he will be considering how the council can move forward with conversations that spark specific solutions and facilitate greater community engagement with these topics that have taken precedence over numerous other conversations in the council for the last few weeks.
---