Senior Spotlight: Sam Puckett doesn't let anything keep him down, will 'always land on his feet'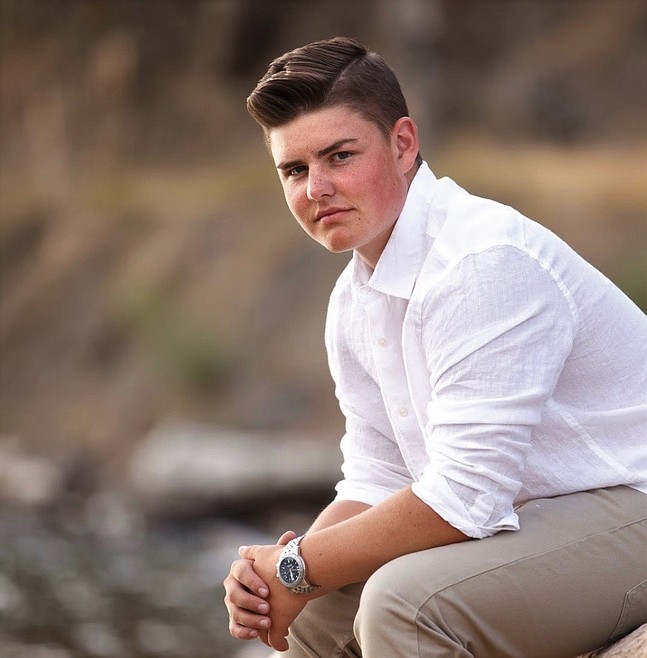 Sam Puckett epitomizes toughness. He played most of his sophomore season of lacrosse with a broken back. "He was tough as nails," Sandpoint lacrosse head coach Ken Hutchings said.
(Photo courtesy of JASON DUCHOW PHOTOGRAPHY)
by
Dylan Greene
Sports Editor
|
June 20, 2020 1:00 AM
Editor's note: This article is part of a recurring series on local high school athletes who had their seasons cut short or canceled due to the coronavirus pandemic.
SANDPOINT — Tenacious. That's the one word Sandpoint lacrosse head coach Ken Hutchings used to describe Sam Puckett's attitude on the field.
"He was tough as nails," Hutchings said.
That toughness was on full display during Sam's sophomore year on the team. Throughout the season, Sam battled a nagging back injury. He thought it was just muscle pain, so he fought through it until the final game of the season when it flared up.
"We had to pull him out because he wouldn't come out," Hutchings said.
It took a surgeon standing on the sidelines with his dad, Tom Puckett, to get Sam out of the face-off circle and after an MRI it was determined he had a broken back.
The injury forced Sam to miss his junior year of football but he didn't make any excuses and he was back to full health in time for the lacrosse season.
Tom said sports have always been an outlet for Sam to cope with stress, so having to step away from the field of competition to recover was a difficult process for him, but it made him stronger.
Sam has played football for most of his life and was a star at linebacker for the Bulldogs this past season, but lacrosse is something he knew nothing about eight years ago.
Sam played baseball in the spring and throughout the summer growing up and stuck with the sport until about fifth grade when one of his friends told him about lacrosse. He looked into it and soon enough Sam had a lacrosse stick in his hands.
Sam started from scratch. He knew none of the rules, but he picked up the basics with some help from the leaders on the team and baseball quickly became a thing of the past.
The fast pace and physical contact associated with the sport made it feel eerily similar to football and Sam enjoyed every second of it.


"It's more action," he said. "I just enjoyed it a lot more than anything else."
Tom played baseball as a kid so he was a little disappointed when Sam gave up the sport, but after watching his son play lacrosse he was hooked on the game and knew it was where Sam belonged.
"He absolutely loved it," Tom said.
On the lacrosse field, Sam was immediately drawn toward playing faceoff and midfielder. Sam was Sandpoint's No. 1 face-off man and being a midfielder allowed him to play on both sides of the field. He could score some goals while also preventing the opposing team from finding the back of the net on defense. It was the perfect spot for someone who is willing to lay it all on the line for his teammates.
Sam was a captain for most of his time on the lacrosse team. Hutchings said Sam elevated the play of his teammates due to his commitment and grit.
"I loved coaching Sam because he just put his head down, did his work and he never complained," Hutchings said.
The seniors on the lacrosse team were a tight-knit group and Sam was hoping to create a few more memories with his teammates this season.
"It was weird because we had our last practice and we didn't even realize it," Sam said.
A spring without sports is something Sam just isn't used to.
"The amount of free time I've had is insane, I don't really know what to do with myself right now," he joked.
The extra time allowed Sam to get an early start to one of his favorite things about summer — wakesurfing. He's also been doing "normal Sandpoint stuff" while working at Action Water Sports.
Sam said sports helped him be more organized and focused in the classroom and taught him a valuable lesson about time management. He was glad the relationships he built with his teammates translated off the field and in the hallways of SHS.
"I couldn't imagine living anywhere else for the past four years, its just been amazing," he said.
Sam is grateful that lacrosse came into his life and it helped him build lifelong friendships.
"It's gotten me connected to a lot of people that if I didn't play lacrosse, I don't know if I ever would have met them," he said.
Sam's favorite high school memory came this past fall when the Sandpoint football team beat Lakeland 48-20 on senior night to keep their hopes of making it to the state playoffs alive.
"We absolutely crushed them," he said. "It just felt so good."
Sam is heading to Boise State University to study business and economics. He is hoping to become a real estate agent and follow in his father's footsteps. Tom is the co-founder of Realm Partners, LLC, in Sandpoint and Sam said he's already learning the ropes from his dad and plans on getting an internship at a real estate agency while in Boise.
Tom said his son would be a great real estate agent because he is compassionate and cares about people.
Sam said he looks up to his dad and mom, Kim.
"I couldn't ask for better parents and I strive to be like them when I'm older," he said.
Sam is ready to head off to college, but will miss his home.
"You have to take a step out of the comfort zone," he said, "and go see where life takes you, and I'm really excited to see what my future holds down there and what these next four years will bring."
Tom said words can't describe how proud he and his wife are of Sam and what he's been able to accomplish.
"He's going to do big things, there's no question in my mind," Tom said. "I just hope he follows his heart in everything that he does."
Hutchings won't forget Sam and the impact he had on the lacrosse program. He believes Sam will succeed at Boise State and beyond because whenever he gets knocked down, he gets right back up.
"I don't see him giving up," Hutchings said. "Really it doesn't matter what happens to him in life, I think he'll always land on his feet."
In his own words: Sam Puckett
"I want to thank all my coaches for making these past four years the best years of my life and all my teammates as well. Also I want to thank my parents for always supporting me and pushing me to do my best and for always being there at my games no matter the distance. There are so many more people in my life I would like to thank, I just can't fit you all in here. I just thank everyone for always being there for me these past four years!"
---