Ting Internet is expanding its network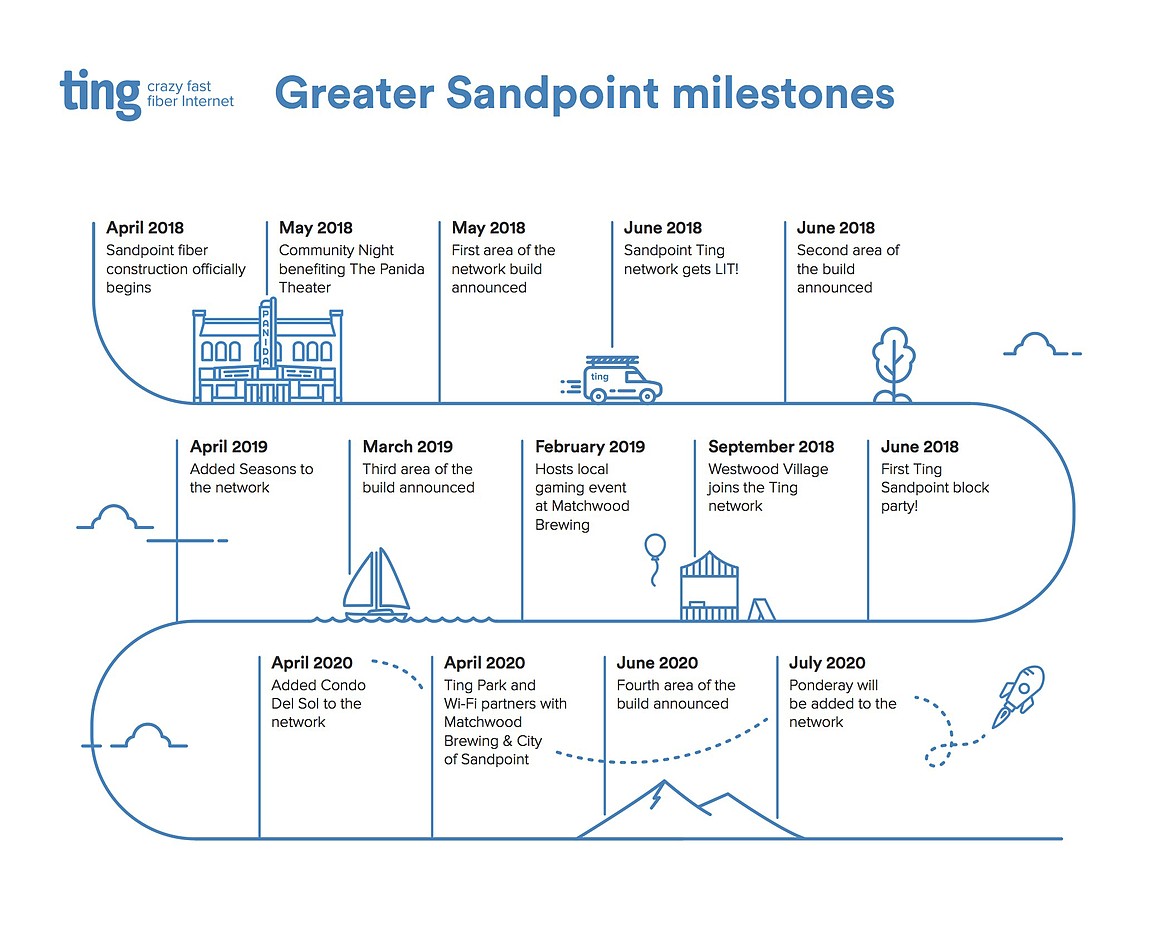 A timeline of Ting's arrival and expansion in the community. The company has announced it is expanding construction to include the north Sandpoint and Ponderay areas.
(Courtesy image)
SANDPOINT — Ting Internet is expanding construction to include the north Sandpoint and Ponderay areas.
Ting, which offers symmetrical gigabit internet with upload and download speeds up to 1,000 Mbps, announced the expansion in a press release.
"It also means that your connection at home allows everyone to make crystal clear video calls, stream music, watch videos, do some work and play games without any lags on our end or complaints on yours," Ting officials said in the release.
Ting is accepting pre-orders for the north Sandpoint and Ponderay areas. The company uses pre-orders to help gauge demand and plan out its builds. The refundable $9 preorder gives customers up to $200 to cover the full cost of installation and is credited to their account when they become a customer.
"We encourage residents of North Sandpoint and Ponderay to go online and check their addresses to see if we're building in their area and pre-order to reserve their spot," officials said.
Ting Internet offers symmetrical gigabit (up to 1,000 Mbps) fiber Internet for both home and business. The company's home option costs $89 a month. Fiber for business costs $139 a month. If you're unsure which option is right for you, we also offer a 5 Mbps residential plan for $19 a month to get you started.
"These prices will not change," officials said in the press release. "There are no tricks, no introductory pricing and no price creeps. We don't think crazy fast, reliable Internet access is a luxury item. We think of fiber as needed infrastructure to keep up."
The construction of the Sandpoint network started two years ago in April 2018, where Ting was the only internet service provider offering true fiber to the premises.
Ting officials said the company is dedicated to topnotch customer service and how we're always there when customers call. "Literally," he said "We have real people answer our phones and we aren't fans of putting our customers on hold. And, while we're at it, we aren't fans of contracts or hidden fees either."
Ting regularly posts updates on the dedicated Ting Sandpoint blog at ting.com/sandpoint and the community is encouraged to reach out with questions.
"We're proud to work with the Sandpoint community and would love to hear from business owners, real estate agents, and anyone looking to pursue Greenfield opportunities or partnerships," they said.
Information: Ting, 208-946-5404
---