Senior Spotlight: Natalie Randolph has no limits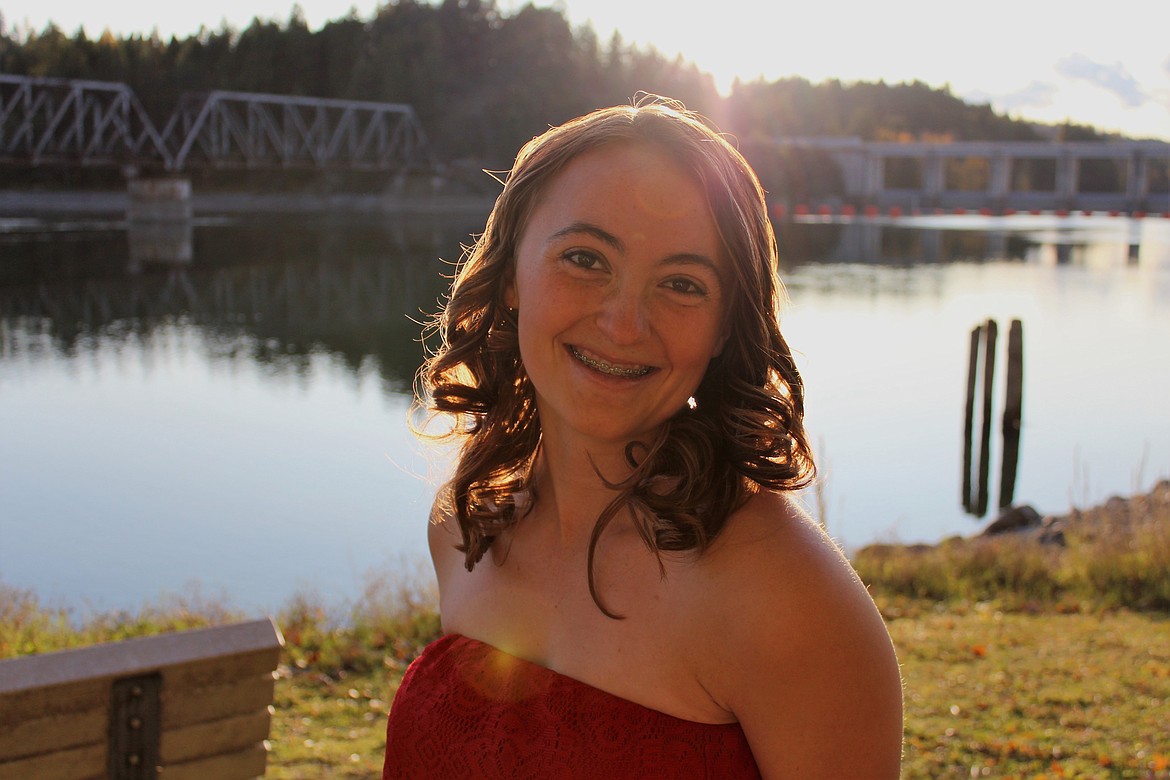 Natalie Randolph has a bright future ahead. The Priest River grad will be heading to Northland College in Ashland, Wisconsin, to play softball and study fisheries and wildlife ecology.
(Courtesy photo)
by
Dylan Greene
Sports Editor
|
June 24, 2020 1:00 AM
Editor's note: This article is part of a recurring series on local high school athletes who had their seasons cut short or canceled due to the coronavirus pandemic.
PRIEST RIVER — Softball head coach Rob DeMent has many fond memories of Natalie Randolph during her time on the team, but one sticks out most in his mind.
During Randolph's freshman season, the Spartans were playing a winner-to-state game against Timberlake. DeMent's bullpen was shrinking and he decided to throw in Randolph. He had all the confidence in her but Randolph had never experienced a pressure-pact moment quite like that.
Randolph threw four illegal pitches right away and DeMent walked out to the mound to calm her down. DeMent said Randolph was shaking because she was so nervous. He told her it was just a softball game and after the quick meeting, she had a solid outing.
From that moment on, Randolph was fearless on the field. She was intense and she didn't like giving batters she faced anything once they stepped up to the plate. If she surrendered a walk, she wasn't afraid to express her emotions and fire up her teammates.
"She's just a stud softball player," DeMent said. "She eats, breathes and sleeps softball."
Players like Randolph are rare. They only come around so often and those that had a chance to work with her are grateful she came into their lives.
"Watching her grow has been amazing," Priest River pitching coach Ron Kruse said. "She gets better every year."
Randolph grew up playing catch in the backyard with her dad, Kirk, so as soon as the sport of softball was offered to her in third grade she started playing.
Randolph was naturally drawn to the sport due to her family, but the grit and knowledge needed to excel at the game is what's kept her interested in softball for so long. And the unpredictability from play to play is something she embraces.
"I love how technical it is," she said, "and it's not set in stone, there's a new situation that happens every time in the game."
Randolph played catcher and outfielder when she first started softball, but in sixth grade she took up pitching. Randolph enjoyed the challenge of being accurate as a pitcher and having to think about where she was going to place every single pitch.
"I really like that I'm in control of what's going to happen next," she said. "I get to touch the ball every play so there's nothing wrong with that."
Kruse said Randolph's work ethic and arsenal of pitches is what made her so great for the Spartans. During the winter, Kruse said Randolph would get up at 6 a.m. at least twice a week to practice her pitching. Her dedication is unmatched.
"Natalie is just a workhorse," DeMent said. "She works harder than close to any player that I've ever been around."
Kruse said Randolph kept opposing batters guessing with her five different pitches — fastball, drop ball, screwball, change-up and rise ball.
And the best part is Randolph was so coachable and willing to try new things, it made Kruse's job much easier, he said.
Kruse said Randolph's humility shined through after each practice when she thanked him for helping her get better. He added that Randolph is "easily the best pitcher to come out of Priest River" since he joined the team's coaching staff in 2009.
"I'll definitely miss Natalie," he said.
Randolph battled back issues last summer and spent all offseason working extremely hard to be stronger than ever for her senior year this spring, so she was devastated when the season was canceled.
Just a few weeks before the season began, DeMent said he and the other coaches were laughing because of how dominant Randolph was looking. DeMent believes Randolph would have been league MVP and had the potential to carry the Spartans to an Intermountain League title and beyond.
"There were very few hitters in our league that were going to touch that rise ball," he said.
But Randolph's softball career isn't over yet. She will be heading to Northland College this fall, a Division III school in Ashland, Wisconsin.
Northland was one of the first schools to reach out when Randolph put a recruiting video on FieldLevel. After they showed interest, Randolph did some research on the programs they offered and knew Northland was the right place for her.
"I honestly couldn't think of a better college that would be an awesome first year experience for me," she said. "I just love the area."
Randolph plans on studying fisheries and wildlife ecology at Ashland. She said she has always been an animal lover and has volunteered over 500 hours at the Priest River Animal Rescue.
Randolph said her decision to attend Northland was based on academics not athletics. She turned down a full-ride scholarship to play softball at a college in Illinois because they didn't offer the major she was looking for. Randolph's just glad she gets to attend Northland while living out her dream of playing collegiate softball.
Randolph's legacy at Priest River goes well beyond the softball field. She was involved in leadership throughout her high school career, was a member of the National Honor Society and spent four years on the volleyball team.
Randolph's most memorable experience came from her time with the Distinguished Young Women in Priest River. She was named the 2020 Distinguished Young Woman last May and got to take part in the statewide competition in October. She said being a part of DYW opened her eyes and really helped grow as a person. She built lifelong relationships through the organization and spent the last year helping girls in Priest River get interested in the program.
"Anything that's going to help you in life is what DYW is all about," Randolph said.
Randolph said she is ready to tackle whatever adversity lies ahead in life.
DeMent said Randolph is a perfectionist who can't stand failure. He believes that trait will take her far.
"She'll see success because she never settles for good enough," he said. "Whatever she touches, she's going to be amazing at, I have no question about that."
In her own words: Natalie Randolph
"I have worked my hardest these past few years on the field and in the classroom to allow myself the opportunity to play softball at the collegiate level. I was faced with adversities that were out of my control and struggles that made achieving my goal seem unrealistic. Though I felt defeated sometimes, I have many people in my life to thank for my successes. I would like to thank my mom and dad for being my number one supporters. They have always been there for me and I would not have been able to play club sports if it were not for them. I would like to thank my pitching coaches, Ron Kruse and John Mullaley, as well as my softball coach, Rob DeMent, for fostering my love for the game and working with me through all my struggles. I would like to thank my uncle, Adam, for teaching me that it is OK to struggle and that all my hard work will eventually pay off. Thank you to the rest of my family for supporting me on my biggest game days and providing me with unconditional love. Finally, thank you to my community or anyone else I missed in this letter who has helped me through my journey. I greatly appreciate all the support I have received over the years!"
---