Bonner County Fair remains on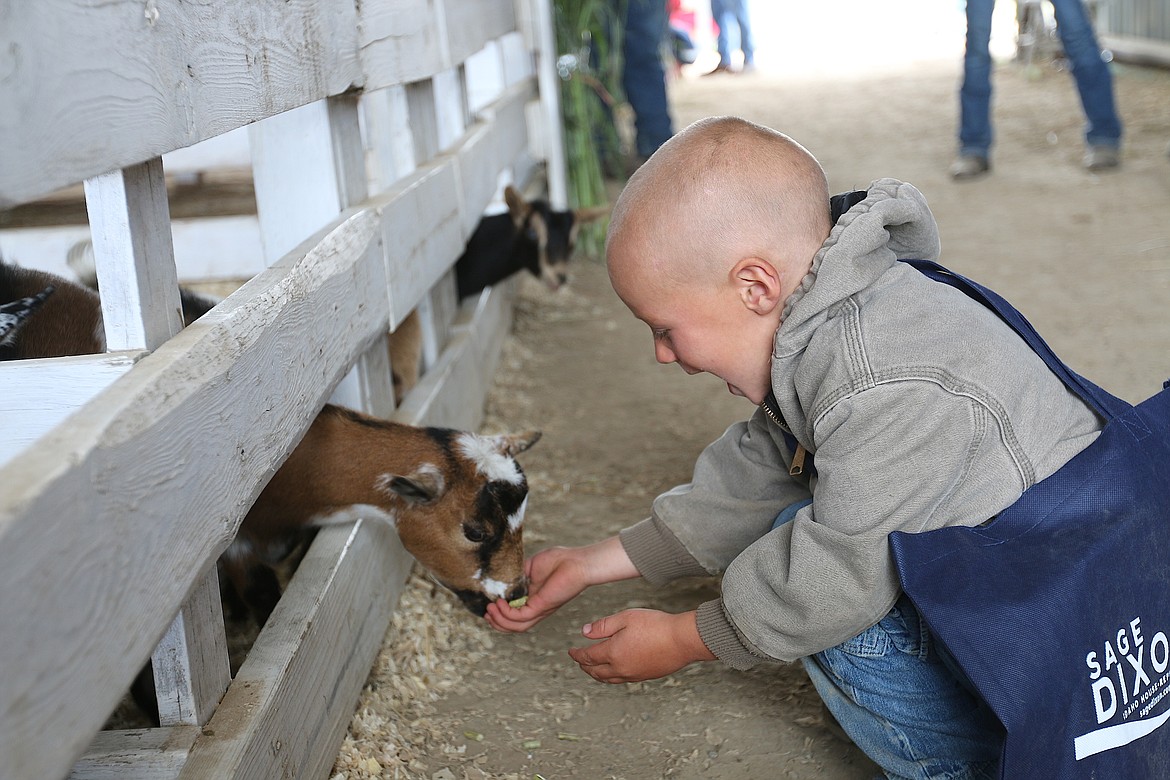 (File photo/CAROLINE LOBSINGER) A youngster feeds a pygmy goat at a past Bonner County Fair. With plenty of safety precautions in place, the fair is still on track to be held in August.
by
ALY DE ANGELUS
Staff Writer
|
June 26, 2020 1:00 AM
SANDPOINT — Vendors? Check. Livestock? Check. Carnival? Check.
COVID-19 is no match for fairgrounds and facility director Darcey Smith, who has taken all health precautions to guarantee Bonner County's annual fair and rodeo will still take place this August, sanitizer, social distance protocol and all.
"It's unfortunate that big events have been canceled," Smith said. We've got probably one of the only big entertainment things left up here for the summer. Even though we are out of that phase, we are going to maintain as much social distance as we can."
Smith said she's spoken to fairground commissioners and volunteers, all of whom were supportive of the decision to proceed with the fair. "We are preparing for our rodeo and fair as scheduled, however, our fans and volunteers will be the first to know if the rodeo or fair are being canceled or postponed," officials wrote on the fairgrounds website. "We will continue to follow the guidance from the local government, Panhandle Health District, CDC, as well as the Professional Rodeo Cowboys Association to ensure we are taking the right actions."
Many rural areas known for their traditional county fairs have been forced to cancel in response to COVID-19, including county fairs in eastern Washington and eastern and western Idaho.
North Idaho, however, has held on to their last few events in Kootenai and Bonner County Fairgrounds. "I've heard from one agency I know of up here that this is their only fundraiser left," Smith said. "They've lost their opportunities so we are going to try to make it the best that we can for them."
Earlier fairground events in 2020 such as Lost in the '50s, Pre Fair, Grad Night and Swine Field Day were canceled as a result of CDC and Panhandle Health District recommendations in the past few months. For added safety at the Bonner County Fair, all restroom facilities will now have hand sanitizer units and most fair and rodeo events will be held outdoors. "We were testing out our muscles yesterday with our skillet throwing contest," Smith said.
Other outdoor events include beer contests, bull riding, a hay maze and demolition derby, and a concert with both Miah Kohal and Devin Wade bands.
The Young Guns Wild West Fun Park Quick Draw event will also be making a return appearance, along with a carnival that was a last-minute addition after other surrounding fairs were cancelled.
Smith is most excited to present scholarship awards of $1,750 to four Bonner County students. "A lot of them are agricultural based, the applications that we get," Smith said. "It's fantastic to see these kids grow up through 4H," she said in reference to a program created by the U.S. Department of Agriculture to help young people become productive citizens through service projects.
The fair is scheduled for August 19-22 and the theme is "Oink! Moo! Ewe!" The rodeo is scheduled for Aug. 14-15. Smith said the board will continue to closely monitor active COVID-19 cases in the county.
"Everything's been so doom and gloom. If we can provide that happiness, we have the best jobs in the world," Smith said.
Aly De Angelus can be reached by email at adeangelus@bonnercountydailybee.com and follow her on Twitter @AlyDailyBee.
---