Despite limitations, SHS girls basketball team pushes forward
by
Dylan Greene
Sports Editor
|
June 26, 2020 1:00 AM
SANDPOINT — During a typical year, the Sandpoint girls basketball would have played about 15 summer league games by now.
But not this year. They've played zilch.
The coronavirus pandemic has prevented the Bulldogs from conducting normal summer activities, but head coach Will Love has found a way to make it work.
SHS began holding developmental sessions on May 20 during Stage 2 of Gov. Brad Little's Idaho Rebounds plan. In that stage, the team was limited to having just 10 people in the SHS gymnasium at one time. With about 20 kids wanting to come in for the sessions, Love had to hold two separate ones.
There was no passing of the ball from one teammate to another, social distancing took place and Love required each player to bring their own basketball. If an athlete couldn't bring a ball then they were able to use one of the school's basketballs that had been wiped down with bleach.
Despite the restrictions, Love was able to keep the sessions competitive by doing mirror drills and shooting contests.
Love has been holding the sessions for over a month and as the state and Lake Pend Oreille School District have loosened their restrictions, the practices have gotten more and more normal.
Now the Bulldogs are able to play 2-on-2 and 3-on-3 basketball while limiting physical contact as much as possible.
Love said he has about 14 girls showing up consistently for the practices including all of the returning players from last year's varsity squad.
SHS has participated in the West Valley Summer League the past few years which has allowed them to play about 20 games during a one-month span. Love said the summer league has been key to the development of the Bulldogs program and the results have been evident on the court, so he was disappointed when he realized the league wasn't going to be held this offseason.
But the absence of games has allowed Love to focus on the fundamentals with his players, which is something that they typically don't have time for in the summer.
From ball handling to shooting, Love has really seen his players take a step forward in those areas.
"I have to give credit to several of our kids," he said, "even though the fundamental part isn't the most exciting, they've been really embracing the opportunity to get better on some of that skill work and they're pretty focused on continuing to build on what we did last year."
Despite the inability to play together, the Bulldogs still have plenty of chemistry and promise. Kaylee Banks, Bella Phillips and Hattie Larson, who will be seniors this fall, are the team's outspoken leaders and returning young stars Kelsey Cessna and Daylee Driggs, who will be sophomores, are ready to take the team to new heights.
Sandpoint can start playing 5-on-5 next week and Love was hoping to squeeze in a game at Lake City, but the Coeur d'Alene School District threw a wrench in that plan Thursday.
"Due to a recent surge in COVID-19 cases in our community, Coeur d'Alene Public Schools has suspended all District or school-sponsored sports practices, sports camps, weight training and other student athletic activities at least until Monday, July 6," the district wrote in an email.
Love said he had also been in contact with Lakeland, Coeur d'Alene and Post Falls about trying to schedule games at some point this summer.
"It's just wait and see right now," he said. "If we can get some games in that would be great, if not we still had a productive summer season even though its been modified quite a bit from what we normally do."
Love plans on holding practices until late July so they can remain flexible if the opportunity to play games arises.
Love said he is proud of the turnout this summer and the dedication his players have shown. He believes the team has carried the momentum from this past season's trip to state into the offseason and he can tell the younger players who got a taste of that level of competition are eager to make some noise.
Love said the girls are just excited to be in the high school environment again and around their friends after being stuck at home for about two months.
Love has been running the sessions mostly on his own, but has had some help from SHS alumnae including Montana women's basketball player Madi Schoening and Eastern Washington's Grace Kirscher.
"We're fortunate in this program that we've had some great kids play for us and they are super supportive of the kids that are playing for us right now," Love said.
Schoening has been attending the sessions pretty frequently and offering tips to each of the players. She also participates in the drills and isn't afraid to show the Bulldogs what she is capable of by knocking down a 3-pointer or taking anyone on 1-on-1.
Love hopes Schoening returns to Sandpoint after graduating from Montana next spring to be a coach because she has all the tools to be a great one.
"The cool thing is that you've got a Division I basketball player that's like, 'hey why don't you do this,' that might resonate a little more with the players than an over-aged coach," Love joked.
With the extra time on his hands over the past few months, Love started a podcast called the "Idaho Basketball Coaching Podcast."
Love said he always joked about starting a podcast with former girls basketball coach Duane Ward and former boys basketball coach Kent Leiss so he decided to give it a shot.
Love has interviewed several basketball coaches from high schools and colleges around the state and the podcast can be downloaded on Spotify and other streaming platforms.
Love said he is trying to grow the game of basketball in Idaho through his podcast and hopes coaches can use it as a resource to understand how other schools run their programs.
Love expects the lack of an offseason and summer league to impact every team around the state this winter.
"It's going to be interesting how this kind of plays out," he said. "The first question is will we have a next season? That's something we have to consider and think about."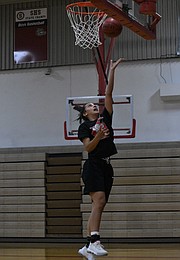 ---