Vigilance urged amid COVID-19 pandemic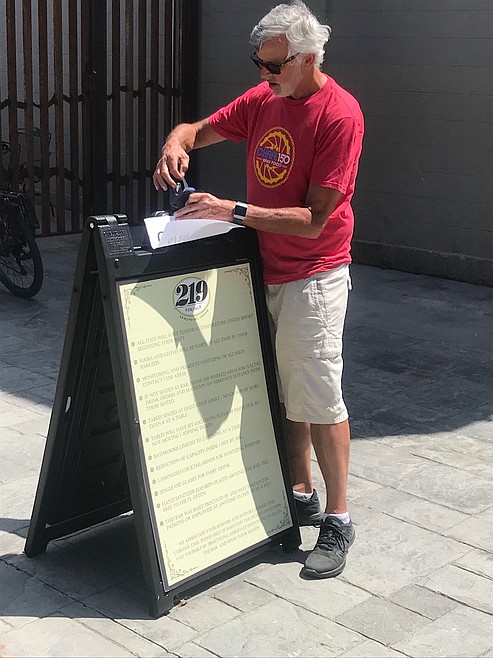 Mel Dick affixes a reopening sign to a sign board urging people to observe public health guidance during the novel coronavirus pandemic.
(Photo by KEITH KINNAIRD)
by
Keith Kinnaird
News Editor
|
June 27, 2020 1:00 AM
SANDPOINT — Members of Sandpoint's business community are appealing for visitors and residents to remain vigilant as the novel coronavirus continues to course through the community.
"Now that we've got community spread, it's serious," said restaurateur and businessman Mel Dick, who fears people have become lax as the state's phased reopening continues.
For those who have not been infected or don't have friends or family sickened by the virus, Dick is concerned news reports infection and testing rates may have rendered the virus as something as an abstract concept.
But as the virus spreads, it's starting to hit people close to home.
One of Dick's bartenders at the 219 Lounge learned she was exposed to the virus after attending a recent gathering. Another person at the gathering tested positive for virus and warned his employee she had been exposed to the virus.
"On Friday, her COVID test came back positive," said Dick.
The woman reported that she had very mild symptoms or was asymptomatic. She is self-quarantining and is expected to recover.
Dick said he began noticing people around town had stopped wearing masks or engaging in social distancing. He believes those practices, in addition to assiduous sanitizing and personal hygiene, are the best means of making sure the state doesn't return to lockdown mode.
"If we're all vigilant, there as a good chance it won't happen," he said.
Dick has also been limiting the lounge's capacity to 35 percent. Tables are spaced for distancing and there is ample hand sanitizer and the return of high-energy dance bands is on hold for the time being, although the 219 is still hosting musical performers.
"Community transmission is defined as illness within a community that lacks connection to travel or other confirmed cases. Based on our investigations of cases, we have community transmission in Kootenai, Bonner, and Benewah counties," said Katherine Hoyer, a Panhandle Health District spokeswoman.
COVID-19 is thought to spread mainly through close contact from person-to-person, said Hoyer. In general, the more closely a person interacts with others and the longer that interaction, the higher the risk of COVID-19 spread, especially when cloth face coverings are not worn by either party.
"According to the CDC, this virus is spreading more efficiently than influenza, but not as efficiently as measles, which is highly contagious," said Hoyer. "We know that taking basic precautions such as wearing cloth face coverings in public, keeping 6 feet of distance between yourself and others, and washing your hands frequently can significantly reduce someone's potential exposure."
Keith Kinnaird can be reached by email at kkinnaird@bonnercountydailybee.com and follow him on Twitter @KeithDailyBee.
---