Local soap maker branches out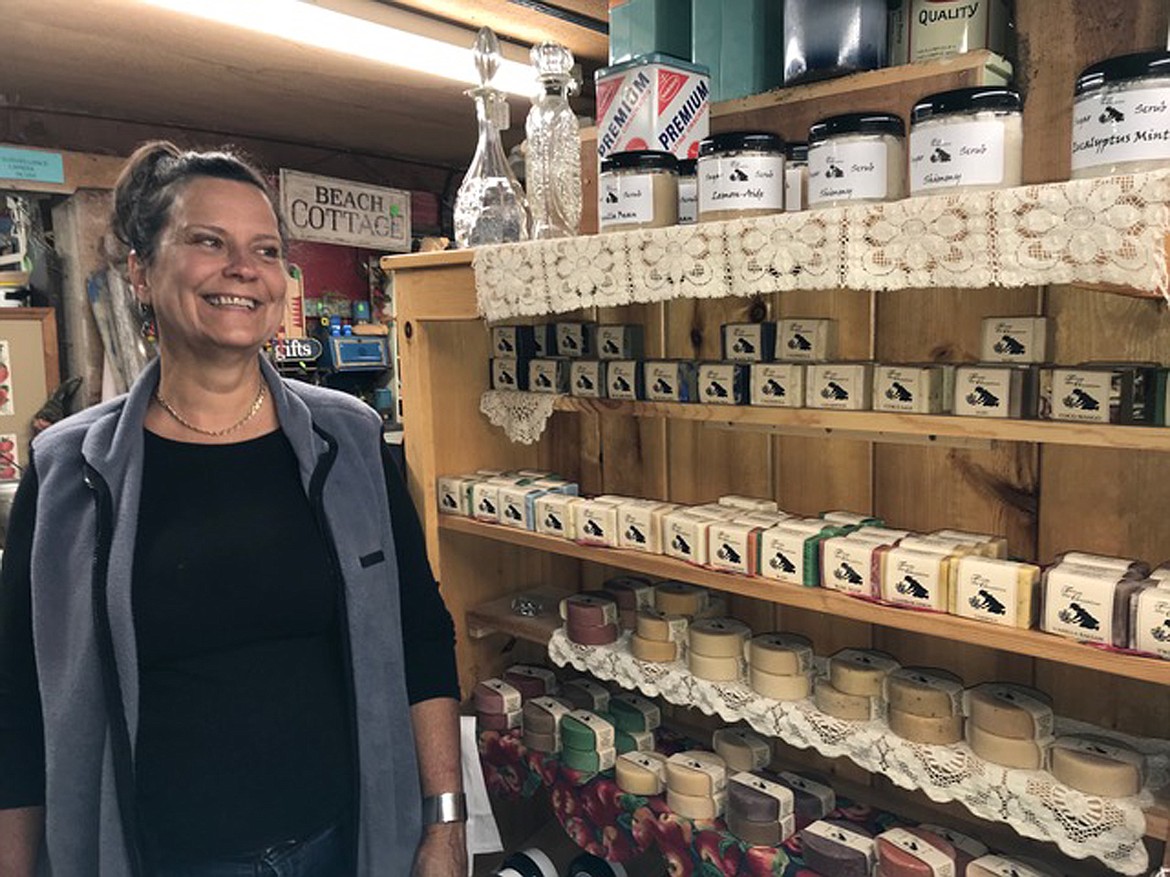 Kim Spencer has been making soap for more than two decades in Sandpoint. She has developed a new product—Scat Gnat—an insect repellant for horses, popular with farriers, veterinarians, and ranchers. Her products are available downstairs at the Foster's Crossing.
(Photo by SUSAN DRINKARD)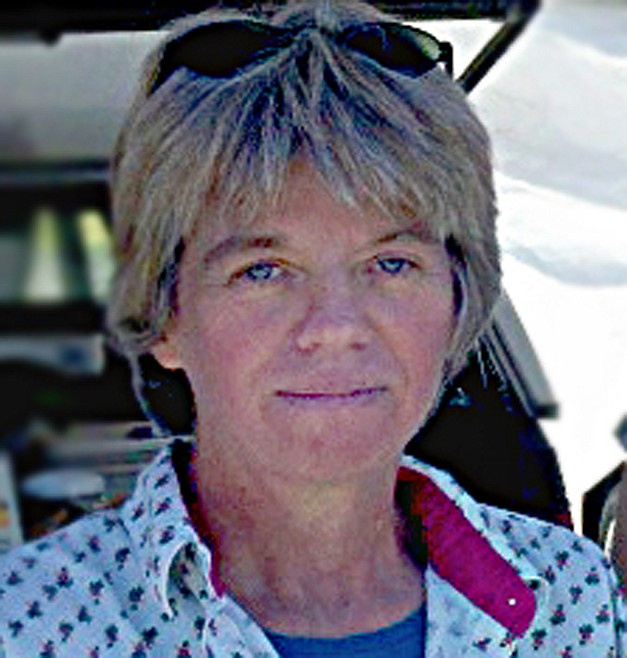 Judith Miller, soap maker at Wildwood Soap Company south of Bonners Ferry, makes "green as possible" soap and bath products on her farm. She sells them at the farmers' market on Saturday mornings in downtown Bonners Ferry or online.
(Photo by SUSAN DRINKARD)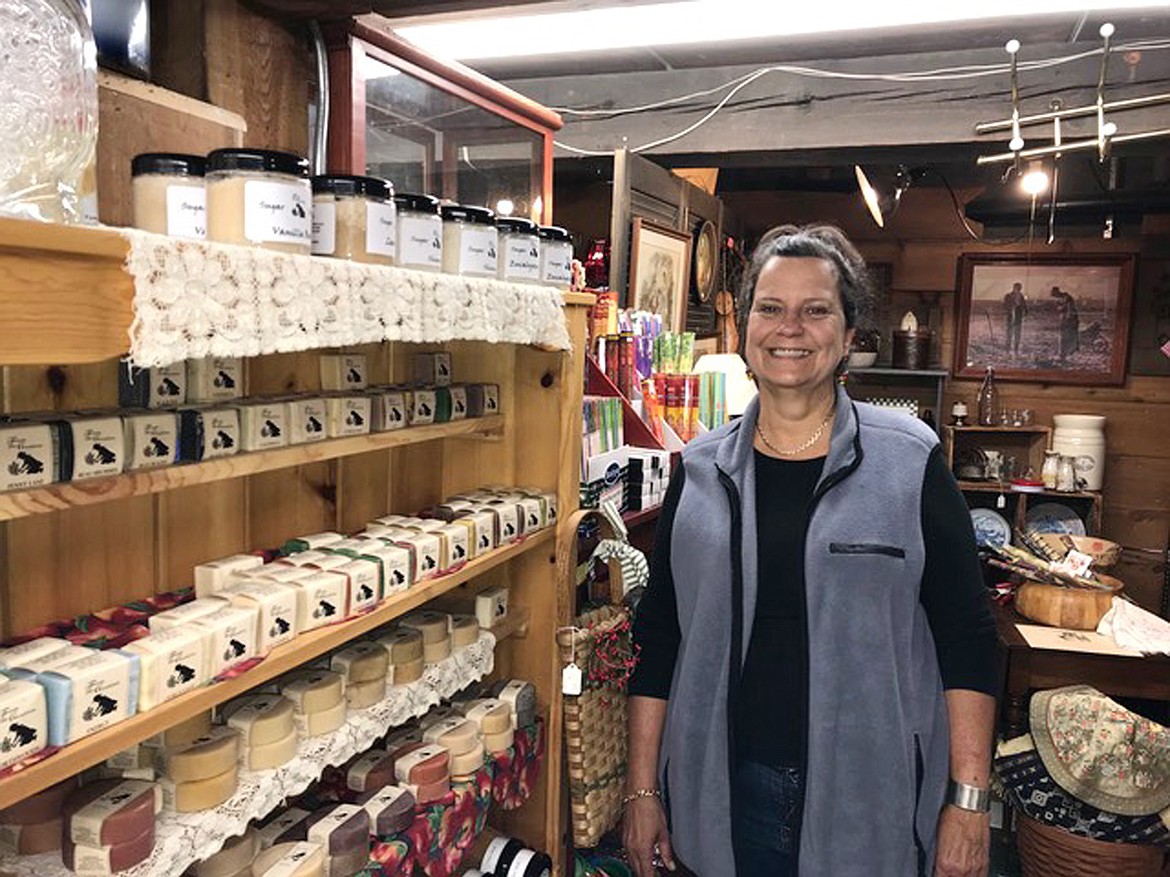 (Photo by SUSAN DRINKARD) Kim Spencer has been making soap for more than two decades in Sandpoint. She has developed a new product—Scat Gnat—an insect repellant for horses, popular with farriers, veterinarians, and ranchers. Her products are available downstairs at the Foster's Crossing.
Previous
Next
SANDPOINT — Supporting locally made handcrafts is easy to do when it comes to soap. Bar soap products are readily available and plentiful — goat's milk soap, hypoallergenic soap, "old hippy" smelling soap, soap sprinkled with turmeric, soap made from locally grown lavender. The list goes on.
Kim Spencer has been making her "From the Creation" soaps for nearly a quarter of a century and has sold them over the years at the farmers' market, craft fairs, downstairs in Foster's Crossing, and now at Winter Ridge and Cedar Day Spa.
Spencer found an old recipe for handcrafted soap in "Harrowsmith Magazine," published in Toronto 23 years ago, and she read the science behind soap creation in "Herb Companion Magazine." From there she has expanded her recipes over the years to create 60 different soaps and other skin products. In her bar soaps she uses soybean oil, water, olive oil, coconut oil, alkali, palm kernel oil, essential oil, and in some there is aloe butter and in others, hemp oil, sweet almond oil, apricot oil, or avocado oil. She also makes a wide variety of soaps with goat's milk, which she likes to do because the ingredients are easily accessible.
Once, when a man was rather dismissive of her soap and asked, "Does that stuff work?" Spencer, who enjoys clever repartee, replied with a swift, "Well, look at me, I'm 80!" Of course, she is not. "No soap is moisturizing. Its job is to pull dirt and junk out," she said.
Still, when you buy commercial soaps, you are frequently buying ingredients such as sodium hydroxide, which the U.S. Centers for Disease Control and Prevention Agency for Toxic Substances and Disease Registry, warns is an irritant to the skin and eyes. Sodium laureth sulfate, which is a lather-inducing chemical in most commercial cleaning agents and bar soaps, can have negative impacts on men and women's hormones, and to the respiratory system, according to six websites dedicated to promoting health. Another common ingredient in commercial soap is parabens, which are banned in Europe for their cancer-causing properties.
Soap making has gotten rather expensive, and the $4 bars she makes will soon go up to $5. "Oils that were $45 a bottle are now $70; patchouli oil is up to $700 per bottle," she said.
Spencer has a new product — a natural black fly/insect repellant for horses, sought by farriers, veterinarians, and horse owners.
Spencer, who sometimes wears her colorful Rasta dreads she makes out of yarn and sells at local craft fairs, is also a fiber artist and a hand knitter. She has a "booth" in Foster's Crossing where she sells her soap, sugar scrubs, beeswax infused food covers, and antiques.
If you like "the old hippy smells," she makes cedarwood, patchouli, and nag champa, a fragrance of Indian origin of magnolia and sandalwood. The hottest sellers include Auna's spice, named after her daughter, and fresh mint. Her huckleberry goat's milk soap is popular, along with eucalyptus mint, and cucumber.
Spencer is not only a soap maker. She is a chaplain in the juvenile detention center where her goal is to "encourage kids and to offer hope." She's a CASA advocate, a court-appointed volunteer advocate who serves children who have experienced abuse or neglect to have the opportunity to thrive. She's been a member of the same prayer group for 30 years. Her beliefs contribute to the name of her soaps — "From the Creation."
Another soap-making devotee is Judy Miller of Wildwood Soap Company near Bonners Ferry, who has been making and selling her products for 20 years.
"I couldn't use regular soap as a kid, had to use Aveeno or oatmeal in the bathwater. If there is a rash that can be gotten, I will get it, so I decided to create my own soap, she said.
"My best friend from college sent me a book on soap making and after learning the technical part, I was able to incorporate the artistic part. I was smitten, said Miller, who is also a potter, flower and plant specialist, and fiber artist.
"It is really good for sensitive skin, far less drying than store-bought soap or other handmade soap. So I learned to make it and then learned to formulate it so it's super mild and non-drying. Then the artistic outlet part appeared and soap kind of took over my life, she said.
"My soap making is an art using natural materials, so colors and patterns will vary from batch to batch. Scents may differ slightly from season to season, as well, since essential oils are natural products and their scent can be a bit different from lot to lot," she said.
Miller grows her own mint, roses, lavender, and thyme to infuse into soaps and fir needles add a depth and fragrance. Her soaps are beautiful and look almost good enough to eat. "I have a little jokey sign of an old-fashioned peacock at the market. It says, 'Please don't eat the soap.'" Another sign, reflecting life in a pandemic, says, 'Sniff responsibly.'"
The most popular soaps she sells are lemon cream, English amber, and lavender. "Women often like florals and fruity scents more than guys do, who often go for spicy and minty, but then people surprise me and men buy rose and women buy the guy soap. My personal favorite is the Nectarine Splash."
Miller's soap is formulated to last a long time in the shower without melting away. She scents the soaps richly, but does not overpower. "Some soaps are too strong and the fragrances feel like a fork up my nose, she quipped.
"All my products are vegetarian, most vegan, and handmade by me on my farm. I use food-grade oils and butters; for palm I only use organic or certified sustainable palm oil because I don't want to take part in the destruction of the rainforest, nor the homes of tigers and orangutans," she said.
The artist also sells homegrown plants at the market from her farm near Paradise Valley. These include rosemary, lime thyme, lemon basil, beebalm, verbena, and crookneck squash.
Her soaps can be found at the Bonners Ferry Farmers' Market every Saturday morning from 8 a.m. to 1 p.m., text or call (208) 627-6672, or google Wildwood Soap Company.
Susan Drinkard writes features for the Daily Bee. She can be reached at susanadiana@icloud.com.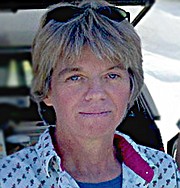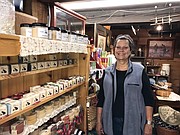 ---