Senior Spotlight: Chloe Pierce's positivity is infectious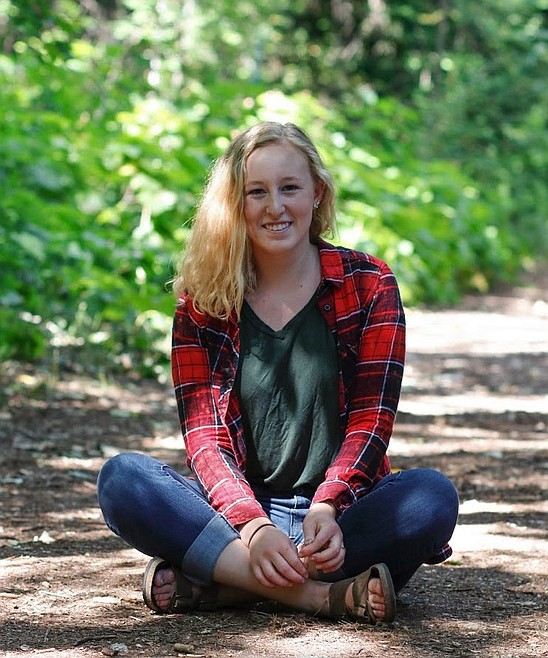 Chloe Pierce competed on the SHS track and cross country teams throughout high school and Angie Brass says she will be missed: "Honestly, she has been the glue a lot on the girls side ... it will be tough without her."
(Courtesy photo)
by
Dylan Greene
Sports Editor
|
June 30, 2020 1:00 AM
Editor's note: This article is part of a recurring series on local high school athletes who had their seasons cut short or canceled due to the coronavirus pandemic.
SANDPOINT — Chloe Pierce has a unique ability to turn any bad day into a good day.
"It's always about other people with Chloe," said Matt Brass, Sandpoint track head coach. "She's incredibly selfless and she's a wonderful person."
Pierce's positivity and vibrant personality rubbed off on nearly every teammate she interacted with during her four years on the Sandpoint track and cross country teams.
"That girl can talk to anyone," said Angie Brass, girls cross country and distance coach. "She's just the type of person that everyone is comfortable with."
Pierce has only been running competitively since her freshman year but it certainly runs in the family. Pierce's sister, Claire, competed on the SHS track and cross country teams throughout high school and her brother, Garrett, spent two years on the squads.
Pierce is the youngest of the three so she had to follow in their footsteps and make a name for herself, and she did just that.
Pierce said her sister inspired her to give the cross country team a shot as a freshman and she quickly fell in love with the culture and community of the program.
On the track, Pierce honed in on the 800 and 1,600 meters and she enjoyed the competition and duking it out with other runners.
For Pierce, running is much more than a way to stay in shape.
"I just think there's something so amazing about being able to throw on a pair of shoes and just go," she said. "You don't need a lot of materials, you don't need your 1,000 pounds of equipment, you can run anywhere, anytime and I just think that it's really freeing to run with your hair down and jump in a lake after."
Pierce spent most of her time competing on JV, but her impact went well beyond the field of competition.
Pierce was a vocal leader. Matt said she was never afraid to speak up to encourage teammates or tell them they were doing something wrong.
Angie said Pierce has the heart of a teacher and lives by the core values of the track and cross country programs.
"She is without a doubt the best mentor and one of the best leaders we've ever had," Angie said.
Pierce said she learned so much about leadership, communication, selflessness and helping others during her time in Matt and Angie's programs. These skills helped her build friendships with her teammates that couldn't be any stronger.
Pierce didn't attend SHS. Instead, she took online classes through Idaho Virtual Academy and graduated from the school in mid-May.
Pierce has had a very set schedule the past four years of her life. Each morning she woke up early to do her schoolwork then she headed to Serv-A-Burger for a shift. After work, Pierce headed to track or cross country practice.
Matt said Pierce was driven to get better all the time and never made excuses despite the daily grind she took on.
"She's already doing what you need to do as an adult to be successful," he said. "She's got the tools to make an impact wherever she lands."
Pierce will be taking online and in-person classes at the North Idaho College satellite campus in Sandpoint this fall as she works toward a degree in business management with a focus in marketing.
Pierce has been working 30-40 hours a week at Serv-A-Burger since graduating and will continue working at the restaurant throughout college.
"The people over there have really become like a second family to me," she said.
Pierce will always remember the group cheer the girls cross country team did before every meet and the long runs in the winter.
"I absolutely loved every single second and every single moment with my team," she said.
Angie said Pierce is an incredible young woman and she was a joy to be around.
"She puts her heart and soul into everything," Angie said, "and wants the best out of those around her."
Pierce said Angie helped shape her into the person she is today.
"She has an amazing way of building people up," Pierce said, "and making you feel so valued and important."
Angie is looking forward to seeing where Pierce ends up in life and knows wherever she goes she will leave her mark.
Angie said Pierce was vital to the success of the Bulldogs' program over the past few years and she will be deeply missed.
"Honestly, she has been the glue a lot on the girls side and really team wide," Angie said. "It will be tough without her."
In her own words: Chloe Pierce
"Thank you to my family, that has been there for me since day one. Through many late practices, rainy race days, and breakdowns of every kind, you all have been there to support and love me. To my friends, coworkers, coaches, and mentors, you may not be related to me through blood, but you have been there for me all the same. Each of you has impacted me in a way beyond words, and I am truly thankful for the kindness and friendship you have given to me over these last four years. I look forward to this next chapter of life with much hope, knowing that I have a community and family to grow stronger with, no matter the challenges."
---