Sandpoint golf opens season with strong showing in Clarkston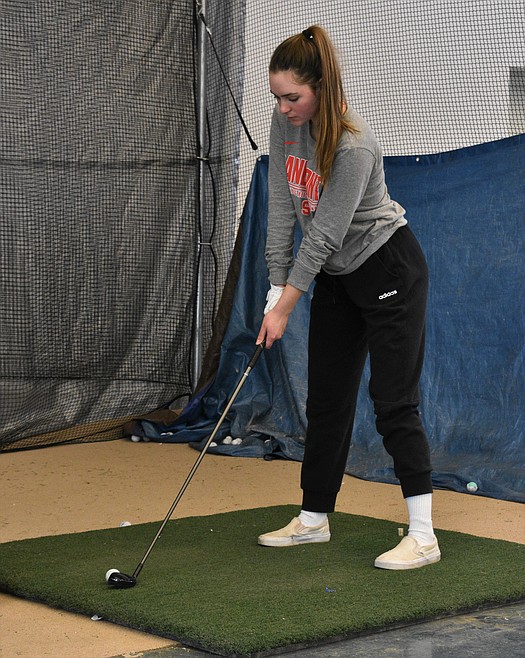 Junior Cece Deprez setups for a practice shot on Monday.
(Photo by DYLAN GREENE)
by
Dylan Greene
Sports Editor
|
March 11, 2020 1:00 AM
CLARKSTON, Wash. — The Sandpoint golf team officially kicked off the spring sports season for the Bulldogs on Tuesday when they took part in the North Idaho Challenge at Quail Ridge Golf Course.
The girls team picked up right where they left off last season, edging out Moscow and Lewiston to claim the team title at the event. Junior CeCe Deprez led the way for Sandpoint shooting an 82 to take first as an individual. Hattie Larson took third with a 91 and Camille Neuder finished seventh with a 105.
The girls played without junior Annaby Kanning who is competing in the Nordic Junior Nationals.
"Given the fact that the girls have been practicing on concrete for the last two and a half weeks, I thought they did exceptionally well," head coach Michael Deprez said.
The boys finished third as a team behind Lewiston (second) and Moscow (first). Senior Wilson VanDenBerg stepped up from the No. 4 spot and shot a personal best 89 to tie for sixth and lead the team. Joel Johnson was one stroke behind him in eighth and Harley Wilks had a 96. Dawson Owens also shot a personal best 89 but it didn't count toward the Bulldogs team score.
Deprez was proud of the rounds VanDenBerg and Owens were able to put together.
"If I trade out Dawson Owens' round for one of the other rounds that we used, instead of being 40 strokes behind, we really would've been about 20 strokes behind," he said, "and then at that point it's easy to find five strokes between all the kids that they could've shaved on a golf course they don't play on a lot."
Sandpoint returns to the course Monday to compete in the Lewiston Invitational
GIRLS
TEAM SCORES — 1, Sandpoint 386, 2, Lewiston 391, 3, Moscow 472.
SANDPOINT — CeCe Deprez 82, Hattie Larson 91, Camille Neuder 105, Aly Lish 108, Karsen Granier 121.
LEWISTON — Allison MacMillan 86, Abbi Tellez 99, Sidney Barden 103, Teryn McCarthy 103, Brooklyn Schatz 129.
MOSCOW — Myah Parson 110, Marissa Lewis 113, Mia Berrett 115, Ashley Pope 134, Hanna Gregory 134.
BOYS
TEAM SCORES — 1, Moscow 336, 2, Lewiston 340, 3, Sandpoint 380, 4, Clarkston 445.
MOSCOW — Bryden Brown 72, Sam Kees 86, Parker Beebe 87, Ben Mack 91, Taylor Parsons 93.
LEWISTON — Jack Seibly 74, Dylan Braden 83, Christian Ryber 89, Carson King 94, Justin Sandviek 95.
SANDPOINT — Wilson VanDenBerg 89, Joel Johnson 90, Harley Wilks 96, Jaden Dumars 105, Will Hurst 107.
CLARKSTON — Caleb Daniel 93, Kade Calkins 107, Drayson Shubert 116, Jesse Baird 129.
---