Exploratory drilling eyed in Auxor Basin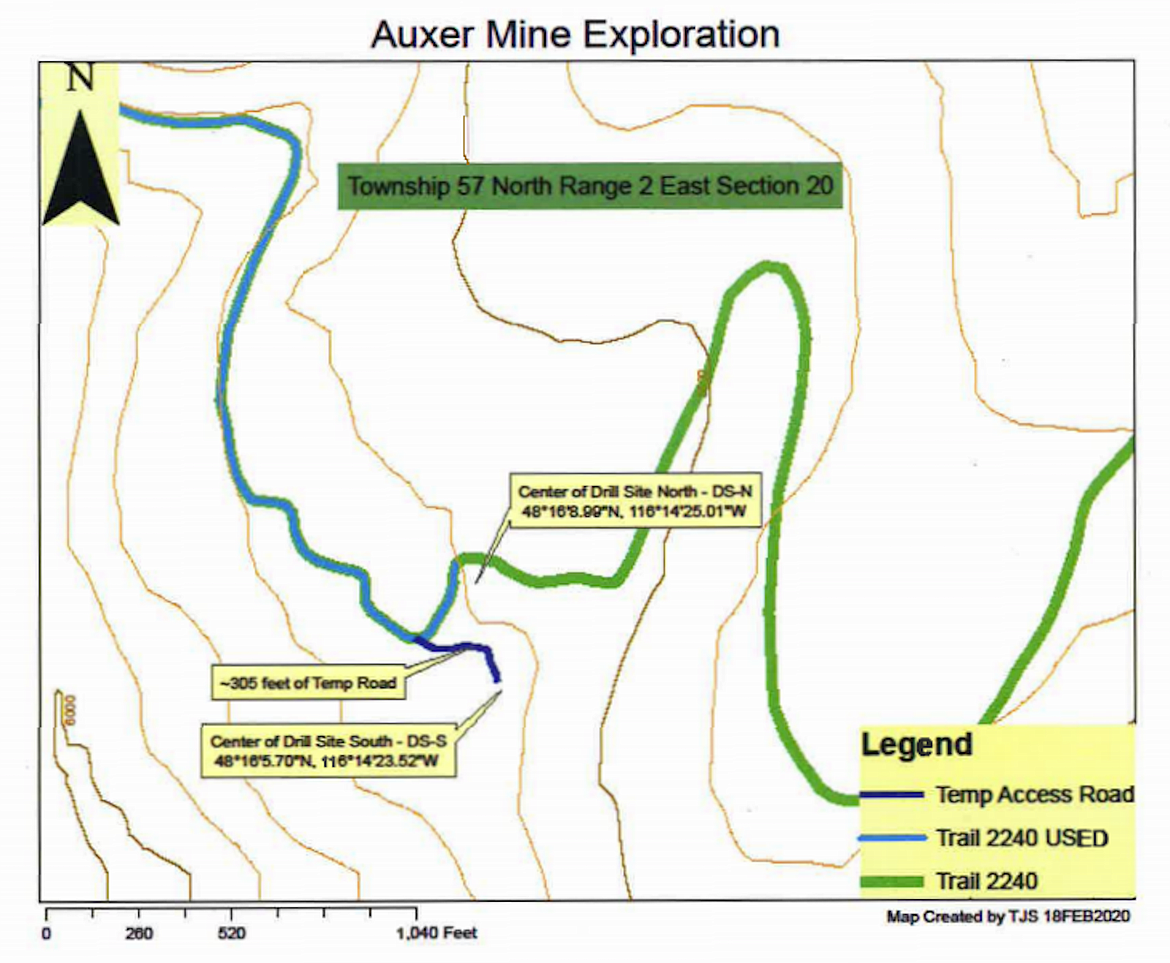 Lightning Creek Resources Corp. is requesting to conduct an exploratory drilling project in Cabinet Mountains' Auxer Basin.
(Map courtesy U.S. Forest Service)
by
Keith Kinnaird
News Editor
|
March 12, 2020 1:00 AM
EAST HOPE — The U.S. Forest Service is gathering public input on a Hayden company's request to conduct exploratory drilling for locatable minerals in the Cabinet Mountains.
The Auxer Mine exploration would be located in Auxor Basin, a depression within in the Lightning Creek watershed east of Hope.
The 30-day comment period on the proposal opened on Feb. 20, according to a scoping notice for the project.
The project area would be accessed via 10 miles of Forest Service Road No. 419 (Trestle Creek Road), 8 1/2 miles of Road No. 489 (Wellington Creek Road) and 0.65 miles of Trail No. 2240.
Excavation and exploration equipment includes two three-quarter-ton pickup trucks, two all-terrain vehicles, a water truck and a skid-steer or mini-excavator, and a diamond-core drill rig with associated support equipment.
Equipment would be driven to the intersection of Road No. 489, Trail No. 2240, and the No. 444 ATV trail and off-loaded from a flat-bed trailer. Trail No. 2240 would remain open during operations, the scoping notice said.
Lightning Creek Resources Corp. is proposing to install two 100-foot by 100-foot temporary drill pads.
Operations would occur 12-14 hours per day during daylight hours, five to seven days a week. No winter operations have been proposed. There would be up to five people on site during operations. Operations would include constructing approximately 305 feet of temporary access road off of Trail No. 2240 to access the southern drill location, select tree removal from access road
and drilling locations, and drilling up to seven angled exploratory holes from a single location per drill pad.
Reclamation would occur concurrently with operations.
Only one drill pad will be authorized to be constructed at a time.
Written comments can be submitted by email to comments-northern-idpanhandle-sandpoint@usda.gov or mailed to the IPNF Supervisor's Office, 3815 Schreiber Way, Coeur d'Alene, ID. 83815.
Info: fs.usda.gov/project/?project=57049
Keith Kinnaird can be reached by email at kkinnaird@bonnercountydailybee.com and follow him on Twitter @KeithDailyBee.
---