Making the grade
by
Keith Kinnaird
News Editor
|
March 12, 2020 1:00 AM
Contractor may begin limited work during lake drawdown
SANDPOINT — Dirt is turning on a project to construct additional BNSF Railway bridges in Sandpoint.
Site clearing and grading for a second bridge across Lake Pend Oreille began in September and most of the initial phase of grading is nearing completion, according to BNSF Railway Co. spokeswoman Courtney Wallace.
"The last of the grading work will be completed after the bridge is in service. We anticipate the bridge contractor will mobilize some equipment to the site in March 2020 and begin some limited work during the lake drawdown period," Wallace said.
BNSF is also paying for and building temporary and permanent trails to ensure that people can use the cycling and pedestrian path throughout construction, Wallace said.
A pedestrian tunnel is also being installed by BNSF Railway and will be a permanent fixture of the trail.
"It is crafted in the same style as the county installed underneath Bottle Bay Road," she said.
The railroad plans to construct a 4,874-foot-long bridge approximately 50 feet west of the existing railroad bridge over the lake, which will remain in service once the new bridge is constructed.
The second bridge will consist of 49 spans with 48 in-water piers. It will be made of pre-cast, pre-stressed I girders and will have a cast-in-place deck, according to project documents.
A second bridge will also parallel the existing span over Sand Creek, which also will remain in service if the new bridge is built.
The bridge proposals have been alternately been welcomed and opposed by the community. Supporters of the project contend it will facilitate commerce and reduced holdups at at-grade railroad crossings in Bonner County. Opponents maintain the bridges will increase the likelihood of hazardous material spills and derailments, in addition to exacerbating global climate change through added fossil fuel consumption.
Keith Kinnaird can be reached by email at kkinnaird@bonnercountydailybee.com and follow him on Twitter @KeithDailyBee.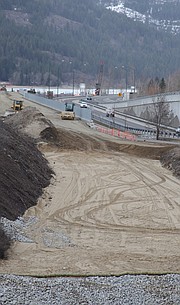 ---