Sandpoint Sharks crush personal bests at Junior Olympics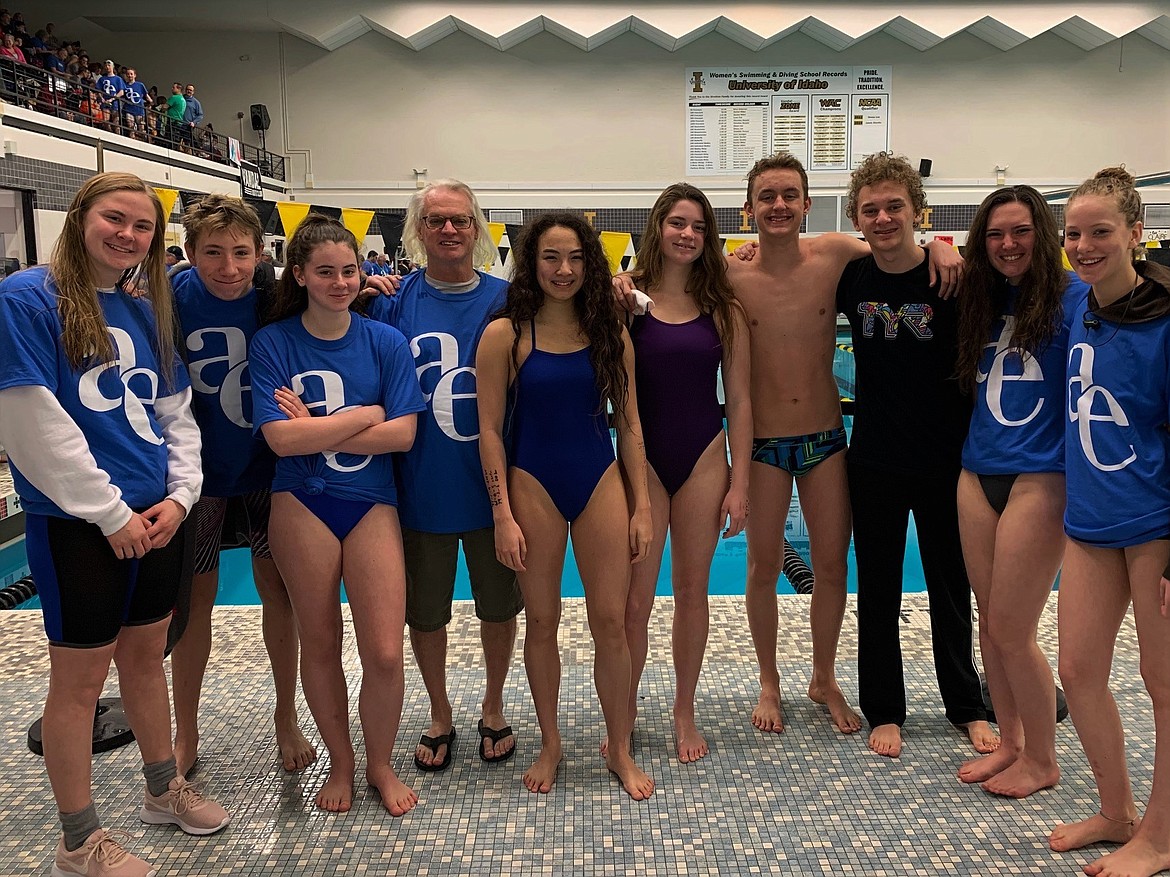 The Sandpoint Sharks club swim team competed in the Inland Empire Swimming Short Course Junior Olympics this past weekend at the University of Idaho. Pictured (from left): Julia Cummings, Hayden Leavitt, Ryleigh Bamer, head coach Mike Brosnahan, Ayiana Prevost, Sara Hogue, Caleb Norling, Hayden Norling, Kate Bokowy and Emily Ballard.
(Photo courtesy of JACINDA BOKOWY)
by
Dylan Greene
Sports Editor
|
March 12, 2020 1:00 AM
MOSCOW — Nine athletes on the Sandpoint Sharks club swim team took part in the short course Inland Empire Swimming Junior Olympics at the University of Idaho this past weekend.
Ryleigh Bamer, 12 years old, stole the show for Sandpoint placing second in the girls 11-12 50 fly with a time of 28.90 to qualify for the Age Group Regionals and break the team's record in the event.
Bamer also took fourth in the 50 free.
Emily Ballard competed in the girls 13-14 division and brought home a fifth place finish in the 50 breaststroke and an eighth place result in the 50 free.
Julia Cummings, 17 years old, made it to the finals in the 50 back and 100 back in the 15 and over division. She captured eighth in the 100 back and ninth in the 50. Junior Kate Bokowy competed in the same age class and swam a personal best in the 50 breast to take 15th.
Hayden Leavitt shaved over 13 seconds off his time in the 500 free to secure 14th in the boys 15 and over age group. The Norling brothers, Caleb and Hayden, competed in the same division. Caleb took 11th in the 50 back while Hayden notched 13th and 14th place results in the 50 breast and 200 free respectively.
Freshman Ayiana Prevost captured ninth in the girls 13-14 50 breast prelims and 15th in the 500 free finals. Sara Hogue also swam the 100 free and back and 200 free in the same age group.
Head coach Mike Brosnahan was encouraged by what he saw from his swimmers.
"Most of the kids had PRs in their swims and the meet was a big success," he wrote in an email.
The Sharks will continue swimming the short course portion of their season through April before the long course season arrives just in time for summer.
---