Banks, Roos notch all-league honors for Bulldogs
by
DYLAN GREENE
Sports Editor
|
March 13, 2020 1:00 AM
SANDPOINT — Sandpoint seniors Ryan Roos and Kobe Banks were named to the boys basketball 4A All-Inland Empire League team that was released earlier this week.
Banks was the Bulldogs' leading scorer this season and was always willing to get his teammates involved, finishing the year with the most assists on the team.
Whenever Banks stepped on the basketball court, everyone could tell that was where he wanted to be.
"Kobe is just one of those guys that loves basketball," head coach Wade Engelson said. "If there's a gym around you'll usually find him in it."
Banks playing style was reminiscent of his favorite player, the late Kobe Bryant. His handle, vision and creativity made it difficult for any opponent to defend him and his ability to catch and shoot from anywhere on the court was his greatest asset.
"He played a huge role for our team throughout the year and he earned an all-league spot," Engelson said. "We beat teams Sandpoint hasn't beaten in many, many years and he was one of the key players that helped us do that."
Banks arrived to Sandpoint last year after spending his freshman and sophomore season at Clark Fork High. In 2019, Banks earned Newcomer of the Year honors. Engelson said Banks grew tremendously as a leader and a person during his time with the Bulldogs.
Roos received a spot on the all-league team for the second straight year. Prior to this season, Roos got foot surgery and despite being able to soar high above Les Rogers Court and dunk the ball on a multitude of occasions, he was never at 100 percent.
"He played in pain the whole season," Engelson said. "He's a tough player to be able to play through pain every practice, every game and to play at a high level like he did. My hats off to him for that."
Roos was the team's leading rebounder and second leading scorer, but the most overlooked part of his game was his defense. He led the team in blocks and steals and was always disrupting whatever the other team was trying to do offensively.
"I'd call him an elite defender," Engelson said. "If we had to stop somebody on the other team, we'd say Ryan that's your guy."
Engelson said Roos was very coachable and did a lot for the Sandpoint basketball program over the course of his career.
"Ryan showed up all the time," he said, "and set a great example for the other guys on the team by being there, working hard and by being a guy that competed all the time, and he helped Sandpoint get to the next level."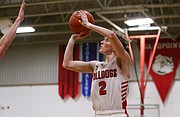 ---