'I feel like I'm with my family': Softball adapts playing style to fit athletic team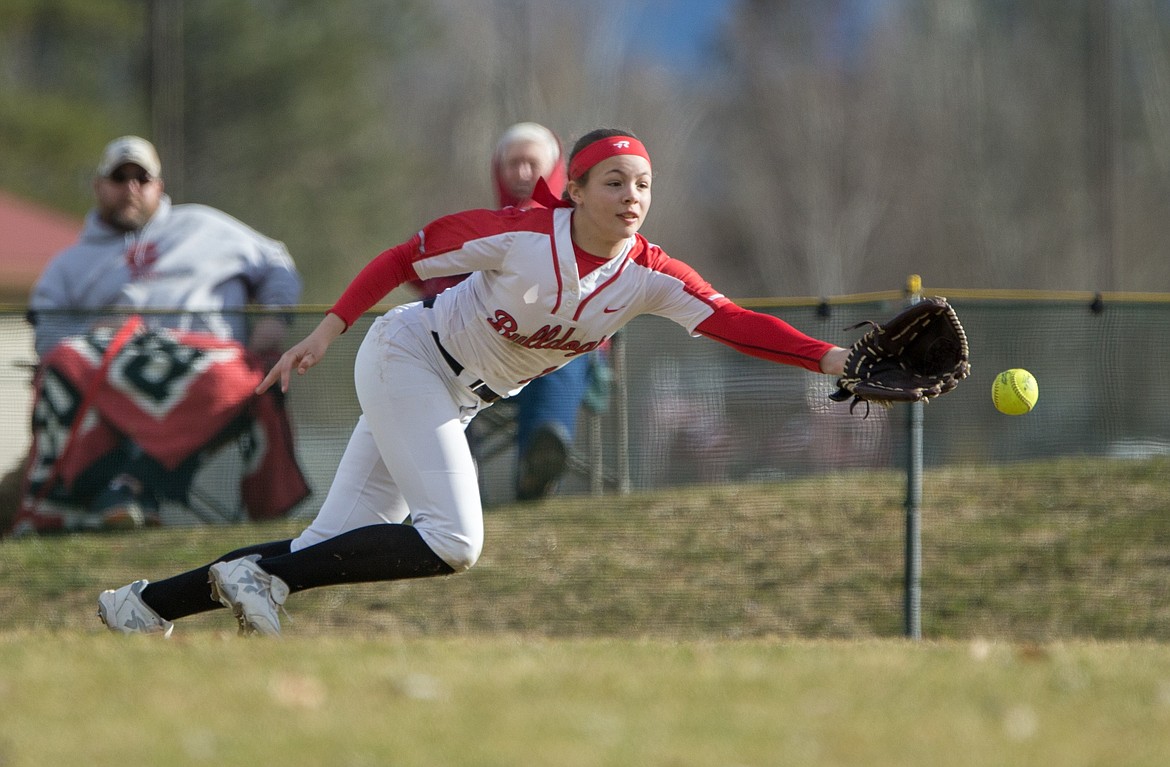 (Photo courtesy of JASON DUCHOW PHOTOGRAPHY) Sandpoint's Izzo Edwards lunges for a ground ball during a 2018 game.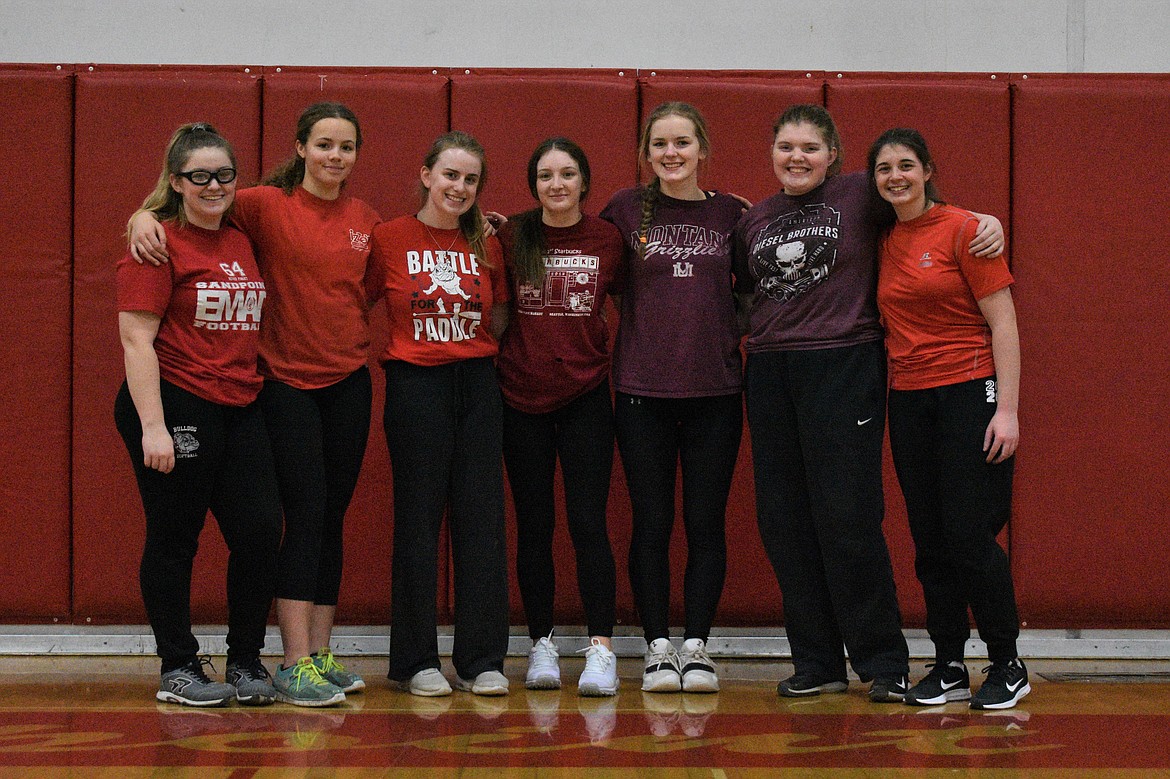 The Sandpoint softball team will lean on a core of seven seniors to help them rebound from a disappointing 5-16 season. Pictured (from left): Jaycie Irish, Izzo Edwards, Abigail Hendricks, Paige Laine, Brooklen Steiger, manager Taite Shockey and Ashley Authier.
(Photo by DYLAN GREENE)
Previous
Next
by
Dylan Greene
Sports Editor
|
March 13, 2020 3:10 PM
SANDPOINT — Typically, when a team loses three all-league players one would expect the squad to take a step back or be forced to rebuild the following year. Not the Sandpoint softball team.
Sure the Bulldogs lost Tanis Davis, who holds the school records in slugging, RBIs and home runs, and power hitters Natalie Petit and Ember Dewey, but they are replacing them with a handful of athletic players that will give opposing teams fits all season.
"I'm going to be honest," head coach Elizabeth Hawkins-Williams said, "replacing Tanis' bat is probably not going to happen ... but what I'm doing this year is our team is significantly faster this year so what we're going to rely on more this year is short game, base stealing and running, so we can definitely put runs on the scoreboard just by our sheer speed this year and then we won't have to rely on the big bats that we lost to move runners. That's the trade off."
That means Sandpoint will have a distinctly different playing style centered around doing whatever it takes to get on base. And Hawkins-Williams believes this style will play to her team's strengths and allow them to improve from their 5-16 record in 2019.
"I felt like last year was more of a rebuilding year because we lost a lot of core all-conference players in key positions," she said, "and we spent last year really retooling our team to fill those gaps and those voids, and then fill in for the girls that were going to be graduating [in 2019] so I do feel like we are really taking a huge step forward in our program this year."
A huge portion of that belief comes from a core of three players the Bulldogs will lean heavily on all season; seniors Brooklen Steiger, Jaycie Irish and Izzo Edwards.
Steiger was an all-league outfielder last season and Edwards earned league honors for two positions. While Irish came out of nowhere to become the Bulldogs go-to pitcher on the mound.
"We're excited about Jaycie this year because she came into the program as the No. 2 pitcher last year," Hawkins-Williams said, "and worked here way into the No. 1 role as a pitcher just by her sheer determination to do so. She's really good at using those emotions to make herself unstoppable."
Hawkins-Williams is expecting a breakout season from Irish and the pitcher has high expectations for herself as well. Irish spent most of her offseason working on her pitching and hitting with her coach at Spokane Falls Community College, which is where she'll be playing this fall.
For Irish, the softball season never ended and she plans on doing whatever it takes to make sure the team shines this year, she just wants to avoid getting in her own head.
"I know what I can do, I just can't stop myself from it," she said.
Irish also has her eyes set on breaking the team's home run record which currently sits at four.
One thing that Hawkins-Williams is impressed by in the first few weeks of practice is the amount of tools every player added to their repertoire during the offseason including a wide range of bunting techniques.
"All the players on our team this year are starting in a better place than they did last year and that progression is going to be huge for us," she said.
Arguably Sandpoint's most versatile player is Edwards, who played shortstop and center field last season. Hawkins-Williams plans on starting Edwards at center fielder and putting her in the leadoff spot because she's not afraid to go after every ball.
"Even though she's an outstanding shortstop, she's a natural outfielder," Hawkins-Williams said, "and so our goal for her is to be center field all year long. I mean she can throw all the way from the fence to home and she can cover all that ground."
Hawkins-Williams is going to move Steiger into the starting catcher role and have her play outfield when she's not at catcher. Hawkins-Williams believes Steiger will set an aggressive tone behind the plate that will make base runners think twice before trying to steal.
"I'm excited for her to be able to step up into this role," Hawkins-Williams said. "It's something she's been preparing for the last two years."
Walk into any Bulldogs' practice and you can see just how versatile everyone on the team truly is. From all-league players to standout newcomers, everyone can do a bit of everything and Hawkins-Williams feels fortunate that her players have enough confidence in themselves to switch positions when asked.
The whole team is looking forward to getting on the field and helping put last season behind them.
"I think about it almost every single day since last year when it ended," Steiger said. "No more waiting. Winter can be over."
The team has big aspirations this season. The first goal is to retake the district title from Lakeland and get back to state. From there ...
"We'll go to the state championship game," Irish said, prompting Edwards to bend down and knock on the floor at Les Rogers Court. "For me I know we can do it. I want to do it and I know there's a lot of other girls on this team that want to do it so we have to apply that want and that need to go to state."
Hawkins-Williams is confident her team is capable of doing that and thinks her team won't be walking on any field as the underdog.
"My expectation is that these girls are going to play their best against the best teams in the state, 4A and 5A," she said, "and that when they go out there they aren't going to get beat by themselves, they're going to go out there and they're always going to play their best game the whole time."
In order to do this, Sandpoint will need to be mentally tough and get plenty of leadership from their star players.
Edwards and Steiger were members of the girls basketball that made it to the third place game at state this season. Edwards said that team took it one game at a time and never got ahead of themselves, and she plans on utilizing that same strategy during softball season.
"We have to take it step by step," she said.
Irish said everyone has to chip in if they want to get back to state and she plans on making sure no one gets left out and the team doesn't get divided.
"You can't be a team if you separate yourself from everybody so I think that's definitely one thing we have to work on this year," she said.
In their final season, all three want to be remembered for their work ethic and dedication to the team. Steiger and Edwards mentioned how much they have enjoyed watching the team grow and evolve over the course of their careers. It will be sad once this season is over, but at least everyone will know they left it all on the field.
"I really like the environment," Edwards said. "I feel safe, I feel like I'm with my family."
The Bulldogs play a season opening doubleheader with Timberlake starting at 3 p.m. tonight at home.
---