Redemption fuels Hathaway in pursuit of state titles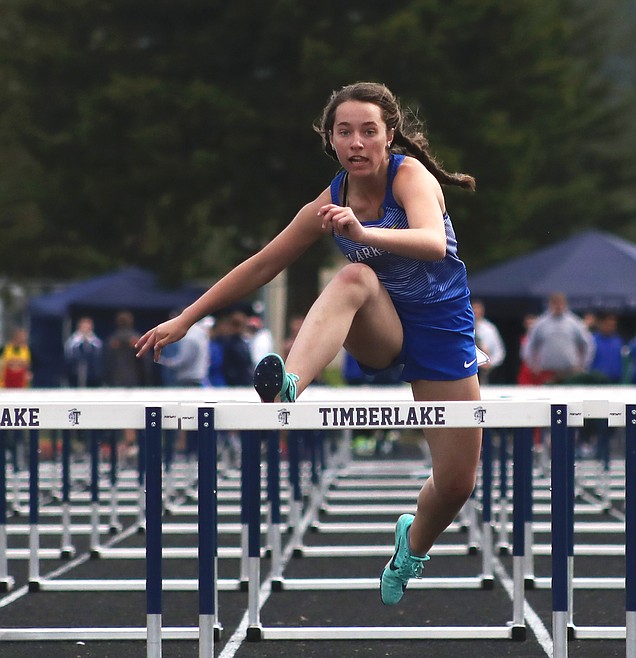 Sara Hathaway runs the 100 meter hurdles last season. Hathaway has one more chance to claim state titles in the 100 and 300 hurdles after a calf injury derailed her chances in 2019.
(File photo by KYLE CAJERO)
by
Dylan Greene
Sports Editor
|
March 13, 2020 1:00 AM
CLARK FORK — For senior Sara Hathaway, last year couldn't have been more disappointing.
Midway through the 2019 season, she suffered a calf injury that hampered her the rest of the way. Despite this setback she was able to battle through the injury and win district titles in the 100 and 300 hurdles, and long jump to qualify for state.
At the state championships in Eagle, Hathaway aggravated the injury and realized her quest for a title had ended.
"In prelims of the 300 hurdles, I lost it," she said. "My leg just felt like it split in half so I finished the 100 hurdles finals and got eighth, and then I couldn't run in the 300 because I could barley walk."
Head coach Matt Majors said Hathaway was devastated after the injury because all the countless hours she spent on the track perfecting her craft and working hard to get better didn't result in a title.
"It hit her really hard when she got hurt," Majors said. "She tried her best, she just couldn't do it."
But now all that misfortune has Hathaway more motivated than ever.
"I didn't get to finish the season how I wanted to," she said, "and that's what hurt a lot and since then I've been waiting for the season to get my redemption. In a way it was a blessing because now I'm a lot more driven this season to actually get that win like I was supposed to last season."
Hathaway is an integral piece to the Clark Fork track team's seven person squad this season. The other members are seniors Isaac Steele and Lucas Decker, juniors Chris Wade and Reba Decker, sophomore John Nielsen and freshman Nathan Shelton.
The small numbers are typical for the Wampus Cats and given the athleticism of all the members on the team, Majors expects the Wampus Cats to contend for a district title because each kid is willing and capable of competing in multiple events.
"I love coming out here and hanging out with these kids because they're such good kids," Majors said.
One of those athletes is Isaac Steele, who plans on participating in the 100, 400, 300 hurdles and long jump this season.
Steele enjoys the challenge of competing in a handful of events and is looking to get his times down in the 300 hurdles and 400 so he can qualify for state.
"It's hard but it keeps me busy and keeps me out of trouble," he said.
This is only Steele's second season on the team, but he said he has a close connection with the tight knit squad and cheers his teammates on as much as he can when he's not taking part in an event.
"They're all good friends of mine so its good to be around them, train with them and push each other," he said.
This is Hathaway's last chance to put together a storybook ending to her career before she heads off to Lewis-Clark State College this fall to run track.
Hathaway said she enters this season in much better shape and plans on just focusing on hurdles this year because that's what she'll be doing in college. Although, Hathaway mentioned that she might participate in other events during meets with league opponents.
Majors said the warm weather has allowed the team and Hathaway to get on the track much earlier than last season and due to that, Hathaway is about a month ahead of where she was at this time last year.
Majors said he has never had to motivate Hathaway since she joined the team as a freshman because she's just wired differently.
Hathaway is never satisfied with herself and enjoys pushing her limits every time she steps on the track.
"I always taught that if I'm going to do something," she said, "I'm going to do it right and I know where I've been and I know where I can go so that's what really pushes me mostly, and also winning drives me to work hard."
Hathaway expects nothing less than to bring home a state trophy in the 300 hurdles this season and certainly wouldn't mind if a 100 hurdles title came along with it. Hathaway is aware how tough her competition at state will be but if she reaches her goal of getting her time in the 100 hurdles down to 16 seconds flat, no one should count her out of sweeping both events.
"If everything goes the way it should, she should be one of the final ones standing there at state," he said.
Hathaway wants to enjoy the journey this season after being too tough on herself last year and doesn't want to take any moment for granted.
"I intend to actually smile and laugh and have fun with my teammates no matter what I do in my races," she said.
---