Priest River sports suspended until after spring break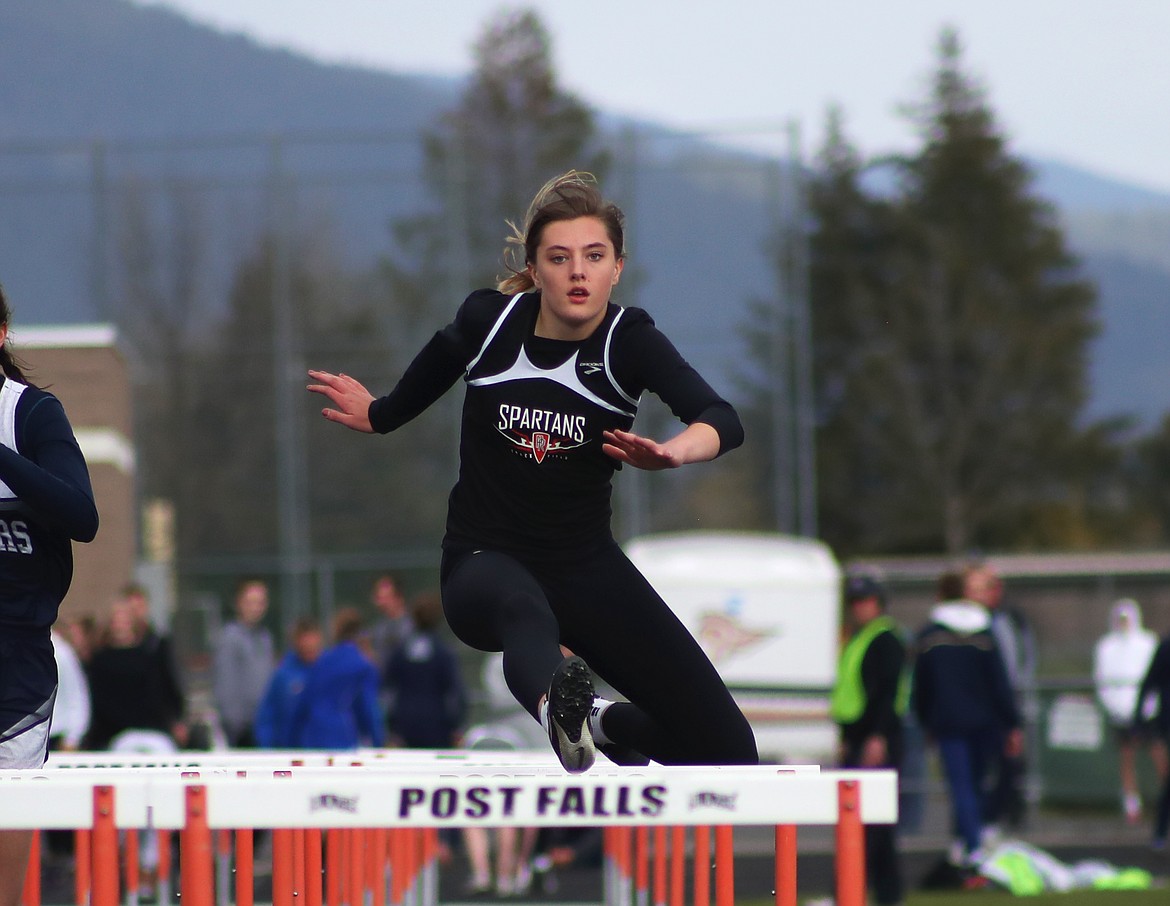 (File photo by KYLE CAJERO) Priest River's Cassidy Prudek runs the 100 meter hurdles last season. The IHSAA suspended the spring sports season until April 6 to help prevent the spread of the coronavirus.
by
Dylan Greene
Sports Editor
|
March 18, 2020 1:00 AM
PRIEST RIVER — With all the states surrounding Idaho shutting down high school sports for extended periods of time due to the spread of the coronavirus, it was only a matter of time before the suspensions found their way to Idaho.
On Monday, the Idaho High School Activities Association made the move to suspend all sanctioned high school sports and activities from Tuesday until Sunday, April 5. The West Bonner County and the Lake Pend Oreille school districts then held emergency meetings Monday night and decided to suspend school until after spring break.
So for now we have to live without any Priest River spring sports. It's a tough pill to swallow for the Spartans athletes and coaches but Priest River Lamanna Athletic Director Matt George realizes it's a necessary step to ensure the safety of everyone.
George is glad the IHSAA decided to suspend competition for only about three weeks and give everyone a chance to salvage a spring sports season.
"We're crossing our fingers that we don't have to cancel everything but I think that's a pretty good plan to let schools collect, take a deep breath and manage things the best they can," he said.
During this suspension, teams can't hold practices or team meetings and aren't allowed to use any of the school's athletic facilities.
Despite this unexpected break, George said the school and the athletes are used to having the start of the season delayed a few weeks.
"On a typical year in northern Idaho you're looking at not really getting a whole lot of events in before spring break anyway so the first of April is kind of the unofficial start of our competitions anyway," he said.
That is because of the lovely weather North Idaho typically has this time of year that forces many schools to postpone sporting events in the middle and end of March.
"We can schedule whatever we want to schedule but we're at the mercy of weather," George said.
But this year was one of those rare seasons where North Idaho had a mild winter allowing teams to get outside and practice before their season openers, something Priest River athletes aren't accustomed to.
"This year was tough because they were outside right away and hopes were high to get these games in but that just wasn't an option," George said.
In terms of scheduling, some Priest River teams had games with Washington schools this season that now most likely won't be played due to Washington Gov. Jay Inslee suspending school until April 24. But George isn't expecting the mix-ups to the schedule to impact the Spartans that much because now they have plenty of open dates in April to reschedule any league games that may get postponed due to weather and fill in the schedule with new games.
There is also a chance that the spring sports season gets canceled and the Priest River athletes never get a chance to play this spring. George believes there is about a 50-50 chance the season resumes after spring break.
"I think it's a coin flip, I really do," he said. "I think it all has to do with how well communities and society in general does trying to keep this under control and how well we follow the guidelines."
---