BGH: Steps will flatten virus' curve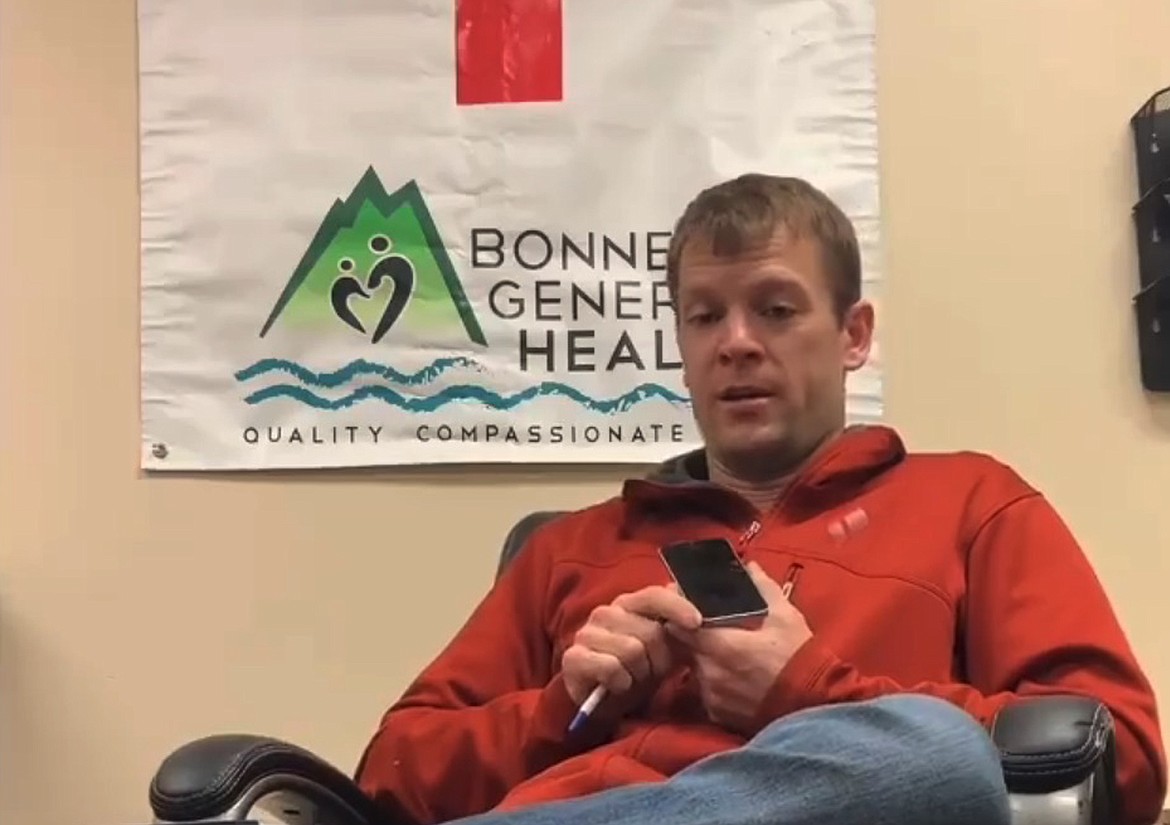 In this screenshot of a video created by Bonner General Health in conjunction with Blue Sky Broadcasting, Dr. Hans Hurt gives an update on novel coronavirus facts and what it could mean to the community.
by
Caroline Lobsinger
Staff Writer
|
March 20, 2020 1:00 AM
SANDPOINT — As of 4 p.m. Thursday, there were no positive novel coronavirus cases in Bonner County.
However, there is no doubt in the Dr. Hans Hurt's mind that they are here.
"It's tough to tell exactly what is going to happen in Sandpoint," the Bonner General Health emergency department doctor said in a video the hospital posted to its Facebook page Thursday. "But I'm positive we're going to have positive cases coming up in the local area soon and for every one of those positive cases, you should probably think there is 30 to 100 that around it that haven't had the chance to get tested or that have been spread."
The numbers are a bit deceiving and it's hard to put things into perspective because everything is changing so quickly and day to day regarding what test is available and what tests are back, he said. But one thing is clear, the numbers are going to skyrocket.
Hurt and the hospital, along with the help of Bob Witte and Blue Sky Broadcasting, created the video to give the community up-to-date information on the virus, what to do and to give a real perspective on the COVID-19 novel coronavirus and what to expect in the coming weeks, the hospital said in the post.
Hurt said if people think they have COVID-19, first take a deep breath and clam down. There are a lot of tests out there and a lot of results pending.
"So far we've been fortunate and have not seen any extremely sick people with this," he said. "Right now, unfortunately, the testing is getting even more limited just with how the state is getting backed up and the decreased materials and the viral medium to do the testing. So right now, we're really going to have to limit the testing that we can do just more for hospitalized patients that are really sick so we're not going to be able to offer some of the testing that we have been doing because the supplies and the availability are getting so limited."
If people are worried they might have the virus, the best thing to do practice strict social distancing and stay at home.
"And that's going to be the biggest thing with this disease that's going to help the community and keep everybody safe is just making sure we don't spread it to other people," Hurt said.
When should people go to the Emergency Department? If they feel like they are severely struggling to breathe, can't walk across the room and are light-headed and feel like they're going to pass out as a result. "That would be a level of kind of severe respiratory issues that we would worry about," he said.
However, if you have a cough, are a little short of breath and don't feel like going for your normal daily walk or run. That's more of an indication you should continue to rest at home and take it easy, he said.
"That's what's really tough with this disease because what we see right now in Sandpoint, we don't see the extremely sick people," Hurt said in the video. "So we have to think about where Portland and Seattle and New York are right now because those places are probably two weeks ahead of where we are."
COVID-19 has a long incubation period, with a long period before you start to show symptoms and another 10-12 days before people get really sick. That's why social distancing is so important, Hurt said.
"So if you think about that, what we do today to limit the spread of the disease in a virus amongst people who don't have symptoms is going to be delayed in two to three weeks before we see the benefit of that. And that foresight into what this disease progresses is really challenging when it's not in front of us."
He urged those watching the video to look at the news coming out of New York and in Portland and picture that as being the local community in two weeks.
"The more we can do right now to try and limit the spread of that disease here, even though we can't see it, that is going to save us so much for illness within the community," he said.
With the hospital's supply chain, like that of all of the other hospitals in the nation, masks and gloves are in short supply. That's why donations from Jim Watkins, Safeway and Trinity have meant a great deal to Bonner General and its staff. If anyone has any extra N95 masks they aren't using, Hurt said the hospital could use them.
---