Connor Hutchings follows in his brothers' footsteps, will play football at Whitworth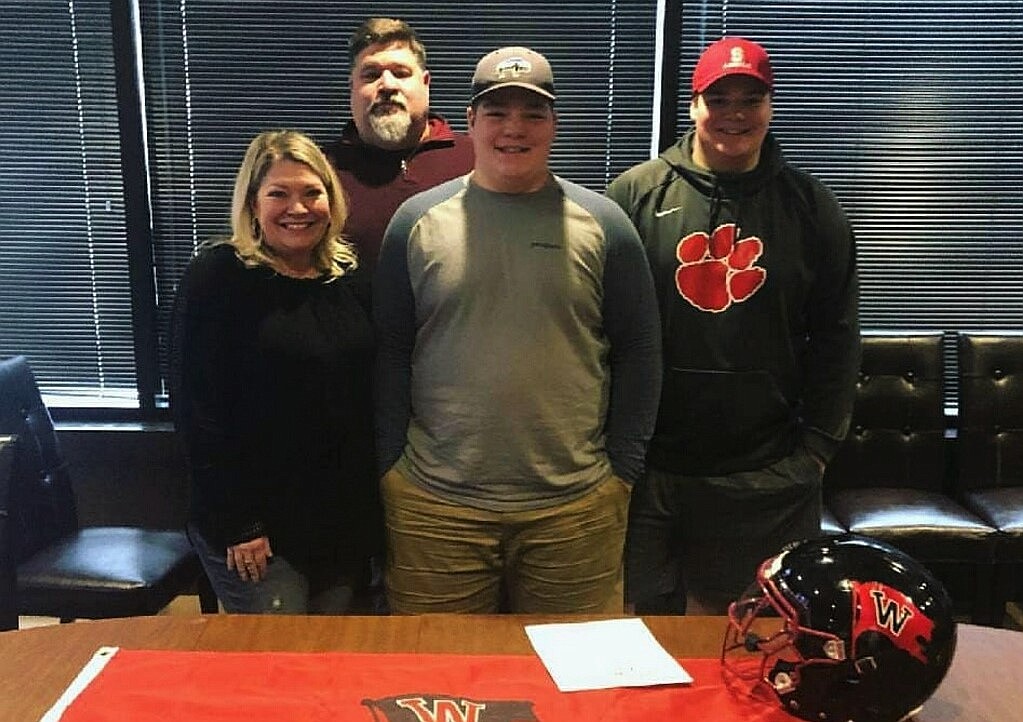 Sandpoint offensive lineman Connor Hutchings announces his commitment to play football at Whitworth University on Saturday, March 7. Pictured (from left): Connor's mom, Stacie, Connor's dad, Ken, Connor and Connor's brother, Kiehl.
(Photo courtesy of RYAN KNOWLES)
by
Dylan Greene
Sports Editor
|
March 20, 2020 1:00 AM
SANDPOINT — Everyone faces challenges in life. Some more than others and that's the case for Connor Hutchings.
Hutchings has dyslexia — a learning disorder that affects areas of the brain that process language and makes if difficult for someone to read.
But Hutchings hasn't let the disorder define him and instead has work tirelessly in the classroom to make his dream of playing football collegiately come true.
That effort payed off when he announced nearly two weeks ago that he would take the field for Whitworth University this fall.
For a long time, Hutchings didn't feel comfortable telling people he was dyslexic.
"I didn't want people to think I was stupid so I just tried burying it," he said, "and then that was just not working so I just had to change something and I'm glad I started telling people because now I've had straight A's all senior year and it is really helping me improve my grades."
Hutchings was one of the top academic performers on the Sandpoint football team this season and all that hard work payed off and allowed him to get accepted into Whitworth.
The senior earned all-league honors this past season on the offensive line and the year before he was named to the all-league team for his play at defensive tackle.
The coaching staff asked Hutchings to switch to offense in 2019 and fill the void left by his brother, Kiehl, who graduated and is now playing at Whitworth. Hutchings had no problem doing that.
"It was difficult," he said. "I had to relearn like all the plays and I had to learn all the techniques and the footwork so it just took a little bit but then I got pretty good at it."
Hutchings plays left guard and is looking forward to joining his brother who currently holds the starting spot at that position at Whitworth. Hutchings said his brother and him have been talking about one of them switching to the right guard spot so they can potentially start on the offensive line together next season, just like they did two years ago on the defensive line for the Bulldogs.
"I'm very excited," Hutchings said. "I love playing with him."
Hutchings and his family moved to Sandpoint from New York when he was in seventh grade. In New York, lacrosse was the sport Hutchings grew up playing so he continued doing that when he arrived here. Hutchings never intended on playing football but when he was in eighth grade, Tyler Pettit called his dad, Ken, and told him Hutchings should give it a try. He did and it came naturally. Within a week he was starting on the team.
Hutchings, who is also a four year captain on the Sandpoint club lacrosse team, enjoyed his time playing for the Bulldogs' football team and appreciates everything his teammates and coaches did for him throughout his career. Hutchings said he loved all the attention he got while donning a Sandpoint uniform.
"It's super nice because it's such a small town," he said, "and then everyone kind of knows who you are. There was a time I was in the grocery store and this random person just walked up to me and was like, 'hey are you Connor Hutchings?' I was like, 'yeah,' and he said, 'man I've been reading so much about you in the newspapers lately, I got to come and watch one of your games.' "
Now Hutchings can't wait to get to Spokane and start college.
"The football program there is awesome," he said. "I love the coaches and I like the whole campus."
Hutchings plans on having an impact on and off the field at Whitworth, and wants other people who have a learning disorder to not be afraid to speak up and let other people know what they are going through.
"You can't be embarrassed about it ... everyone was super nice, no one mocked me about it so I would say go talk to the counselors and get the support you need," he said.
---