Recipes to brighten your mealtimes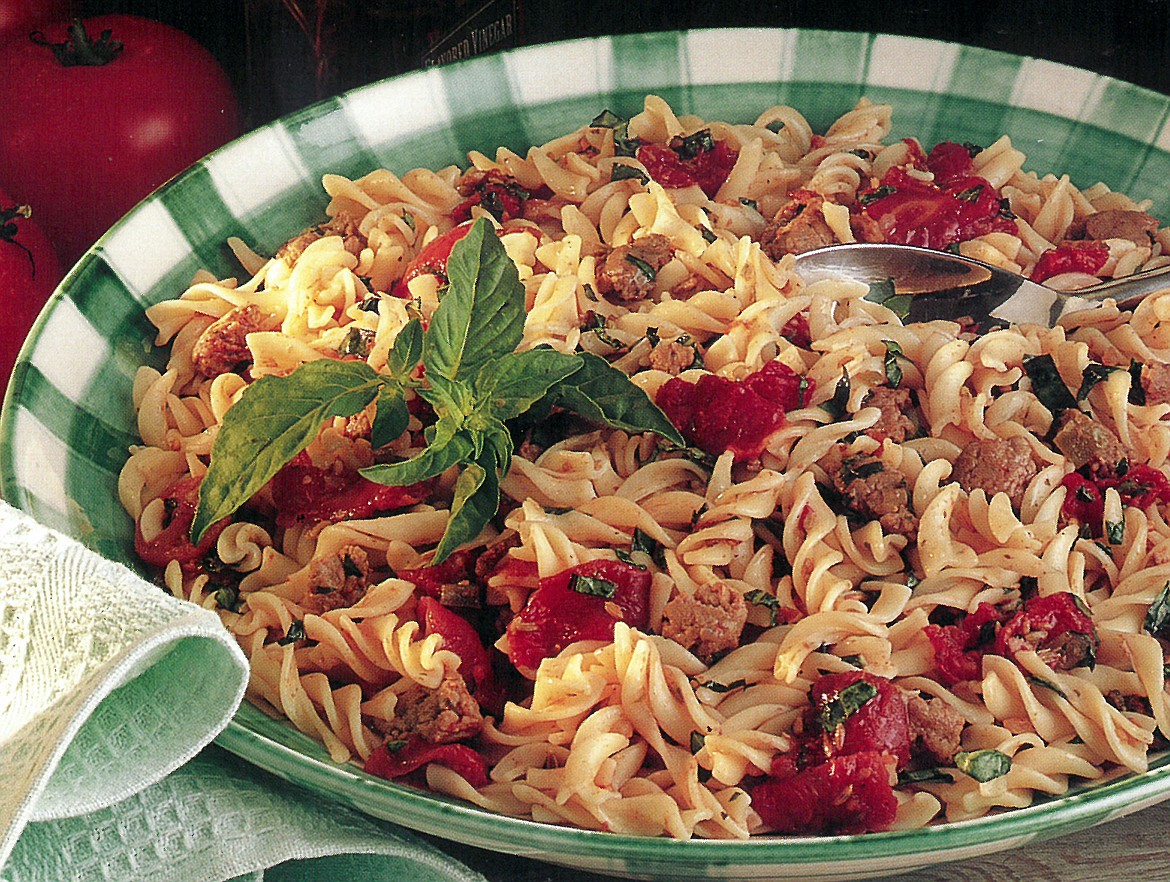 Skillet pasta — the lazy cook's takeoff of the old Italian made-from-scratch dinner — is savory, quick and an all-around winner.
Today's recipes are some of my personal favorite "oldies" stolen or created as I saw fit over my years of feeding family, guests, and my some 40 years of single living, during which I have always fed myself as well as company. I love good food, respect my gift of life, and sit down to eat a nicely prepared supper. I hope you "loners" out there do the same. And always say "Thank You" before eating! Enjoy!
Lemon-Tossed
Linguine w/ Scallops
(Serves 6)
1 pint (2 cups) small bay scallops (or large scallops, cut in half)
8 ounces uncooked linguine
2 tablespoons fresh lemon juice
1 tablespoon butter
1 tablespoon olive oil
1-2 cloves garlic, minced
2 tablespoons minced chives
1 tablespoon EACH minced fresh parsley and lemon thyme leaves (stripped from stems)
1 teaspoon finely grated lemon peel
¼ teaspoon ground white pepper
2 tablespoons grated Romano or Parmesan cheese
Cook pasta in boiling water with NO salt until easily cut against side of saucepan w/side of fork. Drain, place in medium bowl. Drizzle lemon juice over the noodles and toss. Set aside, covered to keep warm.
Meanwhile, melt the butter in a heavy skillet over medium heat. Add garlic, chives and herbs and cook, stirring till soft. Raise heat to medium/high and toss in scallops; add olive oil and sauté, stirring till opaque and cooked through - 3-4 minutes. Stir in lemon peel and white pepper. Pour scallop mixture over pasta, tossing well. Sprinkle with cheese, tossing once more to coat evenly. Garnish with lemon slices and rosemary or dill sprigs as desired. Serve immediately with extra cheese available.
Note: You can easily change this recipe into a refreshing salad by draining and immediately cooling the pasta in cold water, draining well when cold, then tossing with the lemon juice. Omit butter and use olive oil only when sautéing scallops, and allow to cool before tossing with the pasta. Instead of adding grated cheese, use minced green herbs of choice, salt and pepper to taste, and another drizzle of olive if necessary. Serve with a bowlful of Kalamata or other olives of choice.
Bonus Tip: Instead of pasta serve the scallop/lemon peel mixture over chopped romaine or other salad greens and add a little Caesar dressing for a great green salad!
Our illustration of a traditional Italian supper uses canned tomatoes, fresh zucchini and is made in a skillet. (Dig out Grandma's cast-iron chicken-fryer)!
Hearty Skillet Pasta
(For 4)
2 tablespoons olive oil
1 medium zucchini, (or two small) halved lengthwise, sliced about 1/4-in. thick (peeled if skin is tough)
2 large garlic cloves, chopped
1 16-ounce can Italian plum tomatoes with juices
½ cup dry white wine
1 ½ teaspoons dried thyme leaves, crumbled
8 ounces fusilli or other short pasta, freshly cooked
1 ¼ cups packed freshly shredded white cheese (Monterey Jack works well)
Heat olive oil in heavy skillet over medium heat; add zucchini and garlic and sauté until fragrant, only a minute or so. Add tomatoes and juices, white wine and 1 teaspoon of the thyme. Bring to simmer, breaking up tomatoes with fork or back of spoon. Cook until sauce thickens slightly and zucchini is tender, stirring occasionally – about 15 minutes (you can cook pasta while sauce is cooking). Add hot cooked pasta to sauce, mixing and tossing to coat evenly. Sprinkle with the cheese, and top with remaining thyme. Serve with crusty bread to sop up the juices.
Note: I like to add whole baby button mushrooms to the sauce with the tomatoes.
Fresh asparagus is at the markets now, pick up a bunch that are not too skinny and not too fat, and enjoy this tasty treat.
Asparagus Quiche
1 large pastry shell
1 1/2 cups prepared asparagus spears, tough ends snapped off, cut-up into 1-inch pieces, cooked 3-4 minutes in boiling water, drained well.
1 Tb. real butter
1 cup cheddar cheese, grated
4 eggs
2 cups heavy cream
1/2 tsp. salt
Pepper to taste
Preheat oven to 375F. Evenly arrange asparagus pieces on bottom of pie shell; dot with the butter. Evenly distribute the grated cheese atop the asparagus. Lightly beat eggs with a wire whisk; add cream and seasonings, mix well. Set the pie shell on a baking sheet and carefully pour egg mixture over all. Bake on center shelf of oven 45 minutes or till top is puffed up, lightly browned and a knife inserted in center comes out clean. Garnish with a sprinkle of paprika and fresh chopped parsley if you wish. Serve hot.
Tip: You may use Swiss or other cheese as you wish, or a mixture of mellow cheeses that won't distract from the delicate flavor of the asparagus; but do use fresh grated cheese and not the purchased ready-grated often dry packaged variety.
Our final recipe is a surprise take-off on a revered French treat. Give it a try!
Hot Vichyssoise
(Potato/Leek Soup))
1 cup thinly sliced leeks, (white part into a half-inch or so of green) well washed
1 tablespoon butter plus extra for serving bowls
4 cups peeled, thinly sliced potatoes (new are best)
3 cups vegetable broth, unsalted (or water)
Dash nutmeg
2 ½ cups whole milk or ½ and ½ (I mix mine)
Salt to taste
Pinch of pepper to taste
Snipped chives, fennel fronds or watercress for garnish
Saute leeks in the butter in a medium saucepan over medium-low heat, until tender but not brown. Stir with fork to separate into rings if desired. Add potatoes, broth and nutmeg; bring to a boil, reduce heat and simmer partially covered, for 30 minutes. Meanwhile, pour milk/cream into a saucepan and heat over low heat to avoid scalding. When heated through, cover to keep warm.
Puree potato mixture in a blender or processor (or use a hand-held electric mixer) then pour into a large warmed serving bowl or tureen. Add the heated milk, salt and pepper to taste. Stir and serve with a dab of butter melting atop and garnished with chives, watercress or snipped fennel fronds.
This is my favorite soup in the world even though I did make it up from the real vichyssoise recipe many years ago.
Bon Appetit!
Valle Novak writes the Country Chef and Weekend Gardener columns for the Daily Bee. She can be reached at bcdailybee@bonnercountydailybee.com. or by phone at 208-265-4688 between the hours of 8 a.m. to 7 p.m.
---