Windy Bay gillnetting for pike aids cutthroat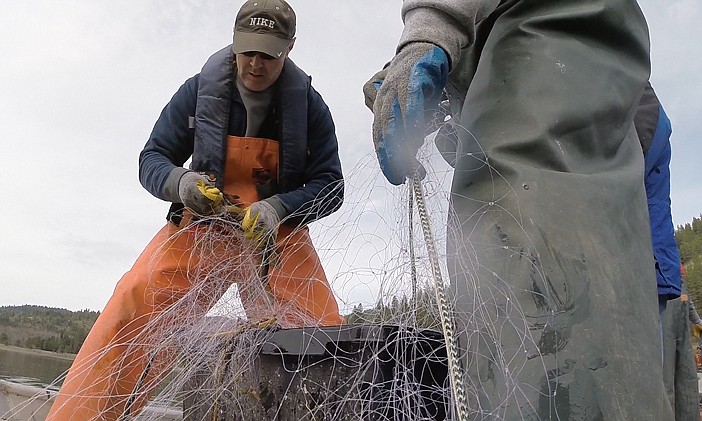 Biologists from the Coeur d'Alene Tribe process pike caught in Killarney Lake as part of a larger Lake Coeur d'Alene pike study.
Courtesy photo
by
Ralph Bartholdt
Staff Writer
|
March 24, 2020 1:00 AM
In an effort to reduce predation by northern pike on native cutthroat trout, the Coeur d'Alene Tribe began gillnetting northern pike last week in Lake Coeur d'Alene's Windy Bay, as well as in the big lake's southern neighbors including Benewah, Chatcolet, Round and Hidden lakes.
The project, which began several years ago, is in conjunction with Idaho Fish and Game. Gillnetting will run through this week until May 24 and start again in autumn, from Oct. 1 to Nov. 31 as both entities hope to rebuild the population of cutthroat in the Lake Coeur d'Alene and neighboring watersheds.
The spring netting will be relegated to pike's spawning waters in the shallows along shore while autumn netting is meant to target pike populations in their general feeding habitat.
Spawning areas for pike, the gregarious and toothy hunters of North Idaho waters, coincide with areas that lake cutthroat must pass to reach tributaries where they spawn. Fish and Game call this a "predator trap," that reduces the number of spawning trout, because they are targeted as food by pike.
Kiira Siitari of Fish and Game said state and tribal biologists ensure there are no impacts to other game fish populations, such as largemouth bass, as they set and check gillnets.
More than 80 percent of the largemouth bass caught in nets last year were released. Largemouth bass made up just over 7 percent of the total catch in 2019, Siitari said.
Regional fishery manager Andrew Dux of Fish and Game said the department has taken more precautions this year to ensure fewer bass are caught incidentally.
Last year both agencies expanded netting to Benewah, Chatcolet, Round and Hidden lakes to help cutthroat spawning in Benewah Creek and the St. Joe watershed.
Overall, 1,409 pike were removed last year, which is estimated to be about half the catchable pike population in the southern lakes, Fish and Game reported.
Many of the pike that were removed from the lake were distributed through the Blue Goose Sporting Goods store in St. Maries, Fish and Game reported.
Nearly 500 adult cutthroat ran up Lake Creek last year, which is the largest spawning run observed in more than 20 years, according to the Tribe.
So far, four times more cutthroat have returned to Lake Creek than a decade ago, tribal research biologist Jon Firehammer said.
"These responses are undoubtedly due to a reduction in predation and a more favorable environment in the lake for cutthroat," Firehammer said.
---