Little to Idaho: STAY HOME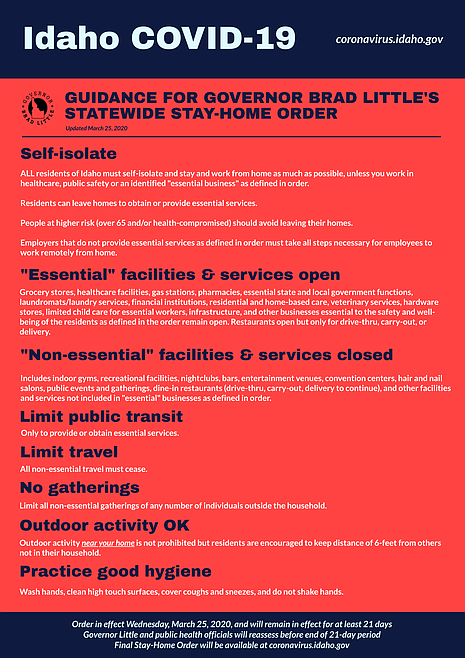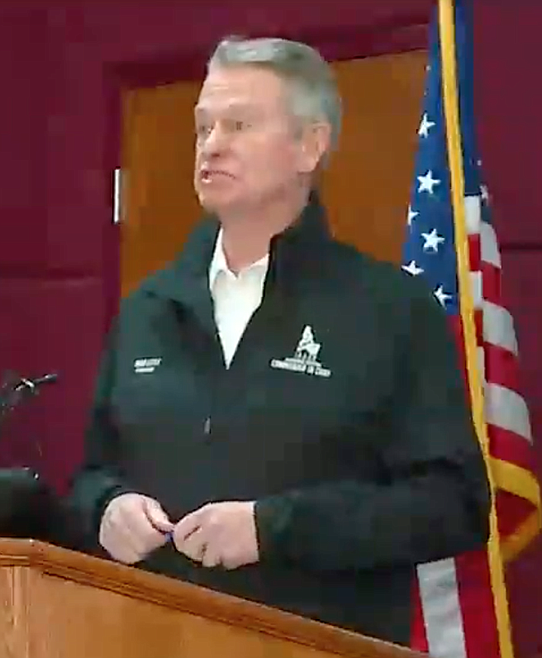 Governor Brad Little during a Wednesday press conference at the Idaho Military Division State Headquarters at Gowen Field, the Air National Guard base in Boise. Little activated the National Guard Wednesday to help combat the spread of the coronavirus. (Image courtesy of the Office of the Governor)
Previous
Next
'New stage' leads governor to issue statewide order
Gov. Brad Little issued a three-week stay-home order Wednesday for all residents in Idaho deemed non-essential.
"Idaho is now in a new stage," Little said at a news conference. "The confirmed community transmission [is] now occurring in Idaho's most densely-populated areas."
The move orders all residents — healthy and ill — to stay home. Those who are high-risk are to avoid leaving home, according to the proclamation. The governor's order also limited public transportation and called on the public to refrain from any non-essential travel.
Little said community peer pressure is his first hope in enforcing the order, rather than sending in the troops.
"Our goal isn't to arrest people," Little said. "Our goal is to keep Idahoans safe by maintaining this stay-home order."
Post Falls Police Chief Pat Knight said the use of troops to support law enforcement is nowhere near his department's future, and that he emphasizes education over arrests.
"These are issues we are going to have to go out and try to educate the public about," Knight said. "We're going through uncharted waters right now. Some of the things we'll deal with, we need to deal with appropriately. We don't need to be heavy-handed about this."
Only those who work for businesses and programs that provide essential services are exempt. The governor's order defined "essential" businesses as the following:
— Grocery stores
— Restaurants that provide drive-thru, carry-out and delivery
— Gas stations
— Utilities
— Financial institutions
— Health care facilities
— Residential and home-based care
— Veterinary services
— Hardware stores
— Limited child care for essential workers
— Infrastructure
Kootenai County Emergency Management issued a similar list Wednesday afternoon on its Facebook page, one that added the following professions to the state's list:
— Cleaning personnel necessary to clean and sterilize facilities
— First responders, including firefighters, EMTs, paramedics, law enforcement officers, including operational command staff and support members
— Convenience stores
— Farms, fishing operations, and other businesses that cultivate food
— Businesses that provide food, shelter and social services
— Gas stations, auto repair, and auto supply shops
— Plumbers, electricians, exterminators, landscapers, and others who provide services sanitation and safety services
— Businesses providing mailing and shipping services
— Educational institutions, for the purpose of distance learning
— Laundromats and dry cleaners
— Businesses that supply products needed for people to work from home
— Outlets that supply other essential businesses with necessary support or supplies
— Businesses that ship or deliver groceries, food, goods or services directly to residences
— Airlines, taxis, and other private transportation providers that provide services necessary for essential activities
— Home-based care for seniors, adults, or children
— Newspapers, television, radio, and other media services
— Residential facilities and shelters
— Professional services, such as legal or accounting services, when necessary to assist in compliance with legally mandated activities
Little's mandate stipulates that outdoor activity near the home is not prohibited, so long as social distancing of at least six feet is maintained. Coeur d'Alene Mayor Steve Widmyer said he was ordering all city playgrounds closed.
Non-essential businesses in the state — such as bars, nightclubs, gyms and recreation centers — have been ordered to close.
"Employers that do not provide essential services must take all steps necessary for employees to work remotely," Little ordered.
The order also activates the state's National Guard to remain on stand-by to support civil authorities. This can include medical and infrastructure support, stocking supplies and, as a worst-case scenario, law enforcement.
Rep. Paul Amador of Coeur d'Alene said any potential future with troops maintaining martial law on the streets is far off on the hypothetical horizon.
"The National Guard has the capabilities to help in medical emergencies and public health emergencies," Amador said. "And I don't think we're even anywhere close to there yet. I think it's important to remember: When we start talking about utilizing service members in the National Guard, these are our families. They are literally our neighbors. They're not some distant army. They're our friends and family, and they'll be here to help us."
Knight said that the law enforcement landscape will likely look no different from a citizen's standpoint.
"We won't be pulling people over if they're driving down the street," Knight said. "It'll be business as usual. We're not going to be stopping people over this. What we're looking at trying to enforce is shutting down gatherings at the playground. We'll be educating businesses who might violate the order. But it's still new to us right now, just like it's new to you."
Coeur d'Alene Mayor Steve Widmyer said he supports Little's order and added that it doesn't change the public's goal of defeating the coronavirus.
"Through following social distancing and following all the health care professionals' advice, we will beat this," Widmyer said. "It will take all of us doing the right thing."
"The experts tell us that the timing of our decisions is extremely important," Little said. "Every state is in a different stage. I'm confident the decisions we have made in Idaho over the past few weeks and months have been solidly grounded in the advice of our epidemiologists and our infectious disease experts."
Little said his office and health officials will collaborate in the next few weeks and evaluate if the order needs to be extended beyond 21 days.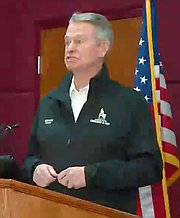 ---