Annual Bay Trail Fun Run postponed until August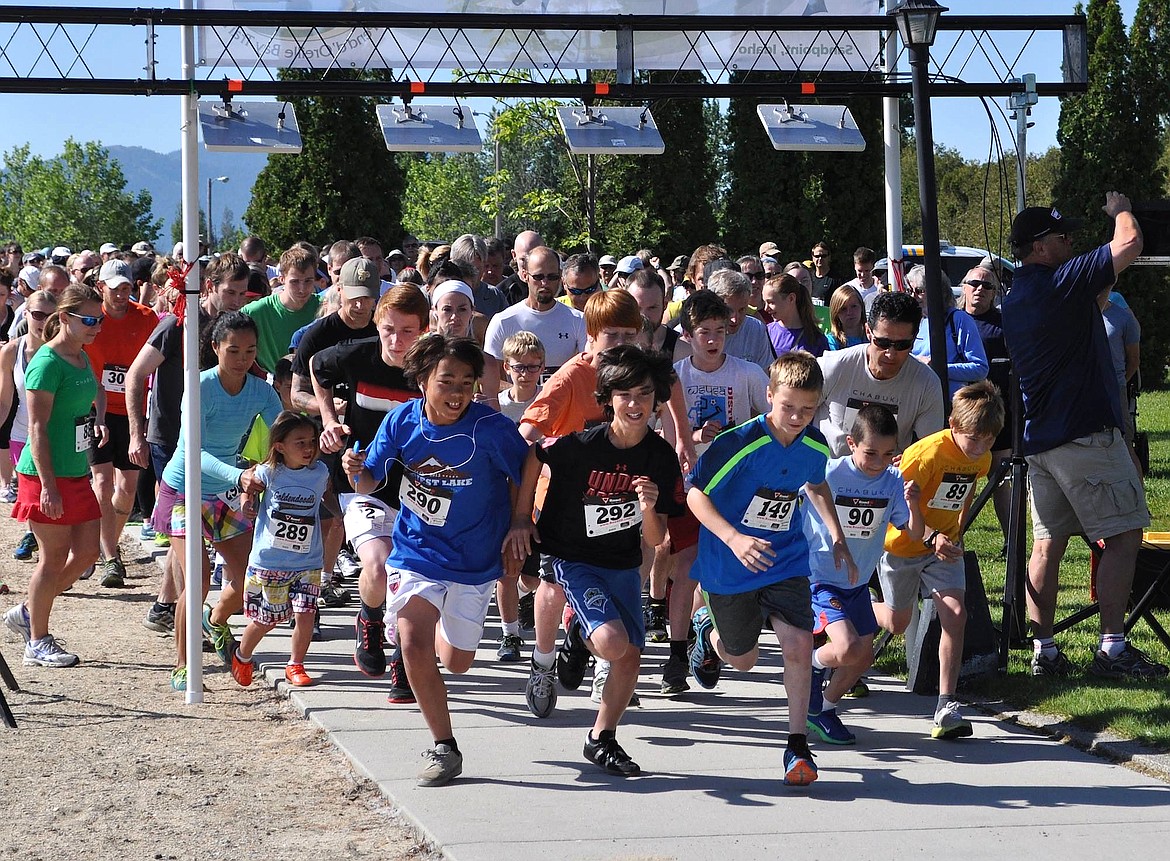 Runners take off from the starting line at the annual Bay Trail Fun Run in 2015. This year's run has been postponed until Aug. 30.
(File photo courtesy of CHRIS BESSLER)
SANDPOINT — Given the uncertainty surrounding public gatherings in the next couple of months due to the coronavirus, the Bay Trail Fun Run has been postponed.
The new date for the Bay Trail Fun Run is Sunday, Aug. 30. Registration is currently open, and participants can register from a link on the Friends of Pend d'Oreille Bay Trail website, www.pobtrail.org.
This year marks the eighth annual Bay Trail Fun Run, a family-friendly 5K and 10K run and walk along the shores of Lake Pend Oreille and Sand Creek in scenic Sandpoint, normally held in June. However, given that the number of COVID-19 cases are still growing in the U.S., it is only prudent to wait until late summer to hold the event.
This unique professionally timed run is known for its low-key vibe and great views of the lake and the surrounding mountains. The race starts and finishes at Sandpoint City Beach in front of Trinity At City Beach, the host of the event.
The Bay Trail Fun Run is the signature fundraising event for the Friends of the Pend d'Oreille Bay Trail — a Sandpoint nonprofit that is dedicated to working with the community to expand and enhance a lakeshore trail connecting the communities of Sandpoint, Ponderay and Kootenai.
The first Fun Run was eight years ago, shortly after the trail along the lakeshore was opened to the public when the cities of Sandpoint and Ponderay began purchasing privately held property along the shoreline. The Bay Trail Fun Run celebrates the opening of this mile and a half of shoreline to the public and introduces people to the shoreline trail who haven't experienced it before.
Everyone who registers for the event is entered into a raffle to win a pair of Brooks running shoes, courtesy of Outdoor Experience. Racers also receive T-shirts, water bottles and other goodies while winners are awarded medals.
Participants can enter the 5K, which is an out and back along the Bay Trail or the 10K which continues along the paved Creekside Trail along Sand Creek. Refreshments are provided for racers by Trinity at City Beach.
Cost is $30 in advance or $35 the day of the race. Kids 12 and under can register for free. Team categories are also available.
The Friends of the Pend d'Oreille Bay Trail is currently assisting the city of Ponderay with efforts to fund the construction of a railroad underpass that would connect the shoreline trail and the lakeshore to the town, which is blocked from the lake by a double set of railroad tracks. The Friends also maintain the trail and are working on funding improvements and amenities.
For more information visit www.pobtrail.org or find Friends of the Pend d'Oreille Bay Trail on Facebook.
---