Geocaching notes 20 years of both fun and exploration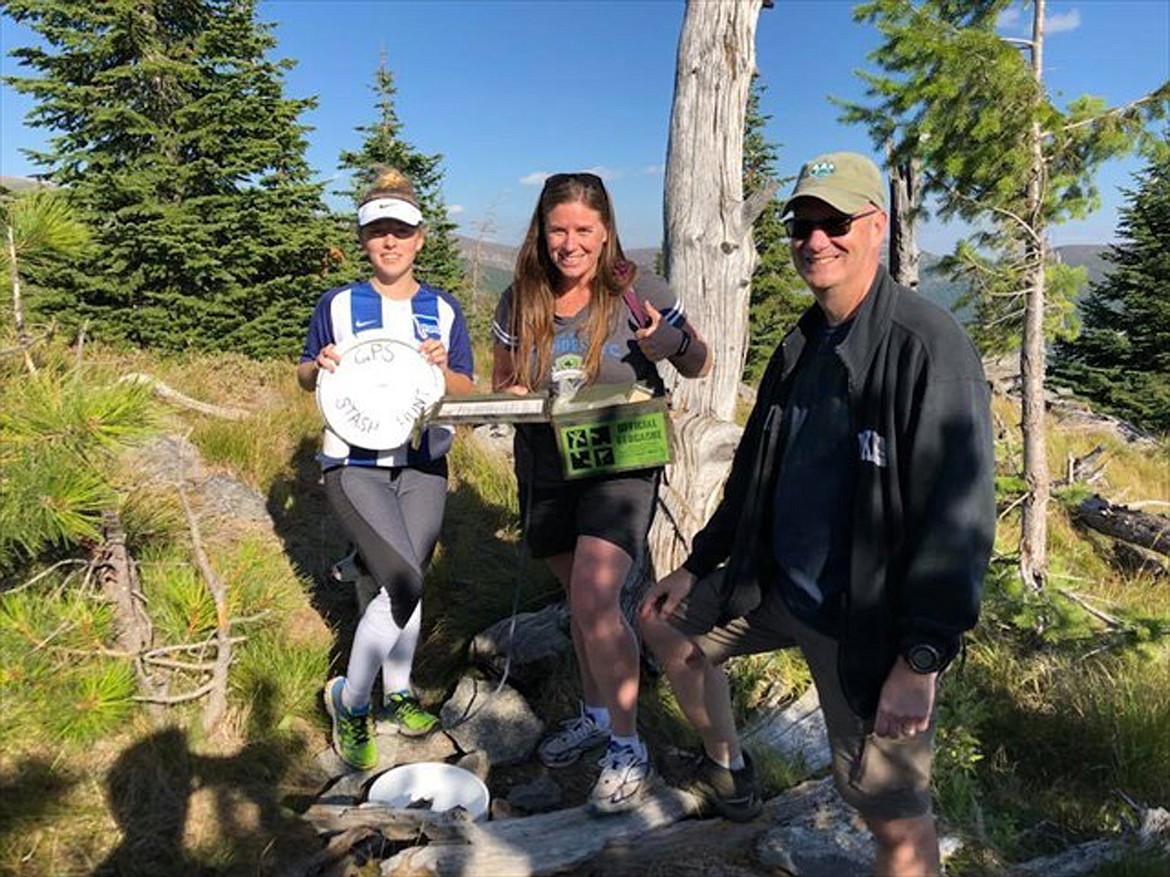 Emma Unger, Annie Love and Jon Stanley, pictured left to right, pose for a photo at the Camels Prairie Stash, Idaho's first geocache.
(Photo courtesy MARIANNE LOVE)
by
Bill Love Jr.
|
May 5, 2020 1:00 AM
"I have a find!"
These words ring out thousands of times every day around the world as someone uses GPS technology to discover a hidden container. Once touted as, "the fastest growing sport you've never heard of," Geocaching celebrates its 20th anniversary this week. In its infancy, enthusiasts described it as using billion dollar space-age technology to locate dollar store plastic lizards.
In brief, Geocaching involves someone hiding a container and submitting the GPS coordinates and other information to the Geocaching.com website. A large container, such as an ammo box, will hold a log sheet and a variety of trade items with the simple instruction: if you take something, leave something. Others, called micro or nano caches, are smaller than a thimble. Regardless of size, they require some deception in hiding to avoid discovery by non-geocachers, called muggles. After finding, be sure to return the container to its original location so others can share the experience.
You must log-in at Geocaching.com to place or find geocaches. Basic membership is free but many geocachers willingly pay a few dollars each year for premium membership offering a number of benefits.
It all started on May 2, 2000, when the U.S. military flipped the switch that scrambled Global Positioning System signals between satellites and GPS units. In an instant, the recreational grade GPS units sold at outdoor shops increased in accuracy. That intrigued Dave Ulmer, a computer consultant from Portland, Oregon, enough to hide a bucket filled with a few trade items in a nearby forest. He posted the GPS coordinates on a website frequented by other techy-minded folks. A few days later, several GPS ushers found Ulmer's "stash." Shortly after that, Jeremy Irish, a Seattle website developer, not only found a stash near Seattle but he had the skills to develop a website for keeping track of the quickly growing number of stashes throughout the Pacific Northwest. That resulted in the Geocaching.com website operated by Groundspeak, Inc. in Seattle.
Just six weeks later on June 17, 2000, Idaho received its first geocache when the now legendary Moun10Bike and a few others placed Camels Prairie Stash with its beautiful view of Priest Lake in one direction and the Selkirk Mountains Crest in the other. Jon Stanley, aka Moun10Bike, recently reflected upon what was the 25th geocache, "Camels Prairie was sort of a second-tier location for me. I really wanted my first cache to be on Mount Roothaan, but there is snow up there into July and I just couldn't wait any longer. In retrospect, I wish I had rushed right out and placed one in early May when the idea hit me."
With that history lesson behind us, how has geocaching evolved over the last two decades?
Back in the early years, geocachers used computers and GPS units. For many, it sharpened their skills in two different technologies. Now days, a free app downloaded onto a smart phone will start your journey of adventure.
Geocaching is a worldwide activity with over three million geocaches located in over 190 countries. For a while the International Space Station contained one. To start out, you can keep busy finding the 254 geocaches within a ten mile radius of Sandpoint.
Several new caches located at Pine Street Woods harken back to the sport's early days in which a walk in a natural setting resulted in finding hidden treasures. Drive-by or walk-up caches are popular in most Sandpoint parks and alongside several businesses. Be sure to take the kids as they are always eager to go on a treasure hunt.
Regrettably due to the coronavirus pandemic, the Geocaching 20th Anniversary Celebration scheduled for this August in Seattle has been postponed until 2021. That is a disappointment for us as we looked forward to hosting several international geocachers who planned to use Sandpoint as a basecamp before attending the big event in Seattle. Perhaps they will visit next year.
Learn more about this technology-based treasure hunting by viewing the introductory "getting started" video at Geocaching.com. You may find yourself standing on top of Camels Prairie where social distancing is seldom a problem.
---