7B Women goes virtual in May meeting
SANDPOINT — It has been a trying few months worldwide, and 7B Women wants you to know they are here and continuing their mission of empowering women to succeed.
To that end, they invite the community to join them for a virtual online presentation on Tuesday, May 12 for a timely and important topic -— functional nutritional and lifestyle therapy for anxiety, depression and low energy presented by functional nutritionist Kelly Greenway of Dig Nutrition.
Greenway has been practicing in Sandpoint for 15 years, and as a female entrepreneur who has a history of anxiety and adrenal fatigue, she enjoys sharing what she has learned personally and professionally over the years with women who find themselves in the same boat.
"I know many women, including myself, who suffer from anxiety and depression. With the isolation that has come along with COVID-19, I think it is essential to evaluate where we are mentally and do what we can to take care of ourselves physically and emotionally. I am looking forward to Greenway's presentation, and think it's very timely given the times we are living in," said 7B Women vice president Patty Hutchens.
Greenway states that by helping this demographic, she feels that she can serve exponentially. "We are a driven group. We have dreams and goals to change the world for the better. When we are short on energy or low on mood or our nerves are shot, we can't be as effective as we need to accomplish these important goals. If I can help you, you can more easily improve our world," said Greenway.
To join in this virtual presentation sponsored by CrossFit Sandpoint on Tuesday, May 12 at 12 p.m., you will register online and be given instructions on how to join.
The cost is $10 — $5 of which will be used by 7B Women to purchase gift certificates from local businesses whose owners are either 7B Women members or have sponsored our events in the past. Each participant will be entered into the drawing which will take place after Greenway's presentation.
"It's so important to support our local businesses now more than ever, and this is a way we felt we could do so," said 7B Women board member Jenn Markwardt.
A Zoom link will be sent to all participants at the e-mail they provide at registration no later than 11:30 a.m. on Tuesday, May 12.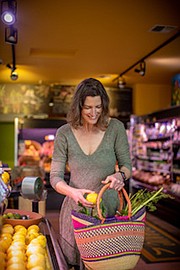 ---