County eyes new satellite EMS station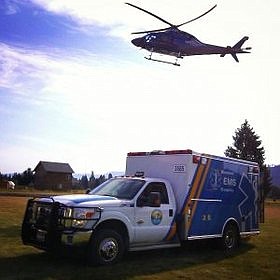 by
Keith Kinnaird
News Editor
|
May 6, 2020 1:00 AM
PONDERAY — Plans are rolling forward to construct a satellite Bonner County EMS station on Kootenai Cutoff Road near Highway 200.
Bonner County commissioners unanimously awarded $339,000 bid to Onyx Construction Management to construct the new station.
The move is meant to improve response times on the east and north sides of the Greater Sandpoint area and save taxpayers money by extricating the county from a costly lease of the building next to Bonner General Health, which currently houses two ambulance crews and the department's administrative offices, according to Bonner EMS Chief Jeff Lindsey.
One crew and ambulance would be shifted to the new satellite station, while the other would be placed at the former Calvary Chapel building the county owns at the corner of Ontario Street and South Division Avenue.
"That would be our new headquarters," Lindsey said of the former chapel building, which will receive new siding and a new floor plan.
The new 1,440-square-foot station, meanwhile, is expected to be completed by year's end, Lindsey said.
The satellite station is also expected to speed response times north and east of Sandpoint, where growth is occurring and call volumes are increasing. The area accounts for more than a thousand medical calls every year.
"This will cut a lot of our response time down," said Lindsey.
Lindsey said the lease of the existing EMS facility is costing the county approximately $70,000 a year.
Although Commissioner Jeff Connolly ultimately approved the bid award, he expressed reluctance with pressing ahead without squaring away the lease on the existing EMS headquarters.
"We need a plan to eliminate our lease with that company so that we can save that money," he said. "The whole idea, the whole sell, was that we're going to eliminate that."
Commission Chairman Dan McDonald agreed, but said moving ahead with the bid award was part of a sequence of events
"We have to get into that building up north so we can have a smaller footprint to get into this building over here," McDonald said.
During the board's discussion, Lindsey added that the satellite station is also expected to improve the level of service north of town.
"One of the main reasons we did this was also because we're also attempting to improve response to the northside area there," said Lindsey.
Keith Kinnaird can be reached by email at kkinnaird@bonnercountydailybee.com and follow him on Twitter @KeithDailyBee.
---