Senior Spotlight: Lish capitalizes on sole season on golf team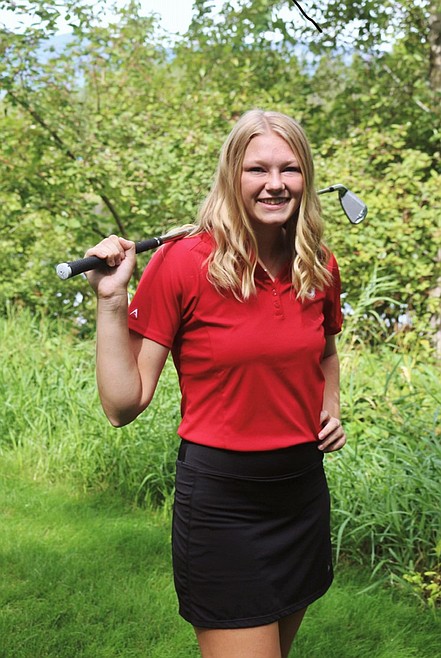 After moving to Sandpoint following her sophomore year of high school, Aly Lish joined the golf team and reignited her passion for the sport. Now Lish has earned a scholarship to play golf at Spokane Falls next year.
(Courtesy photo)
by
Dylan Greene
Sports Editor
|
May 9, 2020 1:00 AM
Editor's note: This article is part of a recurring series on local high school athletes who had their seasons cut short or canceled due to the coronavirus pandemic.
SANDPOINT — Aly Lish only got one season on the Sandpoint golf team, but she'll cherish that year for the rest of her life.
Aly and her family moved to Sandpoint following her sophomore year at Rockland High School. Aly started playing golf when she was 7 years old and traveled 45 minutes a few times a week just to get a one and half hour lesson. She stuck with the sport until she was about 12 and reached junior high.
Rockland didn't have a junior high or high school golf team so for four years Lish turned to track instead of golf, along with her other two sports — volleyball and basketball.
Sure Lish played golf here and there during the summer but she wasn't on the course on a consistent basis.
But the move to North Idaho provided Lish with a great opportunity to play on a high school golf team and she seized the opportunity.
"I was really disappointed that I wasn't able to do golf my freshman and sophomore year," Lish said, "and when I found out they had a golf team up here I just knew that I wanted to start it back up."
Lish has played three sports throughout her high school career. Her dad, Scott Lish, encouraged her to do that, but he didn't really have to because of the passion his daughter has for sports.
"She wants to compete against the best," Scott said. "She has a competitive drive that will match anybody's. She wants to win and that's the way she is wired."
Aly and Scott aren't exactly sure what sparked her interest in the sport but once she picked up a club, she was hooked.
Sandpoint golf coach Michael Deprez started working with Aly in the winter of 2018. Deprez said her swing was rusty but he was amazed at how quickly she started knocking strokes off her score. By the time last summer rolled around, Aly had knocked 30 strokes off her score.
Aly said it took about halfway through last season for her to get back in the groove of playing golf on a daily basis. She recalls feeling exhausted every time she came home after golf for the first few weeks last spring because she was competing in JV and varsity tournaments to try and improve her game.
That effort showed in her results and helped Aly realize just how fast of a learner she is not only on the golf course, but in anything she chooses to do.
"I'm able to accomplish anything I put my mind to if I really work at it," she said. "It's just been kind of an eye opener, and I love that I learned that about myself."
When Aly joined the team last year, the girls squad already had plenty of potential. But she made her presence known and helped the team take third at state.
This year, Aly felt the team was better prepared and had a great shot at making a run at its first state title. Unfortunately, Aly and her teammates won't get a chance to accomplish that goal.
Deprez said he was really looking forward to seeing Aly's dedication pay off this season.
"I thought this was really going to be a year to see her step up," he said, "and come out of the shadows and find a position of leadership on the team and start shooting some good scores that would reflect her athletic ability, time and commitment."
Once the season was canceled it looked like Aly's golf career was over. But just a week into quarantine she accepted an offer to play golf at Spokane Falls Community College next year.
Aly has been talking to the coaches at SFCC since attending a golf camp at Gonzaga before the season was supposed to begin. Aly said it was a quick process and they practically offered her a scholarship right then and there.
Deprez said he believes Spokane Falls saw the potential Aly had and the great club speed and fundamentals she has established.
Aly is looking at getting a degree in business or political science at SFCC and hopes to be a campaign manager some day. After two years in Spokane, Aly hopes to transfer and play golf at a Division I school.
Aly enjoyed the environment around the Sandpoint golf team and won't forget her teammates and the long bus rides. Scott said being on the golf team was exactly what his daughter needed when they came to Sandpoint.
"It was kind of a perfect storm," he said.
Scott can't wait to see what Aly does in college.
"I'm like a kid in a candy store," he said. "I'm extremely proud of her and everything she's been able to accomplish."
Deprez said Aly is everything you look for in an athlete. She's coachable, never complains and sets an example for those around her. He's glad he helped reignite Aly's passion for golf.
"She's absolutely perfect," he said. "We would all take a million Aly Lish's if we could. She deserves success on the field of competition and that's my biggest disappointment is I didn't get to give her that experience here."
In her own words: Aly Lish
"I want to thank my parents for teaching me to work hard and to give my best effort every time. They've always pushed me to be successful in my academics and athletics and I wouldn't be where I am without them. I'm also grateful for my teammates and coaches. They welcomed me so kindly when I was a newcomer and I am thankful for all the support they've shown me. These last few months of school have been rough, but the memories made throughout the rest of high school will stay with me forever. I didn't get a last season of spring sports, but I'm very excited to further my golf career at Spokane Falls Community College!"
---