Illegal parking creating issues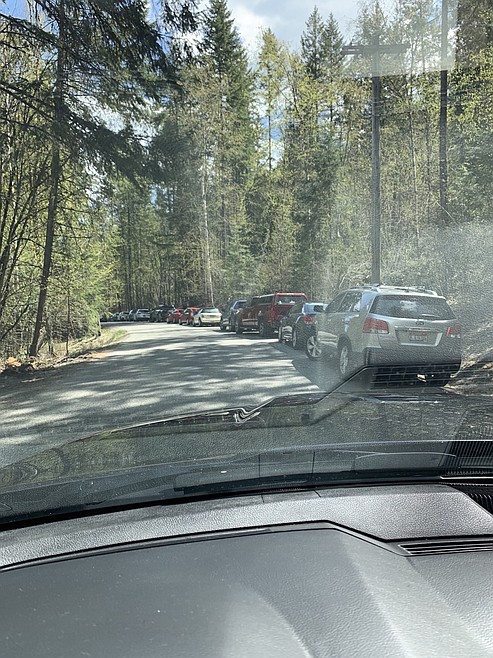 Cars are being parking illegally in the Bottle Bay Road right of way by hikers accessing the network of trails on Gold Hill.
(Courtesy photo)
by
KEITH KINNAIRD
News editor
|
May 10, 2020 1:00 AM
Gold Hill hikers causing trouble on Bottle Bay Road
SAGLE — Bonner County is hoping push doesn't come to shove at Gold Hill trailhead alongside Bottle Bay Road.
Road & Bridge Director Steve Klatt is trying to steer hikers to the Idaho Department of Lands' Hayes Gulch trailhead, which is also off Bottle Bay Road, in an attempt to keep people from parking in the right of way.
"They cannot park on the shoulder of the road in the ditch and not be out in the lane of travel. They're partially blocking the road," said Klatt.
Klatt said several cars can be seen parked within the right of way at Gold Hill Trailhead No. 3 on busy weekends.
"It's never been a significant issue. This year there has been as many as two dozen," Klatt said.
Klatt chalks the increasing popularity of the Gold Hill trails to people treating their cabin fever during the novel coronavirus pandemic and pictures posted to social media showing off the expansive views Gold Hill offers. Gold Hill also has good exposure to the sun, which means the trails are cleared of snow earlier in the season, Klatt noted.
The illegal parking is making it unsafe for motorists to cross paths on the narrow county road. If the problem doesn't abate, no parking signs could be installed, tickets could be issued and illegally parked vehicles could be towed.
But Klatt said the county does not want to stroll down that path.
"If people trying to get out and get some exercise will cooperate on this roadside parking issue, maybe Bonner County can avoid Draconian measures in preserving safety for vehicle driving the Bottle Bay Road," he said.
However, Klatt admits that Hayes Gulch may not be a solution as it has a parking lot with six to eight stalls. Additionally, the No. 3 trailhead cannot be expanded due to the topography.
Bonner County Revised Code prohibits parking vehicles in a manner which impedes the free flow of vehicle traffic. Violating this provision can result in a $100 fine, according to BCRC.
Moreover, Idaho Code authorizes law enforcement to remove illegally parked vehicles, which can subject their owners to towing and storage fees.
Keith Kinnaird can be reached by email at kkinnaird@bonnercountydailybee.com and follow him on Twitter @KeithDailyBee.
---