Pandemic forces Lions to cancel July 4th events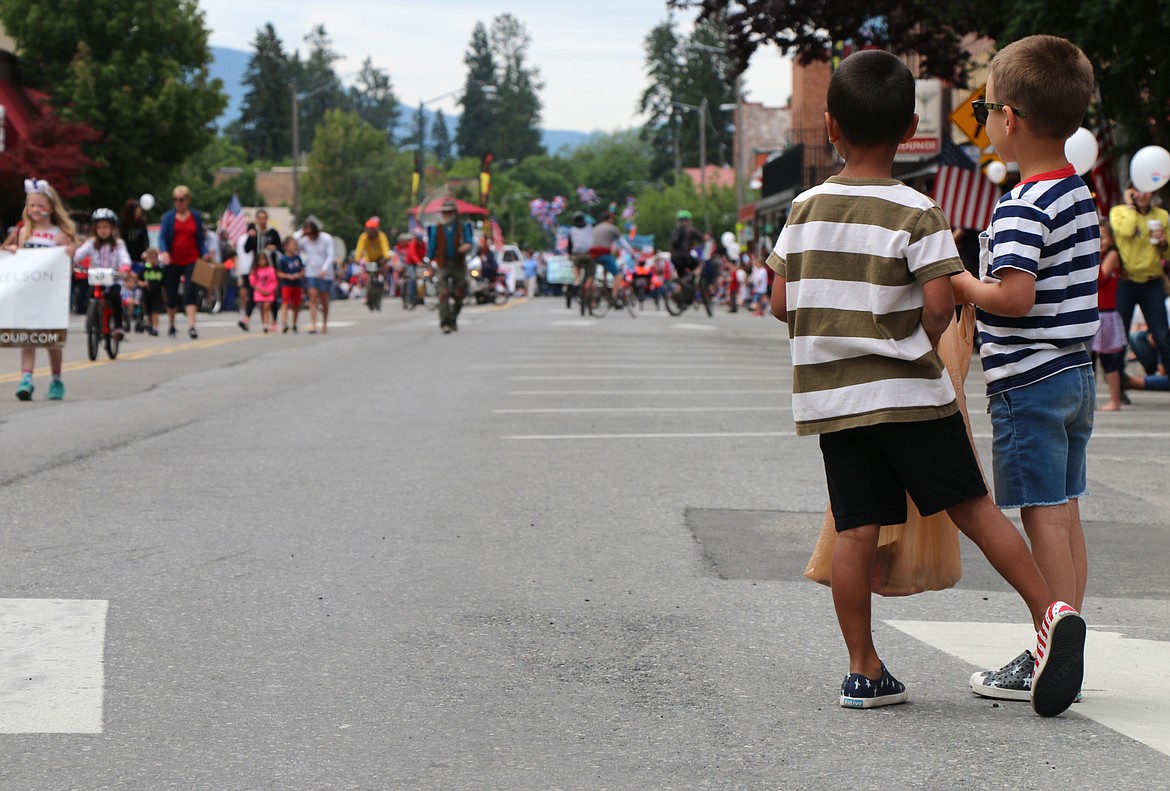 Young parade watchers hold their bags of candy as they watch the Fourth of July Grand Parade on First Avenue last year.
(Daily Bee file photo/CAROLINE LOBSINGER)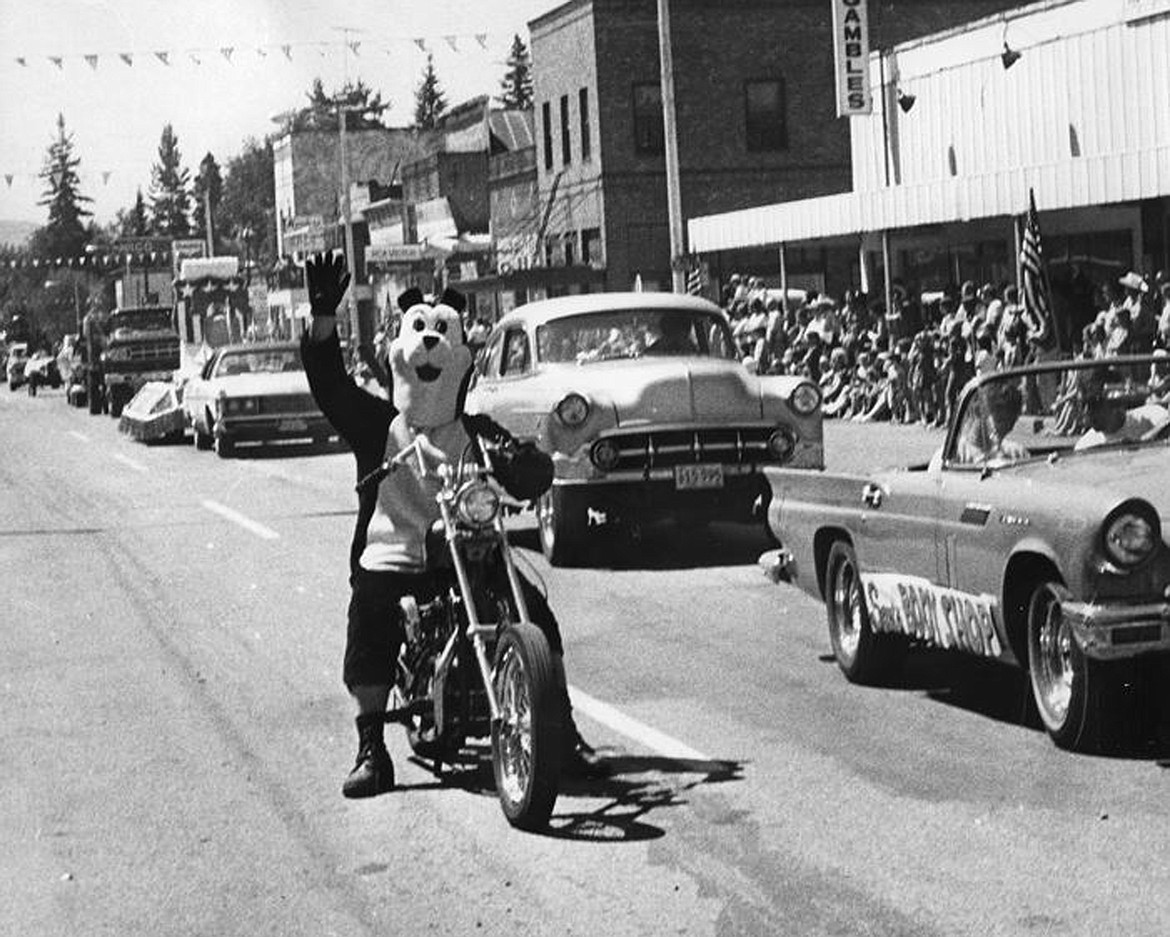 A photo of the Fourth of July parade in downtown Sandpoint (date unknown). Gambles store is pictured in the background.
(Photo courtesy BONNER COUNTY HISTORICIAL SOCIETY)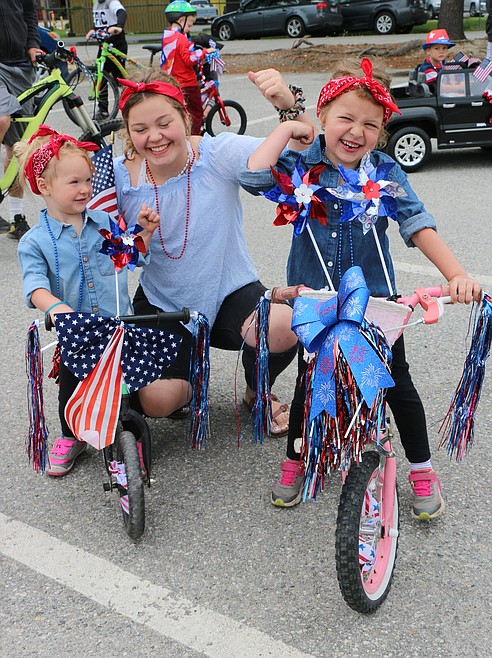 (Daily Bee file photo/CAROLINE LOBSINGER) Bailey Kleffner, Katie Stewart and Ashley Kleffner demonstrate their Rosie the Riveter style as they wait for the start of the Sandpoint Lions' Fourth of July Kids Parade last year.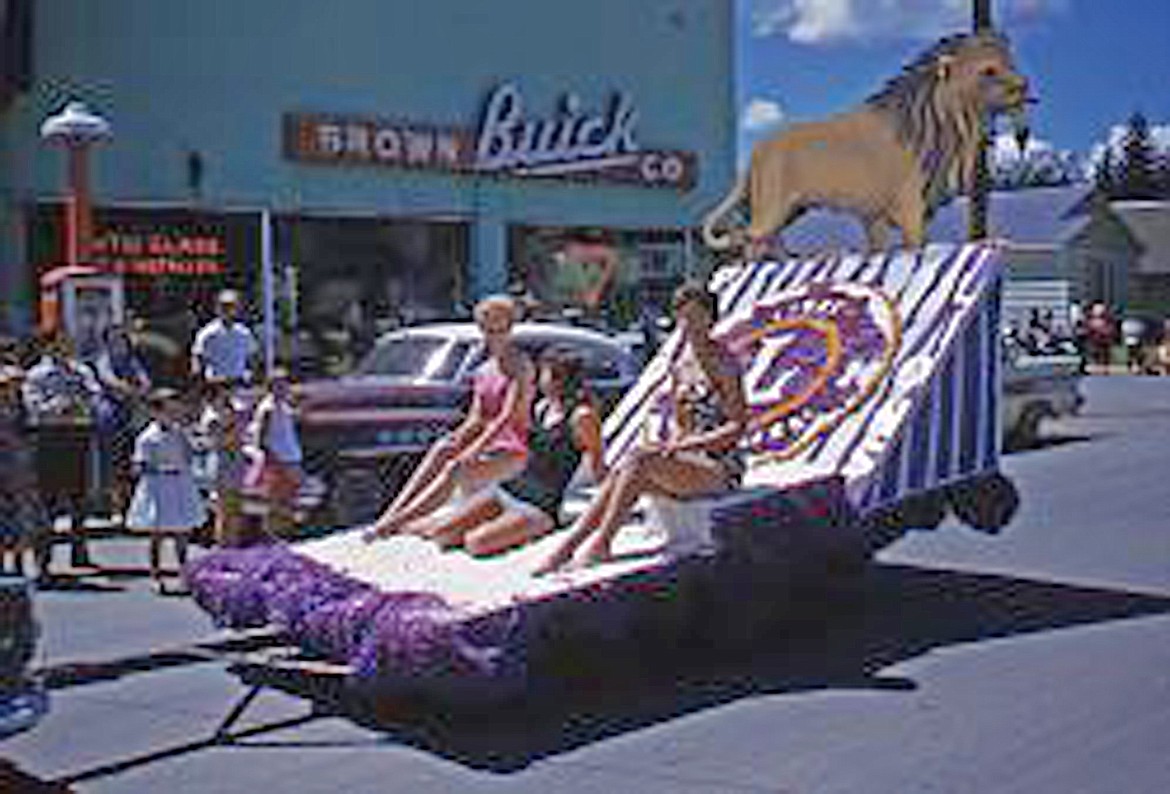 (Photo courtesy BONNER COUNTY HISTORICIAL SOCIETY) Lions Club float at Pine and 3rd Avenue in Sandpoint during the Fourth of July parade in 1959.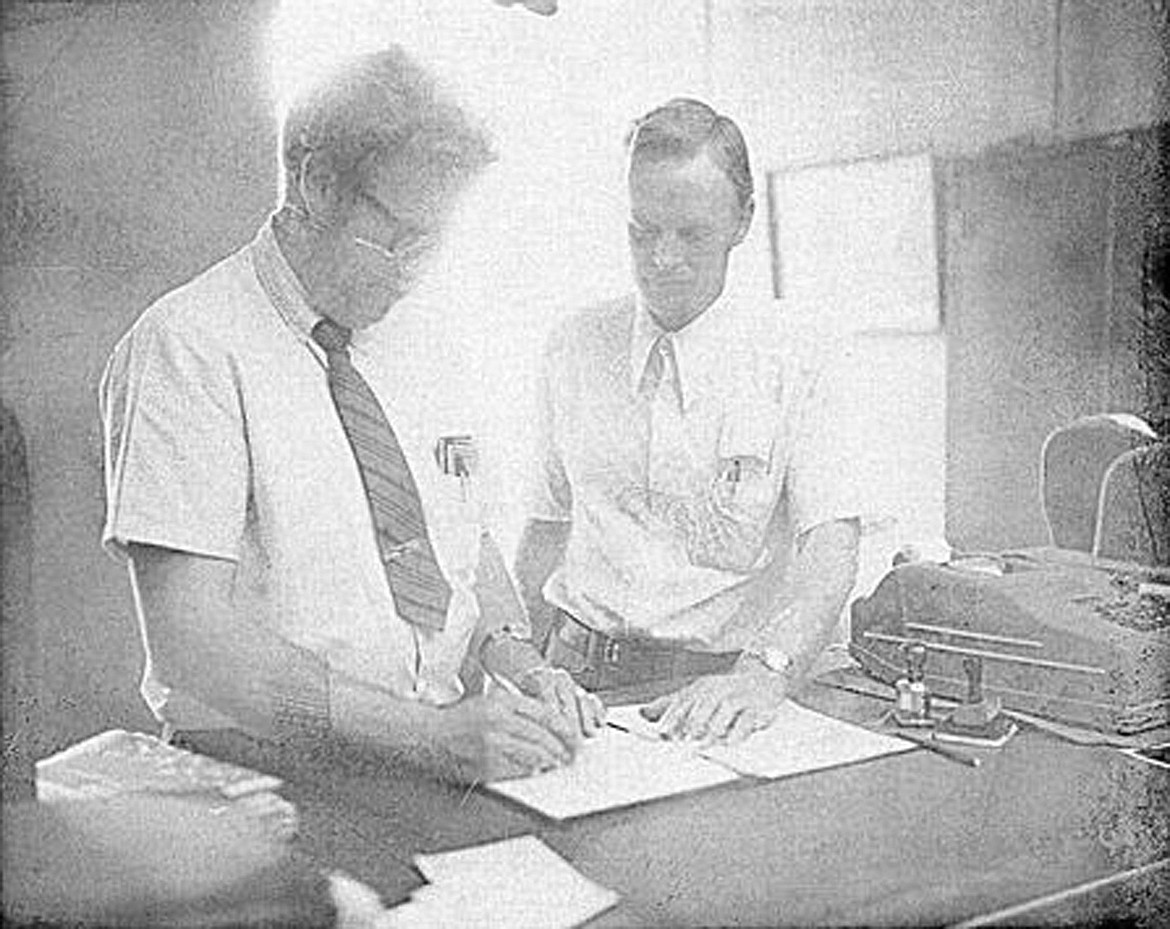 (Photo courtesy BONNER COUNTY HISTORICAL SOCIETY) Ron May, chairman of the Sandpoint Lions Club Fourth of July parade, signs up the Sandpoint Community Float for the local parade set for Saturday, July 3. Gary Pietsch is president of the local float association. (from the June 10, 1971 issue of Sandpoint News-Bulletin)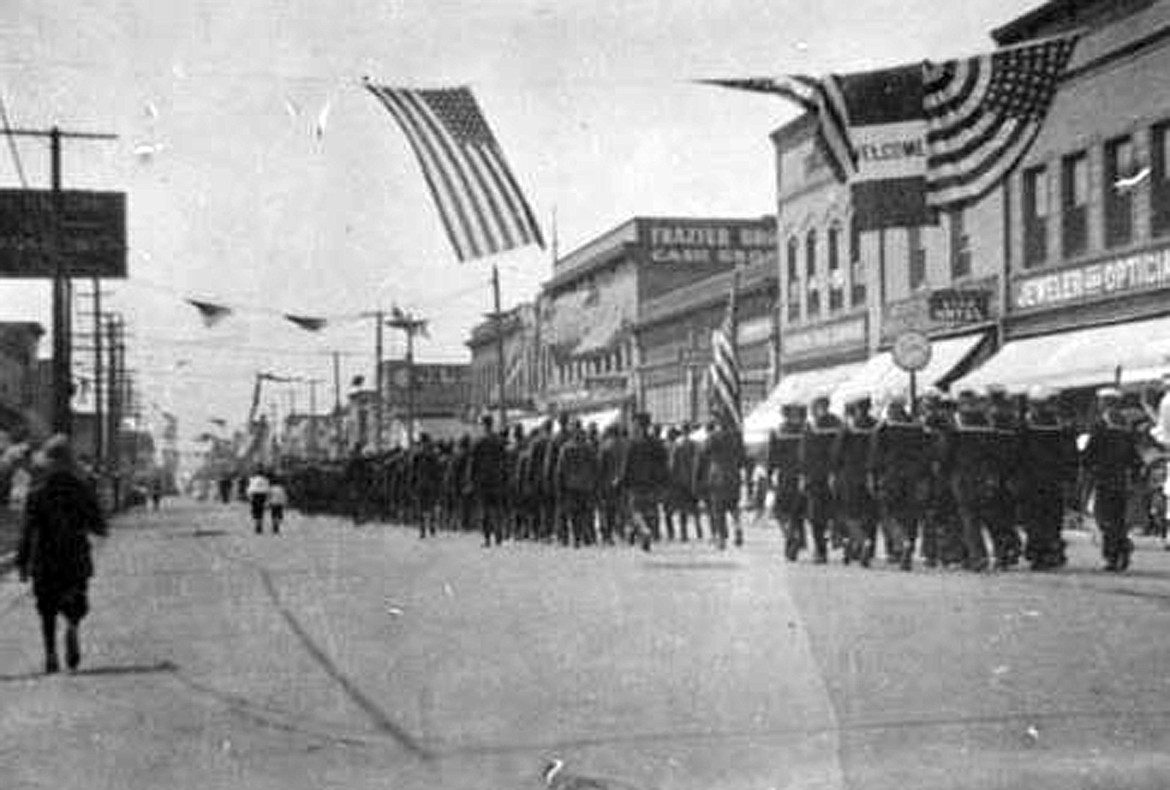 (Photo courtesy BONNER COUNTY HISTORICIAL SOCIETY) Fourth of July parade during post World War I in downtown Sandpoint.
Previous
Next
by
CAROLINE LOBSINGER
Staff Writer
|
May 13, 2020 1:00 AM
SANDPOINT — For the first time in decades, maybe even since a Fourth of July parade has been held in Sandpoint, there won't be a celebration.
There won't been any crowds lining the streets or cars festively decorated with the American flag this year. There won't be any kiddos riding their red, white and blue-decorated bikes down First Avenue either. And there won't be any fireworks — at least not the grand display sponsored by the Sandpoint Lions Club.
That's because the Sandpoint Lions Club announced Tuesday morning that its Fourth of July celebration was being canceled due to the novel coronavirus pandemic and resultant local and state social distancing requirements.
The Sandpoint Lions Club has sponsored the July Fourth community celebration for decades, which draws a large crowd, beginning with a parade and ending with a raffle drawing and fireworks at City Beach, the club's board of directors said in a press release.
"Unfortunately, after careful deliberation and consideration, the Sandpoint Lions Club Board of Directors voted to cancel our July Fourth festivities this year," they said. "We are aware this decision is disappointing, however the health and safety of the community we serve is our primary concern. We look forward to celebrating the 4th of July with our community next year."
The news was greeted with everything from understanding and dismay to displeasure.
The Lions Club's decision to cancel its Fourth of July events comes as "another unfortunate loss to the community due to COVID-19," said Sandpoint Mayor Shelby Rognstad.
Rognstad said city officials are grateful to Lions Club members who have given so much to the community over the years, from their annual Toys for Tots campaign and sight and hearing program to their American flag displays to the Easter egg hunt to the Fourth of July events.
"The Sandpoint Lions Club has been the sponsoring organization and fundraiser for our Independence Day parades and fireworks show for decades and I'm certain this was not an easy decision for the members," Rognstad said.
The decision to cancel an event is never an easy one, especially iconic ones such as the Fourth of July that provide an economic boost during the area's short summer months, Kate McAlister, Greater Sandpoint Chamber of Commerce president and CEO, said.
"Canceling an iconic part of who we are, like the 4th of July festivities, has to be stressful for the Lions organization," McAlister said. "I appreciate their time and effort every year to make it a wonderful celebration of who we are in America, and I also appreciate their heartfelt decision this year."
It's now up to the community to hold their own celebrations, backyard barbecues and family get-togethers, she said.
"It's up to us now to have our old fashioned Fourth of July celebrations in our own backyard," she said. "We can do this, and next year we will back bigger and better than ever."
Bonner County Historical Society officials said the community's Fourth of July parade dates back to at least World War I, with the Lions taking a key role for decades.
News of the decision spread quickly across social media with community members both thanking the Lions for all they do for the community while other questioned the need for such a drastic measure when the holiday is several months away and the area has had few confirmed cases.
"Thank you, Lions Club, for always putting on such wonderful, community and family-filled activities throughout the years," Sally Knodel Spalding posted underneath a news story on the decision. "I'm sure this was a tough decision to make, but seems responsible, given that people around the globe are all in the same position of wanting to do their part to ensure that our Covid numbers don't rise. … My hope is that we can all celebrate this fact and spend the time coming up with fun and creative ways to ring in another fun 4th, though it may look a little different."
Others questioned the decision, saying it portends a loss of freedom when the community should be celebrating it instead.
"When we stop celebrating our freedom we lose it," Steven Stiles wrote in a post under the same story. "It's important we celebrate it now more than ever."
"Why not poll the community?," Danette Miller posted. "Why not see if people feel ready to be out. NO one would make anyone GO to a parade if they didn't want to GO …"
Caroline Lobsinger can be reached by email at clobsinger@bonnercountydailybee.com and follow her on Twitter @CarolDailyBee.
---