PHD: No new COVID-19 cases in region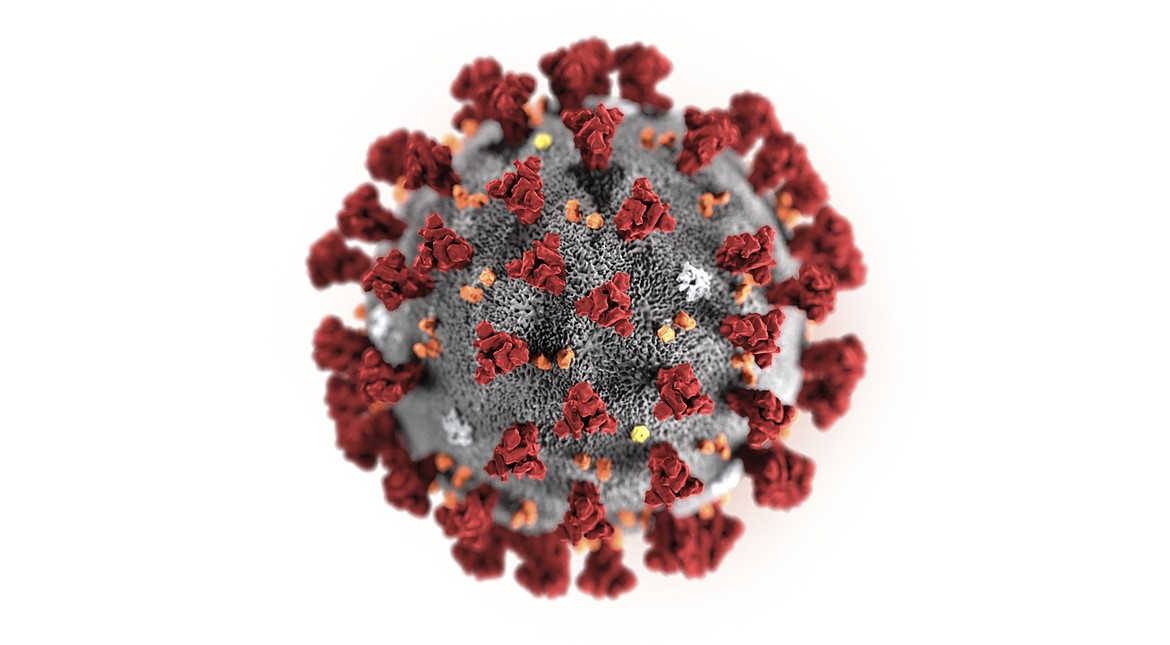 This illustration provided by the Centers for Disease Control and Prevention in January 2020 shows the 2019 Novel Coronavirus (2019-nCoV). This virus was identified as the cause of an outbreak of respiratory illness first detected in Wuhan, China. (Centers for Disease Control and Prevention via AP)
by
Keith Kinnaird
News Editor
|
May 13, 2020 1:00 AM
SANDPOINT — No new cases of novel coronavirus were tallied in the region, the Panhandle Health District said on Tuesday.
There are 68 confirmed cases with 64 cases in Kootenai County and four cases in Bonner County, the health district said. The virus, which causes COVID-19, has not emerged in Boundary, Shoshone or Benewah counties, according to Panhandle Health.
The virus caused seven hospitalizations and 64 people are no longer being monitored, PHD said.
The number of new daily cases roughly doubled on Tuesday as Idaho commences with the reopening of the economy. The Idaho Department of Health & Welfare reported 33 new cases, bringing the statewide total to 2,293 cases of confirmed or probable cases of coronavirus.
The department reported 14 new cases on Monday. The department said there were 70 coronavirus deaths on Monday, but that figure was revised to 69 on Tuesday.
The Northeast Tri-County Health District said on Tuesday there were no new cases in Pend Oreille, Ferry or Stevens counties. Pend Oreille County has two cases, while Stevens has nine cases and Ferry has one case.
NETCHD said 1,101 people have been tested across the three counties, with 706 negative tests in Stevens County. Pend Oreille and Ferry counties had 251 and 144 negative tests, respectively.
The three northeastern counties have also been approved to move into Phase 2 of the state's "Stay Home, Stay Healthy" campaign. Moreover, guidelines for reopening taverns and restaurants have been published.
Restaurants and taverns are encouraged to have hand sanitizer available for employees and patrons. No bar seating is permitted in Phase 2 and all parties must be limited to five people or less. Guest occupancy must be 50 percent of the building's maximum occupancy. If a restaurant doesn't offer table seating they must ensure social distancing at pickup stations. Establishments with table seating must observe distancing guidelines.
Customers are strongly encouraged to wear face masks while not seated at a table, according to the state's guidelines.
The Washington State Department of Health said on Tuesday there were 17,330 confirmed cases across the state, with 385 cases in Spokane County. The virus has claimed one life in Stevens County and 29 lives in Spokane County.
Montana's Department of Public Health & Human Services reported two new cases, elevating the statewide total to 461 cases. Lincoln County has seven cases and Sanders County has none, according to the state. The virus' death toll in Montana stands at 16.
Keith Kinnaird can be reached by email at kkinnaird@bonnercountydailybee.com and follow him on Twitter @KeithDailyBee.
---