Senior Spotlight: Cole Thompson looks past lost season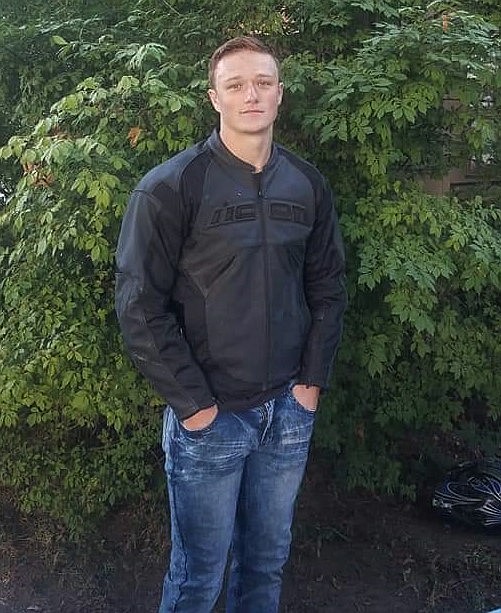 Priest River senior Cole Thompson will attend Oregon State University this coming fall and is planning on becoming a veterinarian in the future.
(Courtesy photo)
by
Dylan Greene
Sports Editor
|
May 13, 2020 1:00 AM
Editor's note: This article is part of a recurring series on local high school athletes who had their seasons cut short or canceled due to the coronavirus pandemic.
PRIEST RIVER — This year couldn't have been more difficult for Cole Thompson.
Just three games into his football season this past fall, Thompson suffered a broken collarbone. After making it back for basketball in the winter, Thompson broke his collarbone again in the district tournament.
And most recently, Thompson had his baseball season taken away. But even if there was a season, it's unlikely he would have taken the field for the Spartans this year due to injury.
The past nine months have been quite eventful for the senior and unfortunate because Thompson was hoping to earn a scholarship to play one of his three sports collegiately.
However, the rehab time allowed Thompson to sit back and look at what he wanted to do for the rest of his life.
"I used to think I was invincible," he said, "but [the injuries] made me take a second to realize stuff starts to hurt when you get older and when things break they don't exactly go back together the right way."
Thompson started playing baseball his sixth grade year after his friends convinced him to give it a shot. After a year and a half hiatus from the sport, Thompson joined the Priest River baseball team as a freshman and hasn't looked back since.
As a sophomore, Thompson suffered a tear in his shoulder that limited him that season. As Thompson worked his way back from injury, head coach Mark Schultz had him try out playing first base and throwing sidearm to reduce the stress he put on his shoulder.
It didn't take long for Schultz to realize they had discovered something special and soon Thompson was preparing to be a sidearm pitcher. Last season, Priest River utilized Thompson's unique ability as a weapon to throw off opposing hitters and Schultz said if he mastered the pitching style he would've been scary this season.
Thompson enjoyed the camaraderie on the baseball team and the laid back style the sport presented. He said he won't forget the impact baseball had on his high school career.
"It's changed my life," Thompson said. "It's made me a better person. For me that's priceless."
Schultz said he always tried to support Thompson when he was going through injuries and he never let his adversity impact who he was as a teammate.
"As a competitor and an athlete, it bugged him but he was always there for the team," he said.
Thompson will attend Oregon State University in Corvallis this fall and plans on getting a bachelor's degree in marine biology and a master's or doctorate in veterinary medicine. Thompson has worked with his mom at the North Idaho Animal Hospital the past few years and wants to become a veterinarian.
Schultz said Thompson is dedicated and always goes the extra mile. He expects him to excel wherever life takes him.
"He's a perfectionist in whatever he does," Schultz said. "He's just a good, hard working young man that if he's going to do something, he's going to do it right — that's Cole. If he sets his mind to something, one way or another he's going to achieve it."
In his own words: Cole Thompson
"I want to say thank you to my brothers and sisters that I have gotten to grow up with. The guys that I have gotten to play with will always be my brothers and we will always have each other's backs. The girls that always supported us at home and away games, thank you for cheering us on in our highest highs and our lowest lows. Thank you to the coaches that taught me how to be strong even when you can barely keep your head up and your eyes open. Thank you to my sports family for the love and support you have given me these past few years. Thank you to the community for supporting our programs and allowing young men and women to grow into the best versions of themselves. Thank you Priest River Lamanna High for giving me something to be proud of. This is Cole Thompson from the class of 2020 saying thank you and goodbye for now."
---