Senior Spotlight: Sara Hathaway strives for greatness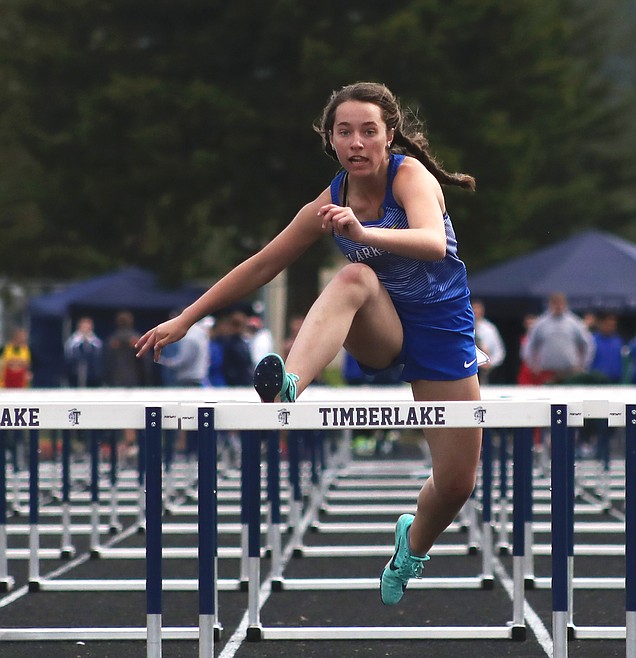 Sara Hathaway runs the 100 meter hurdles last season. Hathaway has one more chance to claim state titles in the 100 and 300 hurdles after a calf injury derailed her chances in 2019.
(File photo by KYLE CAJERO)
by
Dylan Greene
Sports Editor
|
May 15, 2020 1:00 AM
Editor's note: This article is part of a recurring series on local high school athletes who had their seasons cut short or canceled due to the coronavirus pandemic.
CLARK FORK — This was supposed to be Sara Hathaway's year.
Her year to finally see all the hours she puts in behind the scenes pay off. Her year to redeem herself and put last season's disappointment behind her. And her year to cement her place as one of the best track athletes to ever wear a Clark Fork uniform.
Hathaway suffered a calf injury midway through last season that prevented her from reaching her full potential at the 1A track and field state championships last year. Hathaway qualified for state in the high jump and the 100 and 300-meter hurdles in 2019 but in the prelims of the 300 hurdles, Hathaway aggravated the injury to the point where she could hardly walk.
Her dreams of a state title in the hurdles had ended but Hathaway didn't get down. Instead, she worked tirelessly to be more prepared than ever for one last chance this season only to have that opportunity stripped away in an instant.
And Hathaway had more than state titles on her mind heading this year. She was hoping to reach certain times in the hurdles that would have qualified her to receive some scholarships from Lewis-Clark State College, which is where she will be heading this fall.
"I lost all that," she said.
Despite the disappointment, Hathaway's dad, Curtis, doesn't expect his daughter to let up anytime soon.
"Everything she does, she does 100 percent," he said.
In third grade, Hathaway joined the track team mainly because it was the only sport her elementary school offered at the time. Once middle school rolled around, Hathaway began developing a passion for hurdles and when she reached Clark Fork High she made an immediate impact as a freshman and started to realize just how good she was.
In her freshman season, Hathaway placed fourth in the high jump at state with a school record of 5 feet and took fifth in the 100 hurdles. Once those results were posted, Hathaway immediately began receiving attention from colleges which she admitted was a bit intimidating.
"It was cool but also scary because I knew that there were people watching me and that creates pressure," she said. "Overall though it was nice because it was reassuring to know that I had something to help me move forward in my track career."
Curtis said running the hurdles came naturally to his daughter. He believes part of the reason why Hathaway has decided to stick with the event has to do with other kids shying away from it due to the difficulty and her willingness to embrace that challenge.
Matt Majors took over as the Clark Fork head track coach last year and he realized pretty quickly he was working with a special athlete in Hathaway. All it took was a jog.
"When you see her, you immediately know there's some talent there," he said. "She just has an amazing talent for the hurdles and what's really cool about it is a lot of it is just hard work and dedication."
Majors said Hathaway is uniquely self-motivated.
"You don't really have to tell her what to do .. . she kind of goes out and does it by herself," he said.
Majors said Hathaway showed up to practice every day ready to grind and her work ethic was infectious among her teammates. He said he enjoyed being a spectator to her greatness.
"It was such a joy for me to see that and work with that," Majors said, "and I'm going to miss it for sure when she's not on the team next year."
Curtis said he tried to instill a great work ethic in his daughter at a young age and he thinks some of his competitive edge rubbed off on her.
That work ethic helped Hathaway excel in the classroom as well as she is the Clark Fork class of 2020 valedictorian. It's an honor that required a lot of sacrifice and commitment but she's glad it all paid off.
Curtis said Hathaway never settles for less and always strives to be better. He is proud of her time management skills and her ability to balance the many demands of being a teenager while staying level headed.
"As long as she's happy and content with herself and her life, that's going to make me happy," he said.
While stuck out at home, Hathaway has been doing an ab workout and an aerobic or running exercise every day to stay in shape and get ready for her track career at LCSC.
Hathaway is planning on majoring in biology at LCSC and hopes to finish her degree in three years and then transfer to Washington State University for their veterinary science program. Her dream is to start her own veterinary clinic in Sandpoint someday.
Hathaway has loved being a member of the track team and spending time with her friends. She will miss the bus rides to and from events the most, mainly due to the rap battles and live concerts that occurred on the bus regularly.
But she's also ready to gain some independence and head off to college.
"Right now that is my No. 1 thing that I'm looking forward to," she said. "I think I'm ready to take the next step and do something different than I have been for the past four years and I just want to see what it's like to finally be my own person."
Majors expects Hathaway to have an impact at LCSC and beyond.
"She's going to be successful in anything that she chooses to do," he said. "There's no slowing her down ... and it doesn't matter what it is, she's going to thrive in whatever environment she's put in."
In her own words: Sara Hathaway
"Regardless of what COVID-19 took away this season, I'm still very grateful for the opportunities I have had these past four years. I just want to say thank you to my friends and family for supporting me and pushing me to be a better athlete than I ever was before. Thank you to my coaches for teaching me techniques and skills, and for believing in my abilities even when I didn't. And thank you to all the 2020 athletes for showing the drive and hard work it takes to be a successful student-athlete. I wish we all could've had a better end to our high school careers, but pretty soon the class of 2020 is going to change the world."
---