Entertaining on a shoestring budget with elegant solutions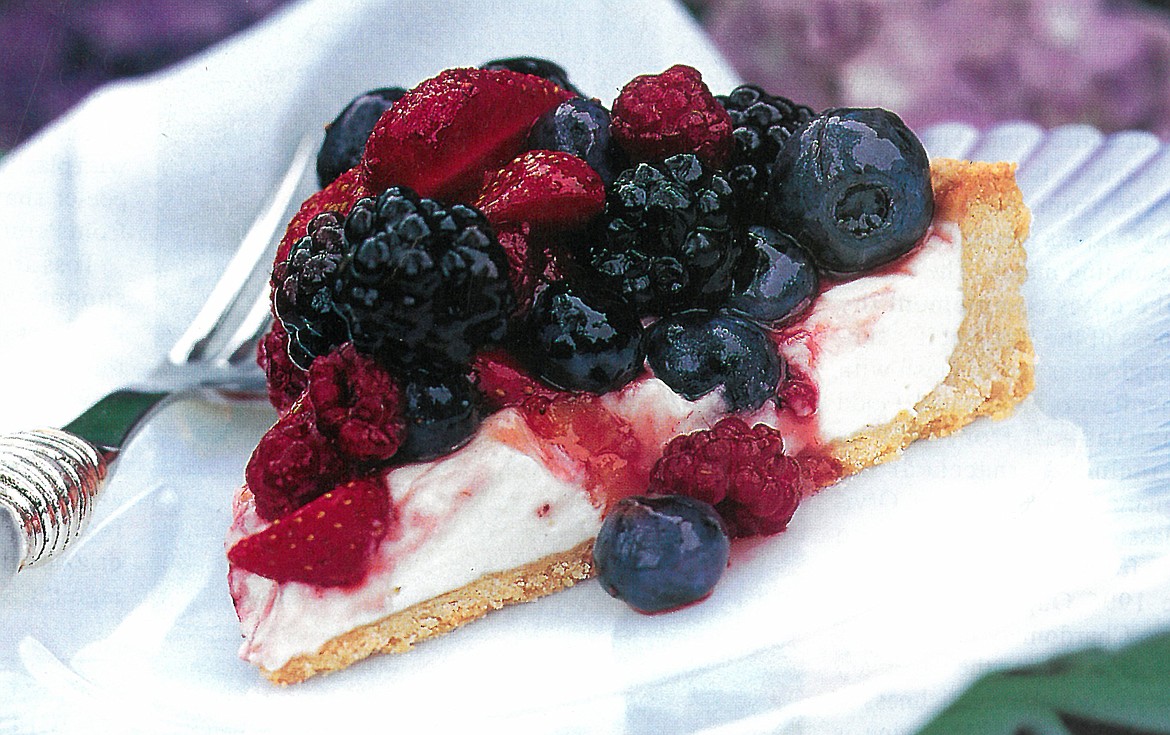 This glorious dessert is a showstopper that combines taste and beauty with minimal effort.
For the upcoming apres-virus parties sure to be held in many homes (hopefully before too long) — today's column will be a fun food feature with an eye to impressing on a shoestring. The focus will be not only on eye-candy (so to speak) but appealing in presentation while being easy on the host/hostess. Make it fun.
If your first get-together is just for hugs and a few celebratory drinks, make it ultra-special with some low-effort but elegant dessert-y nibblies.
This gathering calls for totally finger-held goodies — arrayed on pretty platters here and there with small plates and little paper nappies at hand alongside. No silverware needed — except on the serving trays. Ideas follow.
Begin with little pre-made pastry shells — from tiny to tart-size; Use small for an hors d'oeuvres party — larger for desserts. Fill with (real) stiff-whipped cream and top with maraschino cherries or a strawberry half or large blackberry;
Or go with custard, dollop of whipped cream and cherry or grape (half)
Or go with a base of any good jam with a dab of whipped cream:
Use caramel or chocolate sauce as dips for apple or pear slices, or to drizzle over a pudding-filled tart;
Palate cleansers for a fresh crunch can include a platter of desert-friendly greens arranged in strips — celery, fennel bulb strips and fronds, fresh cilantro and/or parsley sprigs — even orange slices or small wedges — but no other veggie items.
Make use of fruits in season from grapes, cherries and plums to small watermelon slices and melon cubes of any ilk.
Accompanying cookies should be simple — Lorna Doones, chocolate discs, lattice wafers, etc. Bowls of unsalted nuts — walnuts, pecans, cashews (sugar-coated are great) add welcome savor and crunch.
Drinks can run the gamut of wines of choice, Champagne, plus an urn of hot coffee with bottles of Kahlua, rum, Amaretto (and a pitcher of cream) at hand with small stirring spoons. Pretty holders always — from champagne flutes to coffee cups, preferably slim mugs if you have them — no saucers to balance.
A light supper party can be amazingly simple as well. Whether seated around the room (with convenient little tray-tables by chairs) — or-at-table — simple elegance is once again the key.
Buffet-style, this time with larger plates, of course, and silverware — but forks or spoons only. Negligible food prep is once again the norm — with the hostess tied only to minimal pre-prep, as witness the following:
Rice –– Steamed or boiled/drained rice tossed with pineapple, parsley, cashews — or personal favorites like raisins or craisins, or veggies such as peas, shredded carrots, green onions. Serve hot as an entrée or cold, as desired. There are many varieties of rice to choose from, but also consider other grains as well — such as quinoa — a delectable quick-cooker.
Fruits — A large shallow glass bowl of peeled and segmented * pink grapefruit, oranges, kiwis (peeled, cut in half lengthwise), served in their own juices and tossed with small, fragrant sprigs of mint scattered throughout. Simple and beautiful.
(* Peel and separate over the serving bowl to retain all juices, tossing gently before serving.)
A bowl of tossed peeled and mixed cubed melons of every ilk- golden, green, red (watermelon) again, "undressed" (don't forget the pretty toothpick holder.);
Entrée — A great tray of coconut shrimp — oven-heated already prepared (butterfly), or your own stir-fried whole prawns dredged in fine coconut before tossing quickly in butter.
Another choice would be cold salmon, baked shortly before guest's arrival, and arranged in two elegant slabs on a tray or platter. Garnish with sliced lemons, and fennel or rosemary sprigs and have a cruet of lemon olive-oil and a dish of whipped mayonnaise at hand. A combination cutter-server should be at the ready on the dish.
A coved platter or large shallow bowl of frozen meatballs (meatless, if you wish) thawed and stir-fried after tossing in orange sauce (try Panda) with a slotted spoon for easy self-serve will enhance the prawn or salmon entrees, providing "something for everyone" — the keynote of every successful party.
As you can visualize, lots of pretty dishes and serving bowls make for a festive table.
Desserts can join the array if you wish, but of course only those which don't require refrigeration.
Since we started with desserts, let's end with a dazzler (pictured) with follows the "easy on the hostess" rule. The mélange of blackberries, strawberries, raspberries and blueberries can all be tossed together early in the day, sprinkled with cane sugar and chilled in the fridge to bask in their own juice till serving time.
Use a chocolate shell if you wish, or do away with the ice cream altogether and serve the fruit over slices of a purchased angel-food cake and dolloped with whipped cream — among other personal choices.
Somehow, thinking (and writing) about good food and planning a get-together at which to enjoy it — serves as a beacon of hope for a modicum of pleasure and enjoyment that we all desperately need. I hope that each of you can soon enjoy a gathering of friends and family with old-fashioned hugs and lots of laughter. Cheers!
Valle Novak writes the Country Chef and Weekend Gardener columns for the Daily Bee. She can be reached at bcdailybee@bonnercountydailybee.com. or by phone at 208-265-4688 between the hours of 8 a.m. to 7 p.m.
---