Senior Spotlight: Jake Ryan vaults toward success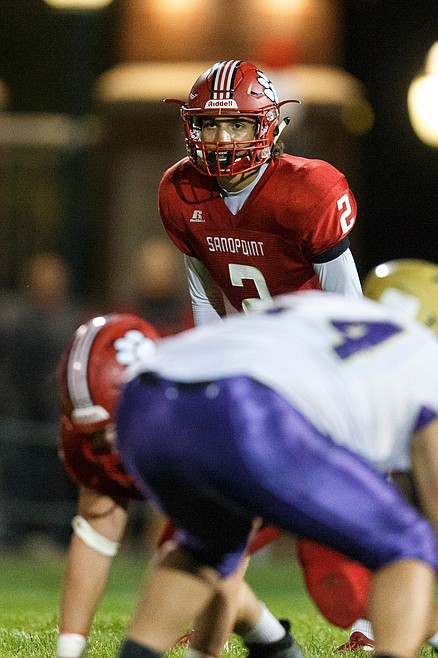 Jake Ryan was a three-sport athlete throughout high school but his favorite sport was football. In track, Ryan was looking to reach new heights in pole vault this season but now the senior is looking toward a future as an architect.
(Photo courtesy of JASON DUCHOW PHOTOGRAPHY)
by
Dylan Greene
Sports Editor
|
May 16, 2020 1:00 AM
Editor's note: This article is part of a recurring series on local high school athletes who had their seasons cut short or canceled due to the coronavirus pandemic.
SANDPOINT — Jake Ryan isn't used to having a break.
Jake's been a three-sport athlete throughout his four years of high school. In the fall, he was on the football field. In the winter, he wrestled. And in the spring, he was on the track.
Each season has bled into the next over the years and led to Jake not having much time to breathe so right now things are strange for him.
Jake's dad, Eric Ryan, said his son enjoyed the break for about the first week but now he's just missing being on the track with his teammates.
Jake first started competing in track in eighth grade and did sprints, hurdles and the high jump. Then when Jake got to high school he decided to try out pole vault.
Eric said Jake took an interest in pole vault because of how challenging it is.
"It was new to us as freshman," Jake said, "so I figured it's even competition might as well just try it and see how it goes. Turns out it went pretty well."
As a freshman, Jake came in and put everyone on notice. SHS pole vault coach Paul Hill said Jake brought the speed and strength he developed in football and wrestling that year and immediately started making strides. It also helped that it came naturally to him.
Technique is the key to being a successful pole vaulter and Jake enjoyed how meticulous he had to be.
Hill said it took Jake some time to hone his technique but once he did it was something special to see.
"Jake's technique is probably one of the best I've ever coached," Hill said.
Jake admitted when he first started pole vaulting it was a bit nerve racking to invert himself in mid air but he quickly came to love it.
Hill could tell Jake was someone who would thrive in the pole vault.
"Pole vault kind of attracts that thrill seeker, adrenaline junkie type of person so once you get a little taste of that ... it's hard to get away from," he said.
Hill said Jake's competitiveness at meets was evident because at the biggest events it seemed like he always stepped it up a notch and set a new personal record. When Jake stepped on the runway for the pole vault he was in his element and Hill said he always gave Jake one thing to focus on each time he vaulted and he'd take that piece of advice to heart every time.
Coming into this season, Jake was hoping to reach a new PR of 12 feet 8 inches and earn a state berth. Hill said that was a realistic goal given that he is one of the most technically sound vaulters in the state.
"He was in a really good spot," Hill said, "so we were basically just working on speed and strength to get on bigger poles to get him higher up. That was really the only thing holding him back from those upper 12 to 13 foot heights."
Of the three sports Jake played in high school, football was his favorite. But each one has impacted his life in different ways.
Eric and his wife, Jennifer Ryan, said they didn't push Jake to do sports year round he just had the motivation to do it.
Jennifer said track helped Jake develop a stronger work ethic and he never got down on himself when things weren't going his way.
"He never quit, he just kept going," Eric said, "and he had his bad days and he got right back on the pole and kept dancing."
Jake said he really enjoyed the track team because of the relationships he was able to build. The team had strong leaders and coaches that all wanted to see everyone succeed and he embraced that environment.
After graduating from SHS, Jake will be attending Portland Community College to study architectural design and drafting. He took computer aided design classes at Sandpoint and just wants to test the waters and see if he is interested in being an architect.
Jennifer said her dad was an architect and she remembers Jake would point out houses and be fascinated by the roofs as they drove around town when he was only 3 years old, so her son's career interest certainly didn't surprise her.

"I can't wait to see what he does because he's pretty outgoing," she said. "His personality I think is going to get him really far."
Jake's favorite high school memory came this past season at the Sandpoint football banquet when he won the Cotton Barlow Award. He said he will always remember his time at Sandpoint High.
"I'll miss it for sure," he said.
Hill said Jake was a true teammate. He was humble, personable and always cheering on others.
"It's been a joy to coach him," he said.
Eric said he's proud of his son and what he's been able to accomplish so far in life.
"As a dad, I've been living through him for the past four years," he said.
In his own words: Jake Ryan
"I would like to thank all the coaches that have coached me throughout my life. Coach Knowles made my varsity football experience fun and competitive and coach Albertson was always on my case and made me better. Coach Stark helped me love wrestling and always pushed me and was always there for everyone. Coach Hill helped me so much with pole vault and always had patience coaching me. Thank you mom and dad for helping me do sports and supporting me."
---