Senior Spotlight: Treadaway will always love lacrosse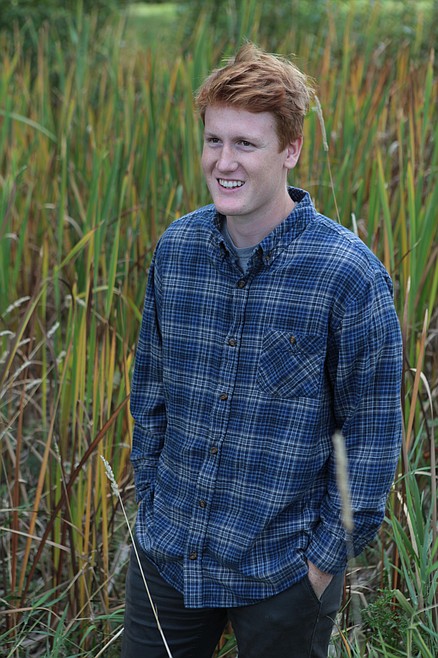 In sixth grade, Will Treadaway started playing lacrosse and he hasn't stopped since. The senior was hoping to lead the team to the state tournament but now he is looking forward to figuring what career path is in his future.
(Courtesy photo)
by
DYLAN GREENE
Sports Editor
|
May 19, 2020 1:00 AM
Editor's note: This article is part of a recurring series on local high school athletes who had their seasons cut short or canceled due to the coronavirus pandemic.
SANDPOINT — When Will Treadaway was younger he took a liking to soccer mainly because it was the sport most of his friends were playing.
But in sixth grade Treadaway discovered lacrosse. It was a sport he grew up watching on TV and his older brother played. His mom, Nancy Dooley, also played lacrosse at the University of Maryland for two years so when Treadaway picked up a lacrosse stick for the first time, it certainly didn't feel new and a level of comfort came along with it.
And it only took one game to hook him. Treadaway recalled telling his parents in the car ride home, "this is the best sport I've played in my entire life, I want to keep doing this."
Treadaway said that same feeling has rushed over him every time he's stepped on the field since and that's why he's stuck with it throughout high school.
Given Dooley's background in lacrosse, you'd think she would've pushed her son to try the sport, but she didn't. Instead, she supported Treadaway in whatever he chose to do.
"I want my kids to follow their own dreams," Dooley said.
However, it was only a matter of time before Treadaway found the Sandpoint Lacrosse Club and when he did, he was a natural. The game came easy to Treadaway and he really enjoyed the pace and physicality the sport presented.
This year Treadaway was looking to cap off his high school lacrosse career by helping the team lock down their first appearance at the state tournament. Despite having his final season canceled, Dooley said her son has remained positive throughout the process due in large part to his personality.
"Will takes life as it comes, I envy that in him," she said. "He's able to roll with the punches really well ... and he finds the joy in life wherever he goes. He's one of those people that's able to turn the cheek and just move on and that's what he's doing now."
Sandpoint lacrosse head coach Ken Hutchings said Treadaway was one of the reasons he decided to take on the job four years ago. Hutchings has known Treadaway since eighth grade and immediately noticed that he was working with a special talent due to his size, speed and strength.
"He's a great person so I knew that would translate into a great player and teammate," Hutchings said.
Hutchings praised Treadaway for being one of the players that has helped turn around the program. He was aggressive and his drive and desire to win helped bring the whole team together. And he never made excuses for mistakes he made on the field.
Hutchings said Treadaway was always someone he could count on. He embodied everything Hutchings looks for in a Sandpoint lacrosse player and he believes Treadaway is poised for success in whatever he does.
"I enjoyed coaching him and I'm going to miss him," he said.
Treadaway also played basketball and football in high school but nothing compared to when he grabbed his lacrosse stick and took the field with his teammates. Treadaway was an attacker and midfielder for the Bulldogs and led the team in scoring as a sophomore and junior.
Treadaway loved the atmosphere around the team and he said he became a stronger communicator and leader during his time at Sandpoint. With more free time recently, Treadaway has had a chance to reflect on his high school career and his favorite memory is one the family's washer and dryer won't miss.
Treadaway said he can't stop thinking about how fun it was playing lacrosse in rainy conditions. He remembers a game during his sophomore year against Moscow where it hailed and the string on the head of his lacrosse stick basically froze and he had to get it restrung. For some reason, rainy practices that turned the field into a pond and allowed Treadaway to Superman dive across the grass and stain his jersey were the best.
"Those are my favorite days," he said, "where you're just running around in a mud pit the whole time."
Dooley said she enjoyed watching Treadaway play lacrosse because it was the sport that allowed him to relax the most and be himself.
"You just see his confidence shine on the field in lacrosse," she said.
Treadaway said he always went to his mom if he wanted to talk about the sport or air out his frustrations about a bad game.
Dooley said her son is a kind, hard-working person that encourages those around him.
"I often get a lot of feedback from parents of younger players on his team because he's a real role model and mentor to them," she said.
Treadaway plans on attending Boise State University after graduating and playing for the school's club lacrosse team. He wants to get a degree in psychology but from there he hasn't completely decided what he wants to do.
He's thought about getting a pre-law degree at BSU and then heading to the University of Idaho to pursue a career as an environmental lawyer. He's also considering being a therapist and is leaving the option open to become a lacrosse coach someday if the opportunity presents itself.
The point is, Treadaway doesn't know what the future holds but he can't wait to get to college and figure it out.
"I'm just excited to find a path to where I want to go, and get on that track and get going," he said.
In his own words: Will Treadaway
"I will never forget the memories that I made with my teammates and coaches on the lacrosse field. I remember loving my very first game in sixth grade and only loving it more my last game. I want to thank all my coaches — not only from lacrosse, but from all my sports. My coaches were the ones that taught me how to work hard, how to persevere and how to never stop trying to get better — all ideas that will serve me well in my future. I also want to thank my parents who were always there to support me and cheer me on. My parents came to all of my games that they possibly could and supported me so much. They taught me how to be kind and considerate as well as how to take what is mine. I know for a fact I would not be the person I am today without them. Thank you to all my friends and teammates who pushed me to be better and showed me that hard work pays off. I will never forget all those days out on the field putting in work with every last one of you. Lastly, thank you to the town of Sandpoint and all the wonderful people who live here who have supported me since I started playing all those years ago. I will never forget high school sports and all of the people that made it so enjoyable. I hope some of you can watch me play next year!"
---