Lending a helping hand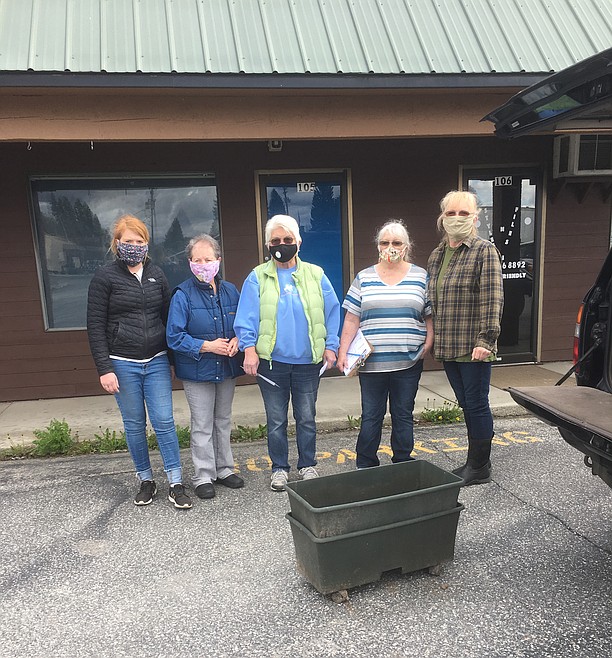 The Priest River Food Bank is taking advantage of two earth boxes, delivered by the Bonner County Coalition for Health. Pictured are Mary Davis, center, manager of this food bank, and food bank volunteers. Davis "absolutely loves her earth boxes," and is already growing roma tomatotes, eggplants, and broccoli, said Michele Murphee of the Bonner Community Food Bank program to raise produce for those in need in the community.
(Photo courtesy MICHELE MURPHEE)
PRIEST RIVER — After sending requests asking county residents and groups to consider growing produce for the food bank, among those taking part are folks at the Priest River Food Bank.
Many local organizations have sent this outreach to their members and Litehouse also is dedicating one of its garden beds for this project, said Michele Murphee, who is helping with the project coordinated by Bonner Community Food Bank and the Bonner County Coalition for Health.
"I am so passionate about trying to ensure that our families and children are fed," Murphee said. "This project gives our community an easy and fun way to contribute and will directly impact our families."
In its two locations, Sandpoint and Priest River, before the novel coronavirus pandemic, the food bank provided services to 900 area families, feeding more than 2,500 people each month, with an average of more than 1,000 children per month. Those numbers have increased, with the food banks seeing an additional 400 families or more in the past few weeks, Murphee said.
The mission of Bonner County Coalition for health is to decrease chronic disease in Bonner County by increasing access to healthy foods and increasing opportunities for physical activity for the county's residents.
Since the first school garden was installed at Northside Elementary, community gardens have been installed at schools around the county as well as at a host of other sites.
Gardents can be found at every elementary school in the Lake Pend Oreille School District, Sandpoint Middle School as well as Forrest Bird Charter School, the Homeschool Academy and Lake Pend Oreille High School. Community gardens have been installed at Mountain States Early Head Start, Bonner Community Food Bank, East Bonner County Library District in Sandpoint and Christ Our Redeemer Lutheran Church.
---