Save Independence Day campaign is underway
by
KEITH KINNAIRD
News editor
|
May 20, 2020 1:00 AM
SANDPOINT — A social media campaign is underway to retain Independence Day festivities in Sandpoint despite the novel coronavirus pandemic.
The Sandpoint Lions Club announced earlier this month it would not be hosting a Fourth of July parade and fireworks display due to the pandemic, which prompted Ron Korn to create a public Facebook called Save Independence Day, Sandpoint. The group already has 926 members.
"The parade is pretty much a go," Steve Wasylko who's helping Korn mount the campaign.
Wasylko said the traditional parade route will be used.
"We are also going to be doing a day at Travers Park where we have a lot of events for kids," Wasylko said.
Free activities include a dunk tank, water balloon toss, three-legged races and corn hole.
Performances and food concessions are also being planned.
The group is also trying to retain the centerpiece of the Fourth of July celebrations.
"We are currently trying to raise the funds for the fireworks. We're hoping to get that accomplished as well," Wasylko said.
Bankrolling the fireworks display at City Beach is no small feat. It costs approximately $16,500 to put on the display, according to Wasylko.
"The fireworks is a pretty large expense," he said.
The group is seeking sponsors to pay for the display.
"Here is your chance to show your business is serious about being a part of the community. We have various sponsorship opportunities for any business who wishes to be seen as a major contributor to our efforts," said Wasylko.
The parade entry fee is $20 in advance or $30 on the day of the event.
Parade check-in is at 8 a.m. and the parade starts at 10 a.m.
Activities at Travers Park run from noon to 5 p.m.
Those interested in sponsoring the fireworks can call Korn (208-290-2354 or Wasylko (208-255-9663).
Members of the public can donate via PayPal or at Army Surplus in Sandpoint.
Information: sandpoint4th.com
Keith Kinnaird can be reached by email at kkinnaird@bonnercountydailybee.com and follow him on Twitter @KeithDailyBee.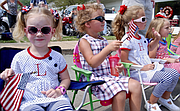 ---